Call Accumulation in Dry Bulk Shipping Leader Star Bulk (SBLK)
Star Bulk Carriers (SBLK) a small cap seeing call accumulation with total call open interest now above 24,000 comparing to 12,000 in put open interest, and the put side has over 3000 June $20 puts that were sold to open. SBLK has seen buys of 1000 June $20 calls, 1000 July $16 calls, 2500 July $20 calls, 1500 August $20 calls, 1350 August $25 calls, and 1650 September $21 calls as the dry bulk shipping group is seeing renewed interest given the strong Macro backdrop and rising shipping rates. SBLK is an international shipping company with extensive operational experience that owns and operates a fleet of dry bulk carrier vessels. Its vessels transport a broad range of major and minor bulk commodities, including iron ore, minerals and grain, bauxite, fertilizers and steel products, along worldwide shipping routes. SBLK has a large, modern, fuel-efficient and high-quality fleet, which emphasizes the largest Eco-type Capesize and Newcastlemax vessels, built at leading shipyards and featuring the latest technology.

The $2B company trades 5.5X EBITDA and has a 6% dividend yield with revenues seen rising 82.7% in 2021 with EBITDA +175%. SBLK operates a fleet with one of the lowest daily average operating expenses. SBLK's EBITDA gains are directly correlated with increases in freight as well as increases in the fuel spread. SBLK ended Q1 with over $200M in cash.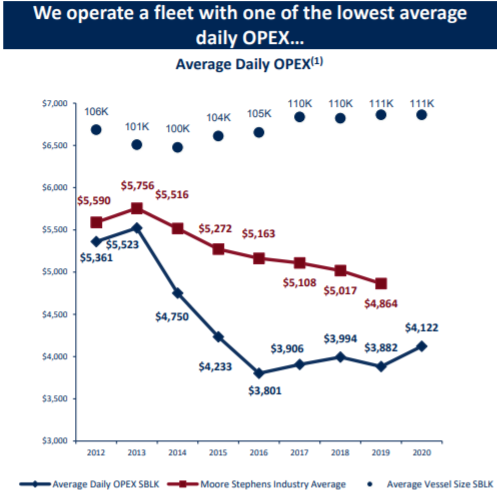 SBLK commented on key trends on its May 20th earnings call:
"According to Clarksons, total dry bulk trade during 2021 is projected to expand by 3.8% in tons and 4% in ton miles. Vaccination programs against COVID-19 are rolling out and have brought optimism to markets with the IMF, expecting 6% growth in 2021 and 4.4% growth in 2022. Pent-up demand as the world gradually opens up and the synchronized global economic stimulus have put commodity prices to new historical highs and currently incentivize the strong expansion in production and trade. Furthermore, new Atlantic export projects increases in Pacific grain demand are expected to inflate ton miles and vessel requirements over the next years. Iron ore ton miles are expected to expand by 3.1% during 2021. Steel prices have increased to new record highs and have push steel mill profitability higher despite the strong increase in iron ore prices. Furthermore, steel prices in the Atlantic have been trading at a significant premiums to the Pacific and the right price arbitrage has incentivized higher steel exports with smaller vessels, benefiting the most during the last months. Coal ton miles are expected to expand by 6.4% during 2021 as global energy consumption experiences a strong recovery. During the last quarters, China and India thermal electricity output has been expanding at a higher pace than domestic production and has created shortages that have pushed stocks lower. A Chinese ban on Australia coal has forced power retailers and steelmakers to diversify and seek cold cargoes from longer-distance sources such as South Africa, Colombia, the U.S. and Canada. Grain ton miles are expected to expand by 2.3% during 2021, after an 11.2% increase during 2020. China's demand for grains is projected to remain strong in the medium term as the current 5-year plan focuses on food security and at the same time, the hog herd has fully recovered from the 2018 African swine fever outbreak. U.S. soybean and corn exports stand at all-time high this marketing year, with forward sales indicating that volumes will maintain record high levels during the next quarters. Finally, our outlook for the market remains positive due to the reopening of the global economy and consequently increased ton-mile demand across all key dry bulk commodities. The record low order book, coupled with upcoming environmental regulations that limit new vessel orders, also create favorable long-term dynamics for our industry, which our company is well positioned to enjoy."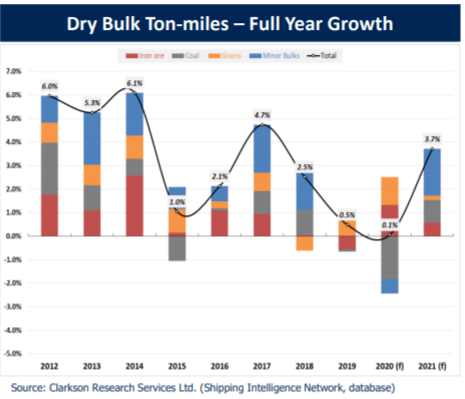 Analysts have an average target of $25 with short interest minimal at 0.8% of the float. Deutsche Bank out on 5/21 calling the sell-off a gift after the earnings miss positive on the long-term prospects. On 5/18 they raised their target on SBLK to $40 as its favorite shipping name.