Callon Petro (CPE) Call Buyers Score Big on Oil Rise
Callon Petro (CPE) one of the hottest names in Energy with the small cap rising 65% in two weeks!
We wrote up the name on 1/28 after some unusual large bullish trades in the name. The February $17 calls that traded $0.65 to $1 are now trading above $6.20.
This was our write-up on 1/28:
"Callon Petroleum (CPE) traded 10X daily calls on 1/27 with most of the focus on February $17 calls that traded 13,000X in the $0.65 to $1 range with shares starting the day at $13 and IV30 rising 22.5% on the day. CPE has previously seen 15,000 January $5 puts sold to open and some buyers in January $20 calls with 3500 now in open interest. CPE is flagging the last few weeks under $15.60 resistance and above moves out of a large base that measures back to $24 into a low volume pocket. The $525M small cap Energy company trades 5X EBITDA and 0.43X Book though debt concerns. Forecasts seen EBITDA up 47% in 2020 but down 1.5% in 2021. Callon Petroleum is an independent oil and natural gas company focused on the acquisition, exploration and development of high-quality assets in the leading oil plays of West and South Texas. Its activities are primarily focused on horizontal development in the Midland and Delaware Basins, both of which are part of the larger Permian Basin in West Texas. Analysts have an average target near $14 with short interest high at 20% of the float but down 25% Q/Q. Citi raised its target to $16 last week and Truist on 12/31 to $14 citing solid operations and solidified liquidity though still needs to reduce its mountain of debt through more transactions. RBC took its target to $20 in December noting its leverage to Oil prices and improvement in operational and financial metrics. "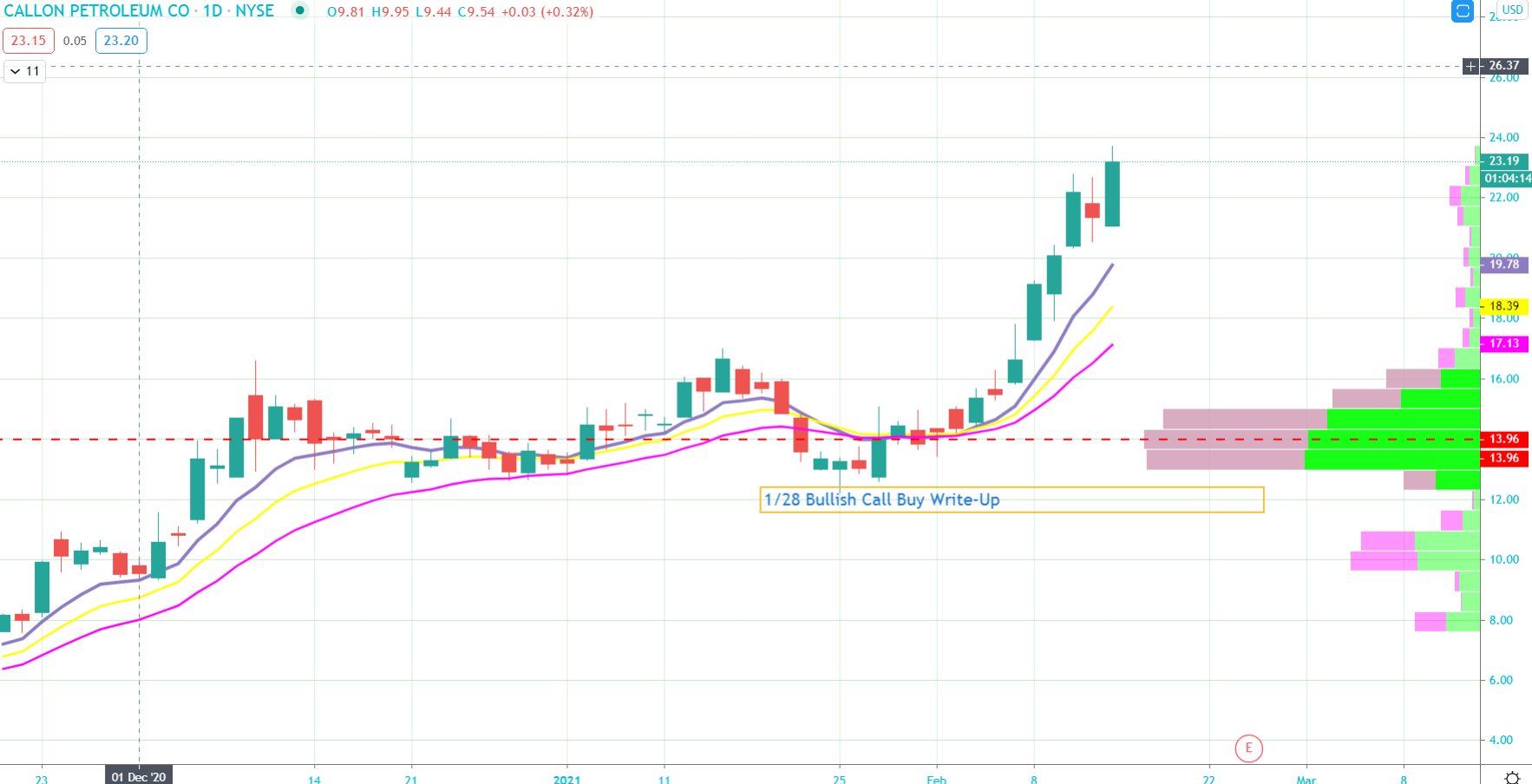 It always pays to notice unusual activity as well as just large notional large activity and tie it into broader sector trends. We rarely cover a lot of Energy names but the group was acting well and we saw call buyers across the sector which made a small levered name like Callon Petro a solid way to play a rally in Energy.