Cedar Fair (FUN) Bulls Position for Strong Summer Attendance as Optimization Plan Takes Hold
Cedar Fair (FUN) small-cap that drew some large-sized call adjustments on Friday 7/16 with traders buying 2450 October $45 calls for $2.70 to $2.90, adjusting higher the $30 calls bought in late March and later 1500 October $40 calls and 500 October $35 calls bought to open as well. FUN has some notable January $50 and $60 call open interest as well from earlier in 2021 and late 2020. Shares have pulled back right to the rising 200-MA and narrow channel lower since hitting 52-week highs in March near $52. A run higher has potential to move back to the pre-pandemic high-volume area around $56-$58. The $2.47B company trades 14.45X earnings, 18X sales, and 9.1X cash. FUN owns and operates 11 amusement parks in the US including 9 outdoor water parks and one indoor park. They saw 28M visitors in 2019, pre-pandemic, a large and loyal base of customers with significant repeat business. They own valuable real estate and high-quality assets in an industry that has wide moat and due to benefit from pent-up demand all Summer as more people look for experiences post-pandemic. FUN reopened all of their parks in May after spending much of the pandemic focused on a business optimization plan as they look to utilize more data-driven insights into customer preference to boost guest experiences. They think the new analytics will help them boost in-park revenue streams like food & beverage and games while also reducing lines and generating more transactions per hour.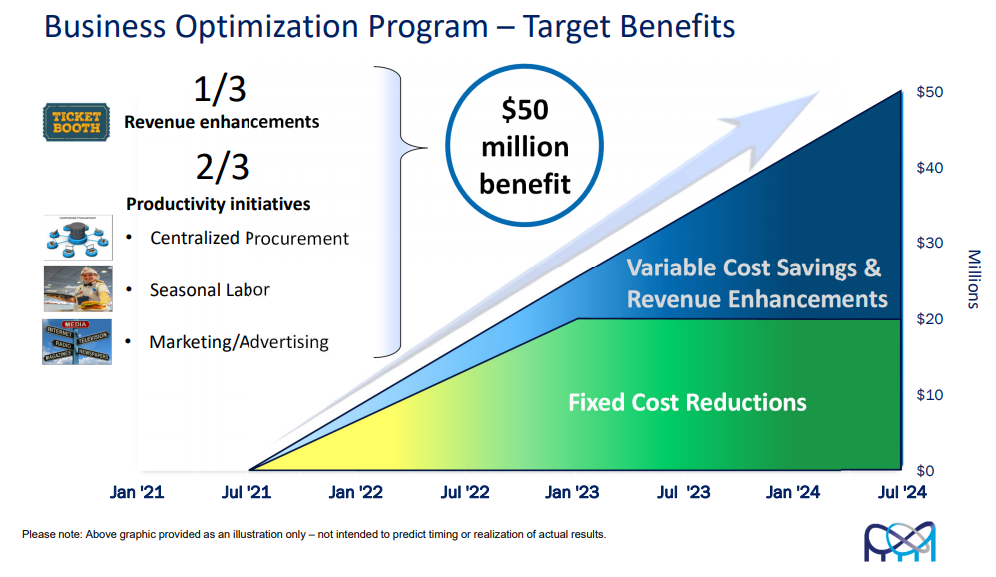 FUN also hopes to cut back on discount ticket channels and funnel more people towards their ecommerce site. Analysts have an average target for shares of $57 with a Street High $75. B Riley raising estimates on 6/21 after checks. The firm thinks investors are under-appreciating the adjusted EBITDA upside potential for the outdoor leisure group as attendance moves above pre-pandemic levels and the significant cost reductions and operating efficiencies take hold on those higher attendance and revenues. Short interest is 8.45% and rising since early 2020. Hedge fund ownership fell 11% in Q1. Zeke Capital a buyer of 650K shares. FUN saw a lot of insiders buying stock into the March 2020 lows including the CEO, CFO, and CAO. In 2019, FUN rejected a $4B offer from Six Flags (SIX) which would've valued the company around $70.