Clean Energy (CLNE) Bulls Stay Involved and Look for Larger Gains
Clean Energy (CLNE) is smaller than the names we typically focus on options positioning but an unusual large trade on 12/21 caught our eye and was worth looking into the company further. As I write this today, June 3rd, it was a day that CLNE saw an absurd surge in call options as 156,000 traded on the day, 315X daily average, and IV30 rose more than 110%. Interestingly the January $10 calls highlighted in our December write-up continue to hold in open interest, and after this write-up shares ran to $19 from $5, the call position worth more than $5.5M at its peak. Obviously the call buyer may have shorted shares to lock in gains but may be just looking for this move to continue in 2021.
Our write-up on 12/21 was as follows:
"Clean Energy Fuels (CLNE) up 20% today after unusual call buying on 12/21 with the January 2022 $10 calls opening 5000X for around $940,000 and today seeing action with 1500 February $8 calls bought. CLNE has been around a long time but with the strong focus on renewables moving forward is coming back into popularity, a big flag breakout triggered last week and strong momentum right now. CLNE recently announced a 50/50 JV with its largest shareholder, Total (TOT) for arbon-negative renewable natural gas (RNG) production facilities in the United States, as well as credit support to build additional downstream RNG fueling infrastructure. CLNE also announced a JV with BP this morning. The $1B Company trades 37X Earnings, 4.5X EV/Sales and forecasts see revenues starting to ramp in 2021. CLNE has 550 natural gas fueling stations and only provider offering CNG, LNG and RNG fueling for Trucking, Construction Vehicles, Airport Transit and other Fleets. It sees a large opportunity with natural gas currently just 10% of the 2B gallon market for fuel and CLNE has 60% market share in refuse. CLNE has key relationships with leading players like FedEx and UPS in transportation. Analysts have an average target of $7.50 with short interest low at 1.9% of the float. Analysts have not commented on the name recently but with this move could start to see more coverage."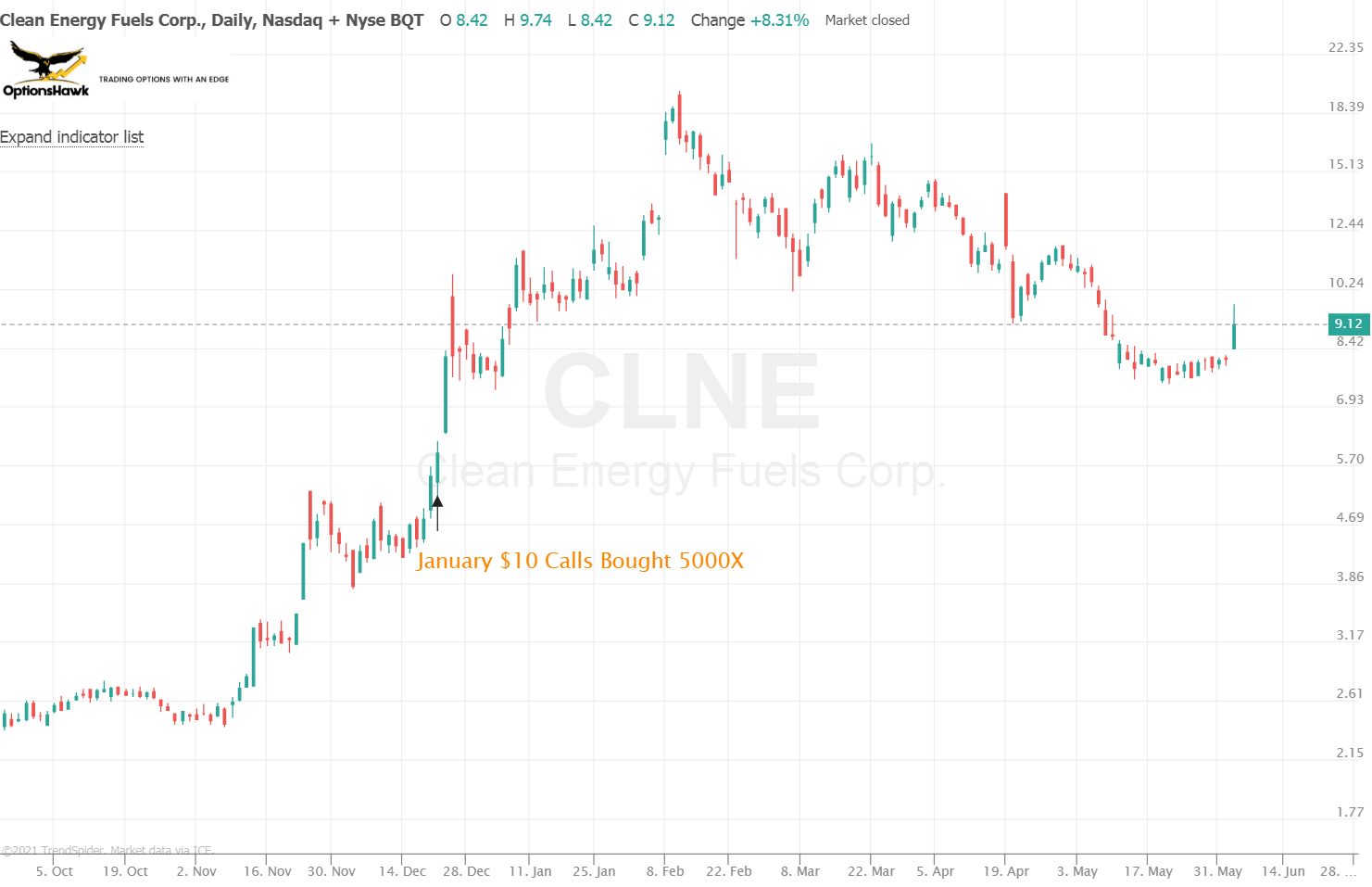 It will be interesting to see how these calls play out the remainder of the year as well as the hot activity on 6/3.