June 25th (W) Options Expiration Preview
We have fairly light positioning for the June 25th (W) OpEx as we near quarter-end and a slow catalyst period before Q2 earnings season picks up in mid-July. On the Macro-front we will get Flash PMI for June, GDP and Personal Income/Spending numbers. On the earnings-front Nike (NKE), Accenture (ACN), Fed-Ex (FDX) and Paychex (PAYX) are the main reports.
The investment conference schedule remains pretty active and we are entering pre-announcement season. Mobile World Congress 2021 will take place with Intel (INTC) presenting Monday. Jefferies will host a consumer conference and JP Morgan an Energy conference. Investor Days at EQIX, BOX, ASML, PKI, PD, NVRO and RE. There are ten names this week that stand-out with bullish positioning for this expiration.
Square (SQ) with 1400 of the $205 deep ITM calls sitting in open interest and also has seen activity in higher strikes. Square recently bounced off its 200-day moving average nicely and this week moved above VWAP off its April highs, the current breakout measuring to a $262 target.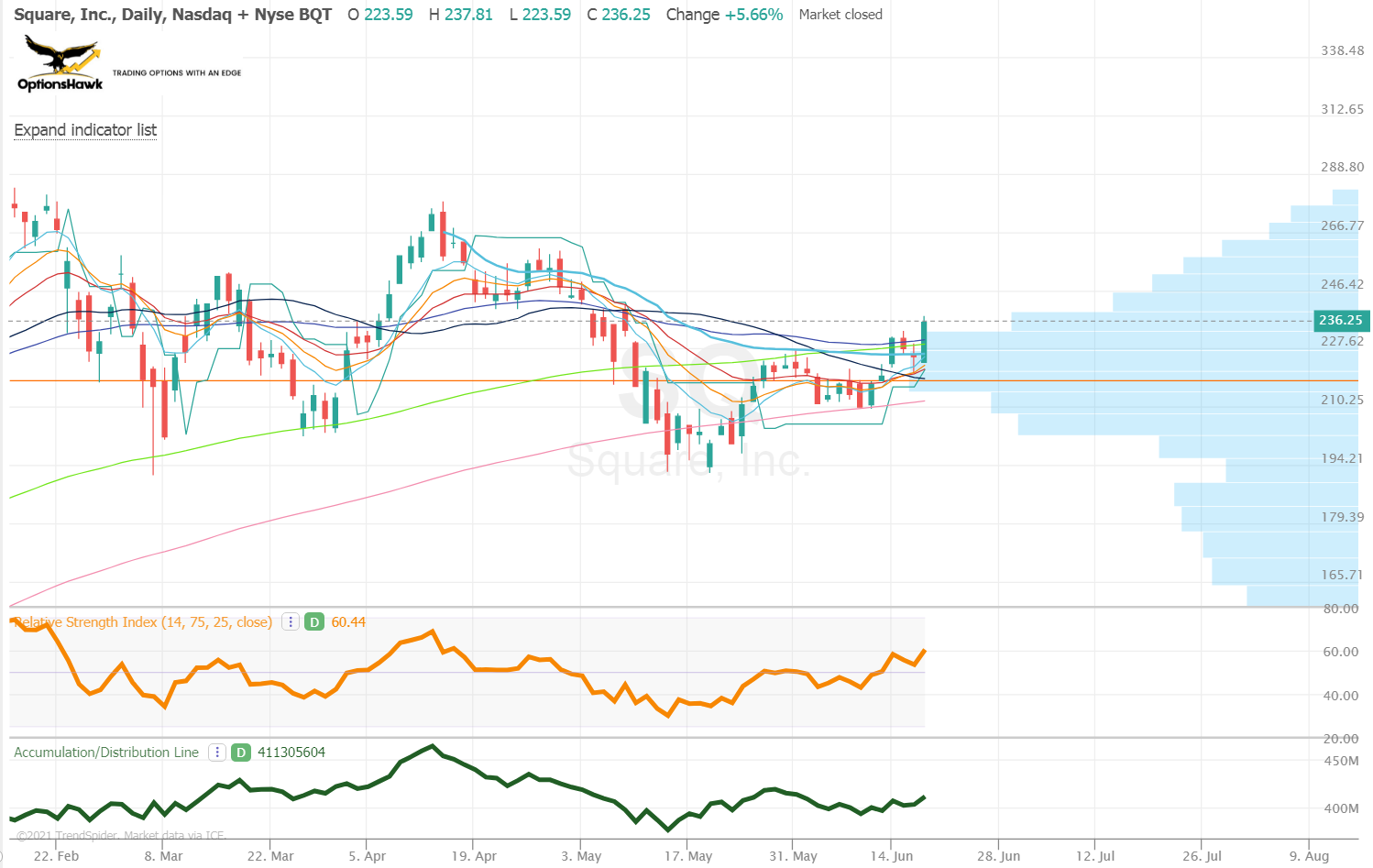 Microsoft (MSFT) has over 10,000 of the $260 calls and 19,175 of the $265 calls in open interest and will host a Windows Event on 6-24 as a potential catalyst. MSFT shares are in a long rising channel pattern and about to take out the April highs with $272.50 a Fibonacci extension target.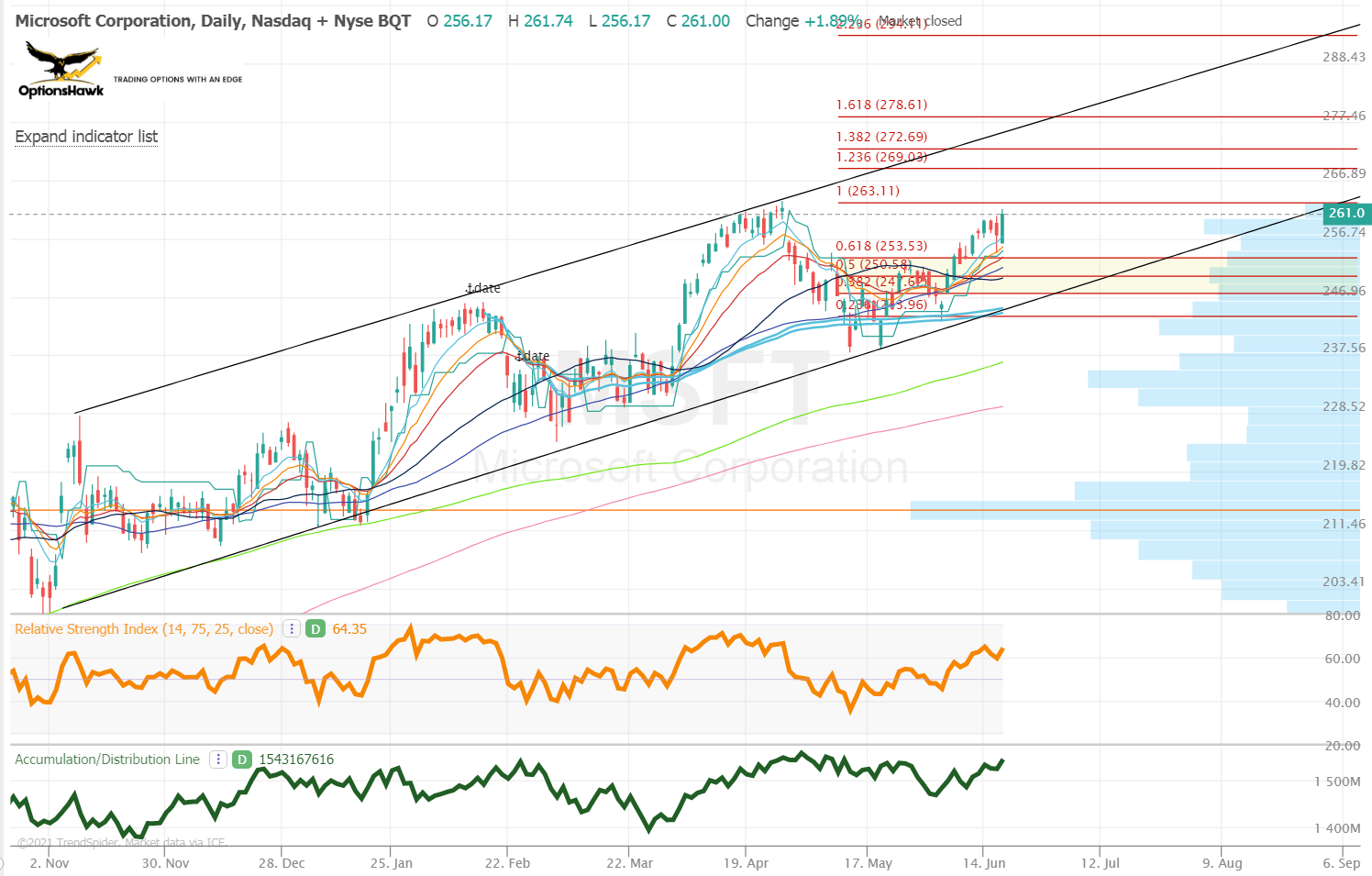 Occidental Petro (OXY) pulled back this week with the US Dollar strengthening but a name with unusually high June 25th (W) call open interest including 4500 of the $26 calls and 4500 of the $28 calls as well as elevated open interest in the $30, $31 calls. OXY has also seen plenty of longer-dated bullish positioning. OXY pulled back to test its 21-day MA and recent breakout level, but back above $29.50 should make a run to $32 highs from March.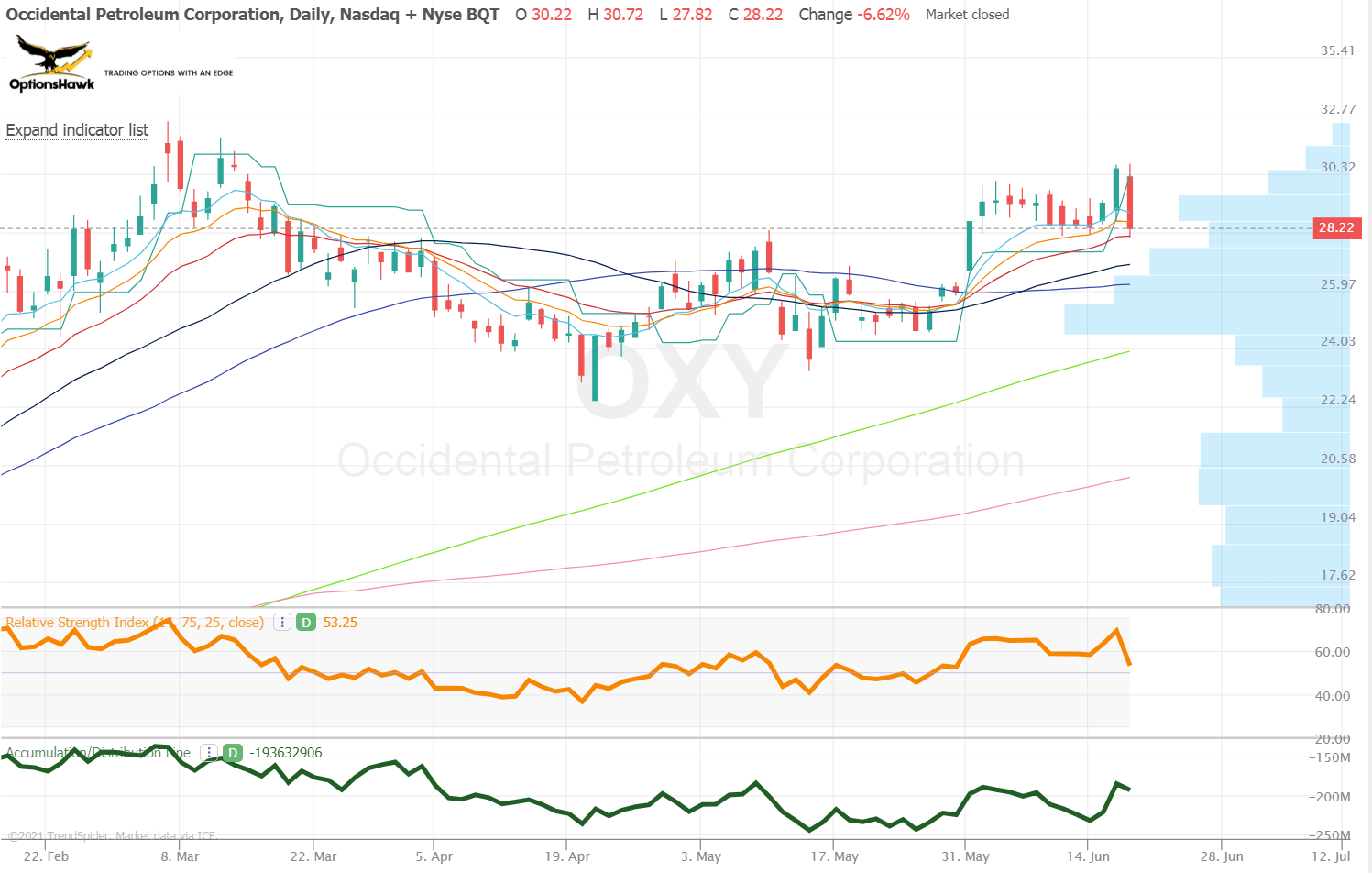 JD.com (JD) with a big buyer of 10,000 $71.50 calls in open interest and has also seen massive September call buys this week. Shares have been weak for a while but finally showed some pop this week. JD will face some resistance at $75.25 but can get back to VWAP off its highs at $80.60.
Zoom (ZM) has 1700 of the $365 calls and 1000 of the $375 calls in open interest. Zoom continues to work out of a large falling wedge pattern with the 200-day moving average and VWAP off the highs targets in the $387 to $395 zone.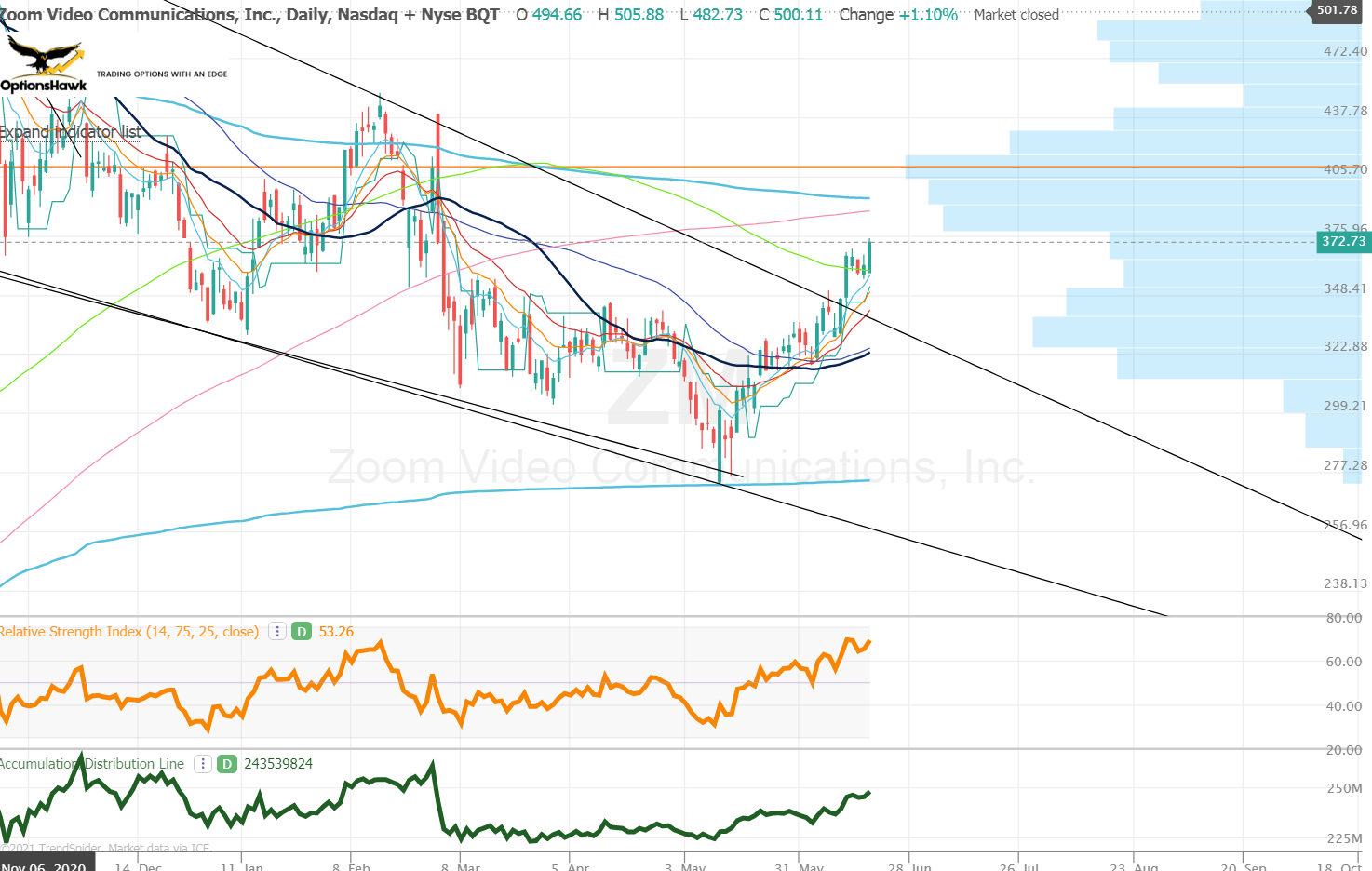 Uber (UBER) had 15,000 of the $51 calls open on 6/16 with buyers and shares have been basing right at its 200-day moving average. On a move above $50.60 shares can push back to $53.
Airbnb (ABNB) has a large call/put ratio for June 25th (W) expiration with open interest in $150, $152.5, $155, and $160 call strikes of note. ABNB has been a bit of a tease but continues to flag just under its key VWAP off the highs level near $154. Shares could really explode over this level though the falling 55-day MA at $158.45 stands in the way, a measured move to $178 could develop.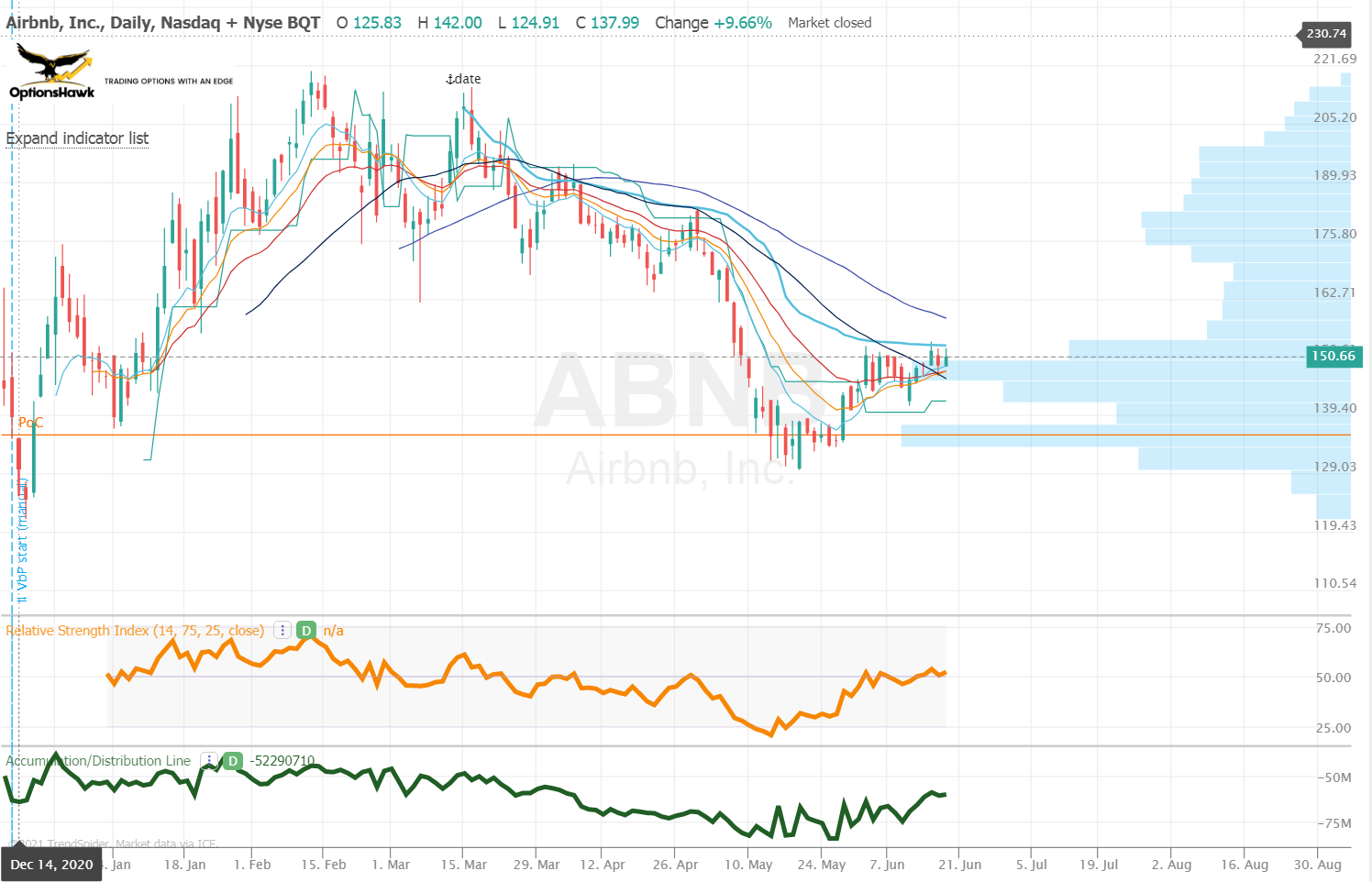 Pinterest (PINS) saw notable buying this week of the $75 calls which saw 13,750 move to open interest but traded another 21,000 on 6/17 so need to monitor OI changes. PINS with a significant move this week above VWAP from the highs and looking to clear the last meaningful volume node at $73.15, still working on its earnings gap fill move to $76 but could overshoot with room back to $82.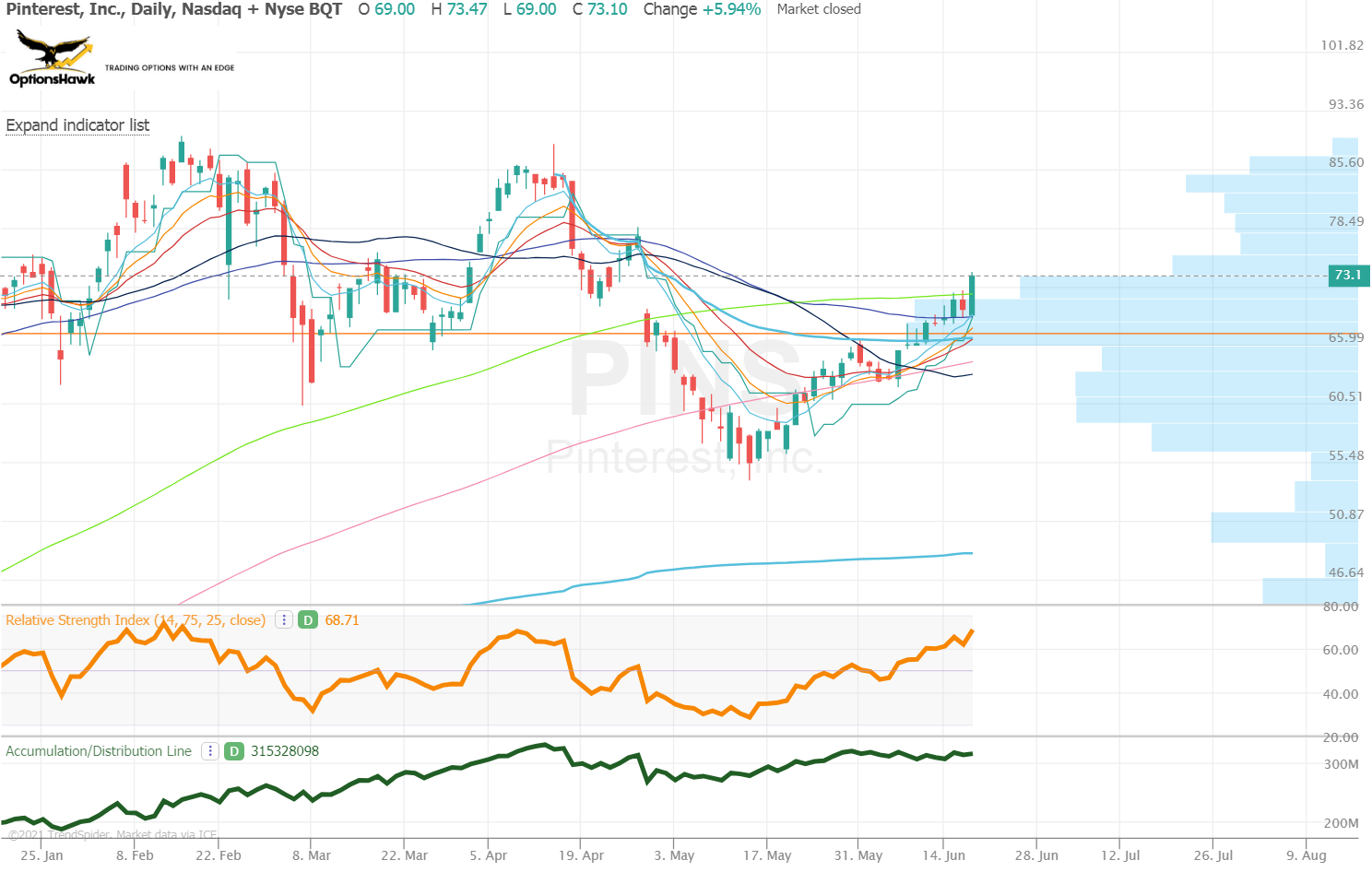 Electronic Arts (EA) has a single-trade notable with 3000 of the $143 calls bought and the $152.50 calls sold, the former adjusted back in strikes into weakness. EA has pulled back to trend and VPOC support as well as 55-day moving average support. The $143.7 and $147 levels are key hurdles to clear to open up a move to $152.5.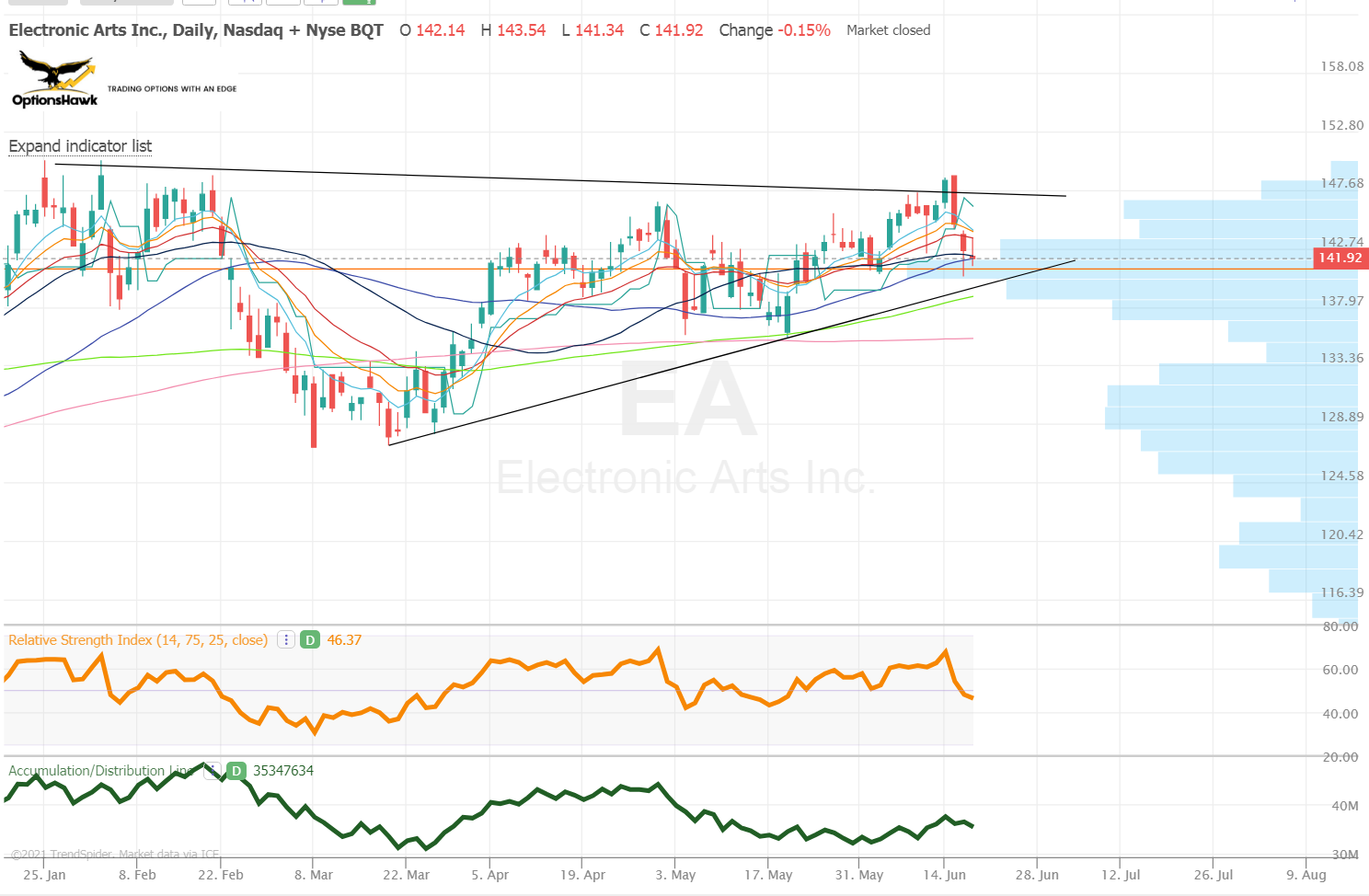 Lastly, Comcast (CMCSA) with 7,500 of the $57.50 calls and 5,200 of the $58 calls while setting up nicely just under $58.25 breakout to new highs with room to $60+.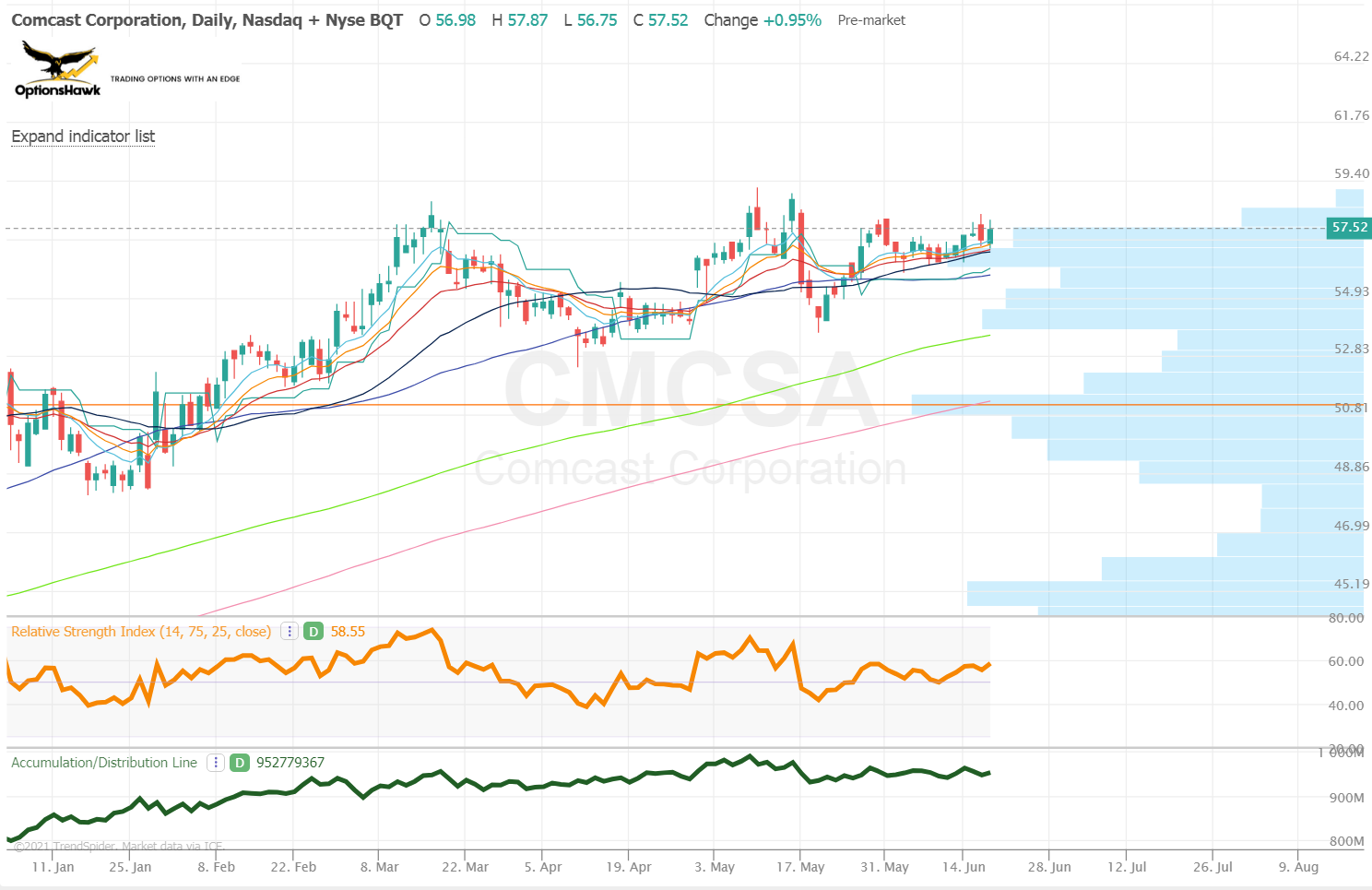 The full list of notables from the Hawk Database are below: