IVERIC Bio (ISEE) Positioning Bullish into Key Catalyst
IVERIC Bio (ISEE) continues to see unusual bullish options trading the past six weeks with 2000 October $12.50 calls bought up to $2 on 8/17 which follows recent buys of 2000 December $15 calls with 4000 October $7.50 puts sold to open and buys of 2000 September $10 calls, 1500 October $12.50 calls and 1350 December $12.50 calls. ISEE currently has call open interest 2.5X that of put open interest and IV30 is at 200%. ISEE shares have rallied more than 80% since late June and flagging the last few weeks. ISEE has 13% of its float short with short interest rising 98.5% the past three months. The ISEE positioning is likely targeting a major Q3 readout from Apellis (APLS), the DERBY/OAKS trial, a Phase 3 readout for their targeted C3 therapy pegcetacoplan in patients with geographic atrophy secondary to age-related macular degeneration. ISEE notes its patient population is quite different than the APLS one and sees inhibiting at C5 will preserve as much of the complement pathway as possible. APLS positioning has been mainly bullish with 10,000 October $80 calls bought in OI that were spread versus the August $85 calls and short August puts.
IVERIC is focused on the discovery and development of novel treatment options for retinal diseases with significant unmet medical needs and is currently developing both therapeutic product candidates for age-related retinal diseases and gene therapy product candidates for orphan inherited retinal diseases. Its therapeutics portfolio consists of our clinical stage product candidate Zimura® (avacincaptad pegol), a complement C5 inhibitor, and our preclinical product candidate IC-500, a High temperature requirement A serine peptidase 1 protein, or HtrA1, inhibitor.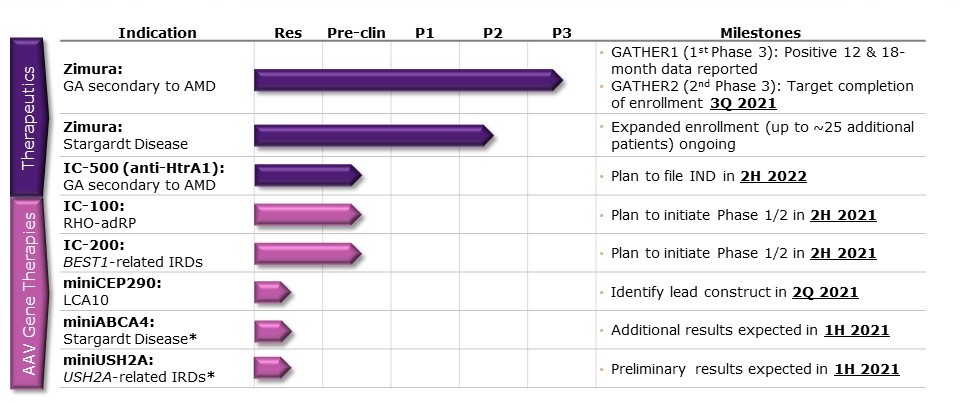 In early July ISEE announced it received a written agreement from the FDA under a special protocol assessment, or SPA, for the overall design of GATHER2, its second pivotal clinical trial of Zimura in the development for the treatment of geographic atrophy, GA, secondary to age-related macular degeneration, or AMD. In late July it announced full enrollment in GATHER2; 4 months ahead of schedule. It expects to submit an IND to the FDA for IC-500 in GA secondary to AMD in the second half of 2022 with the potential to be the best-in-class as it inhibits HtrA1, both intra- and extracellularly.
ISEE has a market cap of $970M with expected year-end 2021 cash of $215-$225M. CSFB raised its target to $16 in July expecting a positive outcome for GATHER2 and eventual approval.