5G to Drive Strength in RFTE Test Market for Small Cap Semi Equipment Leader
Cohu (COHU) a top small cap that has lagged this year with shares -2.25% YTD but recently has seen bullish options activity with buyers of November $40 and $45 calls.
Cohu is a leading supplier of semiconductor test and inspection handlers, micro-electromechanical system (MEMS) test modules, test contactors, thermal sub-systems, semiconductor automated test equipment and bare board PCB test systems used by global semiconductor and electronics manufacturers and semiconductor test subcontractors. Revenue from its products is driven by the capital expenditure budgets and spending patterns of its semiconductor customers that depends on the current and anticipated market demand for semiconductor devices and PCBs and the products that incorporate them.  Its recurring revenues are driven by an increase in the number of semiconductor devices and PCBs that are tested and by the continuous introduction of new products and technologies of its customers. COHU reports results for two segments, Test & Inspection and PCB Test Equipment. Its product set includes Semiconductor ATE (Automated Test Equipment), Semiconductor test handlers, interface products, Spares and Kits, installation services, and bare board PCB test systems. Semiconductor Handlers accounted for 49% of total revenue, Automated Test Equipment (ATE) 30%, Interface Products 14%, and PCB test 7% (divested in May).
COHU customers include semiconductor integrated device manufacturers, fabless design houses, PCB manufacturers, and test subcontractors throughout the world. Intel has been a significant customer of around 10% of the Test & Inspection revenues. Cohu is the global leader in Semiconductor Handlers (~50% global market share, or ~60% specifically in the SoC Test Handler market) and Test Contactors and the third largest supplier of SoC Test at ~6%, with a leadership position in RFFE (Radio Frequency Front-End) Test.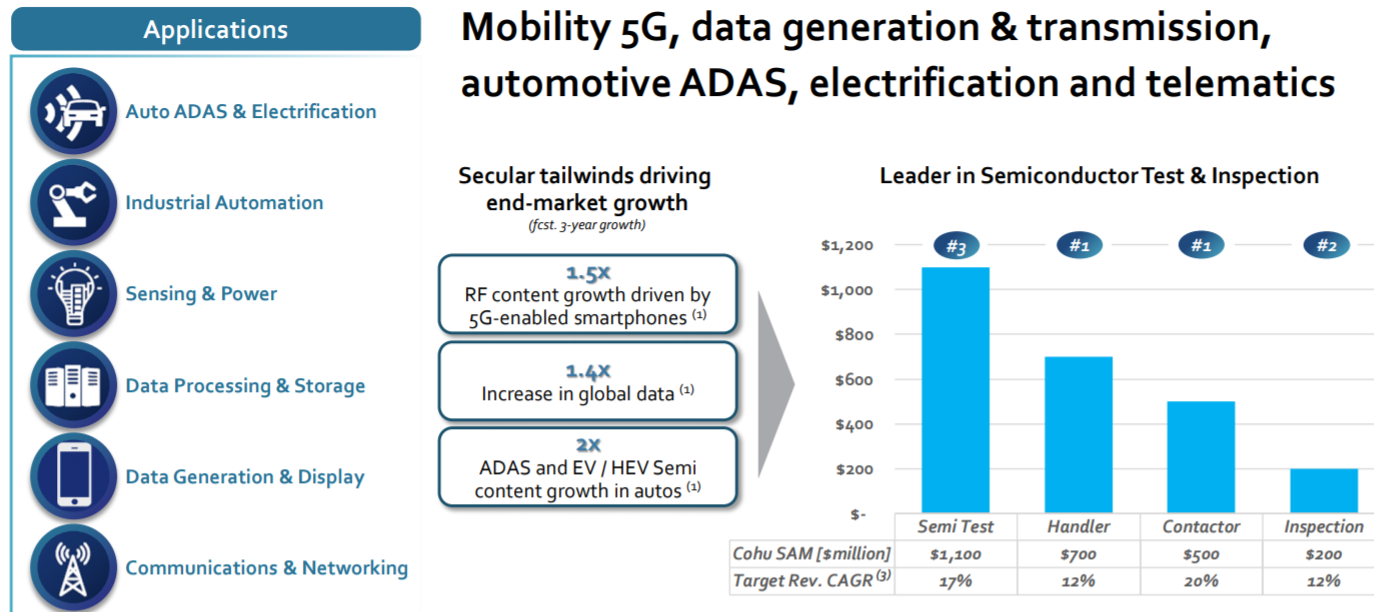 The ATE market, which accounted for >20% of the total Semiconductor Equipment market in the early 1990s, had been in structural decline in the mid/late 1990s and early 2000s as the rise of the foundry business model drove consolidation of test, and increased parallelism drove test efficiency higher (or conversely, test intensity lower). In SoC Test, on the other hand, the demand profile has been more resilient with growing chip complexity (e.g. increase in the number of transistors and/or transistor density) and criticality (e.g., growth in mission-critical devices, particularly in Automotive and Industrial applications) extending test times, and ultimately, driving higher spending in testers. Within the overall ATE market, Cohu only competes in SoC Test, while Teradyne (TER) and Advantest compete in SoC Test and Memory Test. Within SoC Test, Cohu is over-indexed to the RFFE Test market, which is approximately $400M in size. The company sells instruments (i.e., PAx series) that are used to test discrete as well as modular RF components that are manufactured by the likes of Skyworks, Qorvo, Qualcomm, and Murata.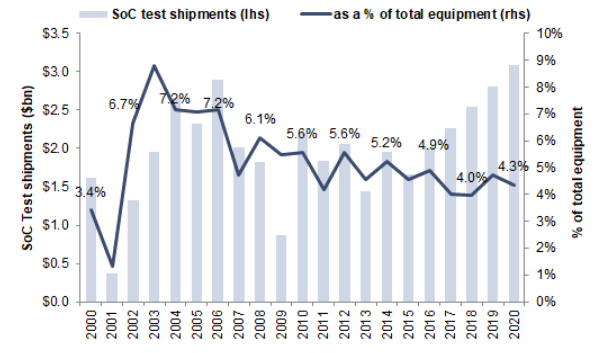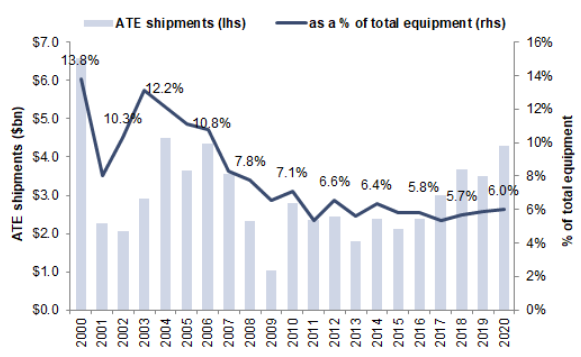 Outside of the RFFE Test market, Cohu has exposure to the Automotive and Industrial end-markets through its Diamond series platform – a set of instruments that are used to test microcontrollers (MCU), application specific standard products (or ASSP), power management, display drivers, sensors, and other mixed-signal devices. Its key customers in this segment of the market include NXP, Analog Devices, Microchip, Infineon, and STMicroelectronics.
Cohu recently addressed its growth strategy at its Analyst Day "The main pillars of the Cohu growth strategy consists of extending our leadership in the high-growth RF test segment, serving a $400 million addressable market, solidifying our strong handler position with cutting-edge thermal and vision technologies, improving customers' yield in a $700 million market with secular growth applications in automotive and mobility; increase in the contactor attachment rate to our semiconductor equipment in a $500 million market by leveraging our significant installed base; and enhancing test cell differentiation and building a competitive moat. We believe that the industry is at the beginning of a multiyear growth period. 5G is a disruptive new technology that will connect everyone and everything, delivering orders of magnitude faster data exchange. 5G penetration in smartphones is only 12% today and projected to more than double next year and continue growing for several years as millimeter wave proliferates. RF content in smartphones is forecasted to grow by 50% in the next 3 years. This will open the gates to new applications, not only in mobility, but also in industrial and medical, automotive and computing, with an estimated 40% increase in global data creation, transmission and storage over the same time period. In automotive, where Cohu has a leading position with thermal handlers, digitalization with ADAS processors, sensors, telematics and the electrification of the drivetrain will transform the way we move around. Market researchers forecast an 18% annual growth rate for automotive semiconductors over the next few years."
COHU has a market cap of $1.88B and trades 11.2X Earnings, 2.6X Sales and 6.5X Cash. Forecasts see COHU revenues rising 44.5% in 2021 and EBITDA growing 137.5% though the 2022 outlook currently looks subdued as the cycle cools. Cohu's opex intensity (opex to sales ratio) has continued to improve and is better than its two key competitors. COHU has been closing the gap to peers in both operating margins and ROIC.
Cohu has very strong market share in its key markets and the demand is clearly there across its key customers. The handler business has been a drag on both organic growth and margins. The divesture of its PCB Test business which was a low margin business should drive margins higher. COHU management has expressed an intent to be acquisitive tough the ATE market is already consolidated it could target a transformative deal in Handler/Contactor markets and current estimates put COHU at reaching 35% of its market cap in cash by 2023. It is an attractively valued name positioned in key growth areas of the Semiconductor market and its metrics are moving in the right direction with potential to catalyze a re-rate with a transformational deal