Casella Waste: The Treasure of Trash
Casella Waste Systems (CWST) has screened as a top small cap for many years and continues to perform well but we have never really done a deep dive into the company. It is surprising that in a waste industry always consolidating that it has remained independent to this point.
Casella Waste Systems is a regional, vertically integrated solid waste services company. CWST provides resource management expertise and services to residential, commercial, municipal and industrial customers, primarily in the areas of solid waste collection and disposal, transfer, recycling and organics services. CWST operates in six states: Vermont, New Hampshire, New York, Massachusetts, Maine and Pennsylvania. As of Q1, CWST owned and/or operated 46 solid waste collection operations, 58 transfer stations, 20 recycling facilities, eight Subtitle D landfills, four landfill gas-to-energy facilities and one landfill permitted to accept construction and demolition materials.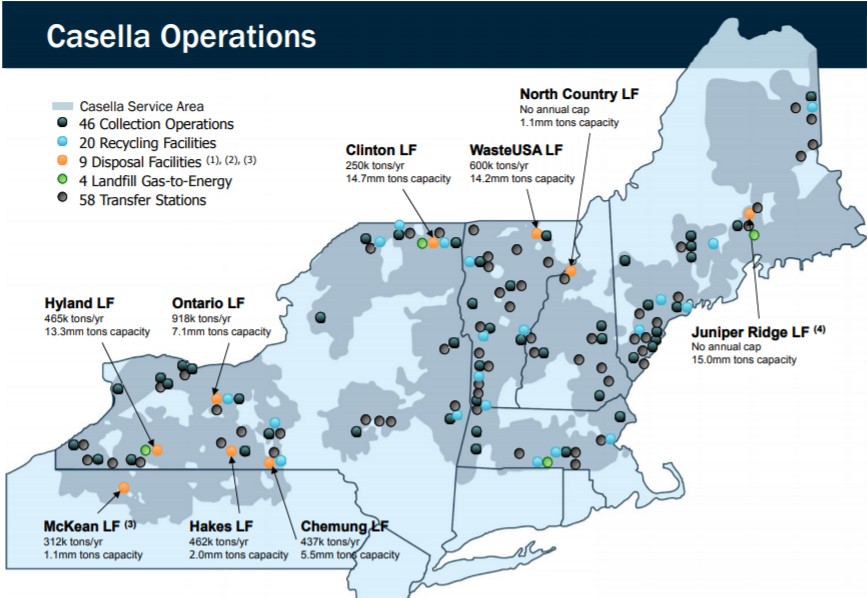 CWST continues to see strong pricing (+7% landfill pricing in 2020) as disposal capacity continues to tighten in the Northeast market as permanent site closures are reducing capacity and stronger economic and construction activity are driving higher volumes. It sees these trends continuing as additional site closures are expected over the next several years and it resets multi-year contracts. CWST also generated +4.2% collection pricing in FY20 and continues to advance several key areas, including route optimization, fleet standardization and automation, and maintenance programs to further reduce operating costs in the collection line-of-business.
CWST realigned its Resource Solutions segment in early 2020 to include customer solutions, recycling and organics and now has a dedicated team and business strategy. It is a service-driven unit pivoting to advisory services to help large industrial and institutional customers meet their resource management and sustainability goals.
CWST's strategy generally focuses on operating in secondary or tertiary markets where it had leading market share, but in larger urban markets it does compete with Waste Mgmt. (WM), Republic (RSG) and Waste Connections (WCN). CWST has come seasonality with its transfer and disposal revenues historically have been higher in the late spring, summer and early fall months and lower volumes of waste in the late fall, winter and early spring months.
CWST has a market cap of $3.36B and trades 20X EBITDA, 66X Earnings and a FCF yield of 2.1%. CWST certainly carries a premium valuation but has consistently driven 7-12% annual EBITDA growth and forecasts see that continuing the next three to five years. Its larger peers trade 15X EBITDA on average with much lower growth and similar balance sheet leverage. In the comparison below we can see CWST has room to expand margins more in-line with peer levels and it lags on FCF metrics but its Return on Capital Employed (ROCE) is far superior to all of its peers.

CWST is a stock I continue to like; the waste business is great and in an inflationary environment will continue to see strong pricing power. CWST is also executing on initiatives to expand margins and is the best run name in the industry. Its net leverage ratio has come down from 5.4X in 2014 to 2.66X giving it a lot of flexibility to pursue deals.