Chipotle Mexican Grill Earnings Preview and Strategy
Chipotle Mexican Grill (CMG) will report earnings 7-26 after the close with the Street expecting $9.04 EPS and $2.24B in Revenues (+18.5%) and FY22 seen at $31.61/$8.78B as forecasts imply 16% revenue and 24% EPS growth in FY22 and 13.8%/32.4% in FY23. CMG has traded higher three of the last four reports after being lower six of the prior seven, a six-quarter average max move of 6.6%.
Chipotle owns and operates Chipotle Mexican Grill restaurants, which feature a relevant menu of burritos, burrito bowls (a burrito without the tortilla), quesadillas, tacos, and salads. The digital platform continues to be a strategic driver of growth and accounted for 45.6% of 2021 revenues. CMG is in a highly competitive fast-casual restaurant business and could see trade-down from consumers while rising commodity/labor costs may weigh on margins as avocado/chicken prices remain high. CMG is a potential candidate to announce a stock split. CMG delivered strong results and a solid outlook last quarter with better sales and utilized pricing initiatives to offset rising costs and guides to 10-12% Q2 comps. Blackbox and OpenTable data are showing softening traffic trends across the industry for Q2. Higher menu pricing and/or broader consumer basket inflation could pressure transactions/mix at CMG.
CMG has formed a multi-week base on its 200-week EMA with a bull MACD cross signal very close with the $1400 level key resistance followed by VWAP off the highs at $1530. The $1240 and $1210 levels are important support with a big volume pocket below back to $870.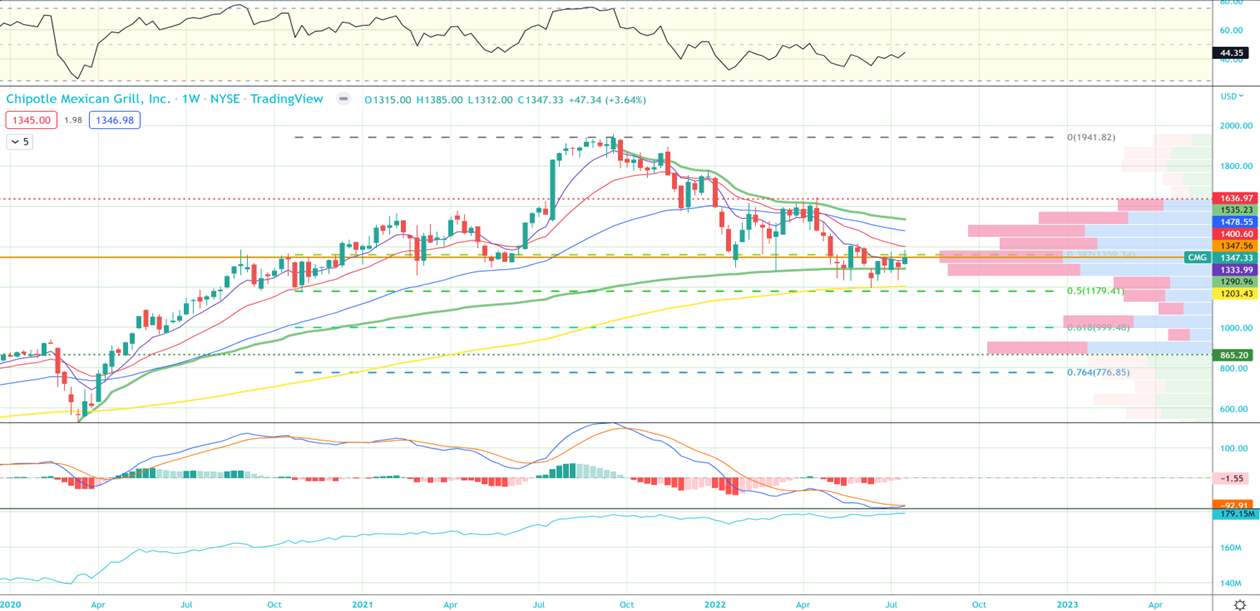 CMG has a $36.7B market cap and continues to trade at a premium valuation of 32X Earnings, 4.7X Sales and 45.5X FCF. Analysts have an average target of $1780 and short interest has risen 80% Q/Q to 4% of the float. CMG options are pricing in a 5.25% earnings move and historical put/call open interest ratio is at the 4th percentile with average IV30 crush -21.8%. CMG does not see a lot of large flows but September $1200 puts opened on 7/20 for 300X.
Trade to Consider: Sell the CMG September $1450/$1500 Call Spreads for a $15 Credit