Holy Smokes! Traeger has All the Making of a Long-Term Winner in Consumer Goods
Traeger (COOK) came public in July as a well-known high-end brand in consumer goods with some comparisons to YETI and has performed well rising 19% since the IPO and a name worth taking a closer look at the financials and potential with a market cap of just under $3.2B.
Traeger is the creator and category leader of the wood pellet grill, an outdoor cooking system that ignites all-natural hardwoods to grill, smoke, bake, roast, braise, and barbeque. The Traeger simplifies the process of cooking with wood and empowers everyone from a casual griller to a professional chef to create delicious meals that we believe cannot be replicated with gas-, electric- or charcoal-based cooking systems. Its grills use an auger to feed natural hardwood pellets into a fire pot, where they are ignited by a hot rod to create consistent heat and flavorful smoke. Traeger sells through an omnichannel distribution strategy led by retailers ranging from Ace Hardware and The Home Depot to Wayfair and Williams Sonoma while also having a strong DTC business through its website and app.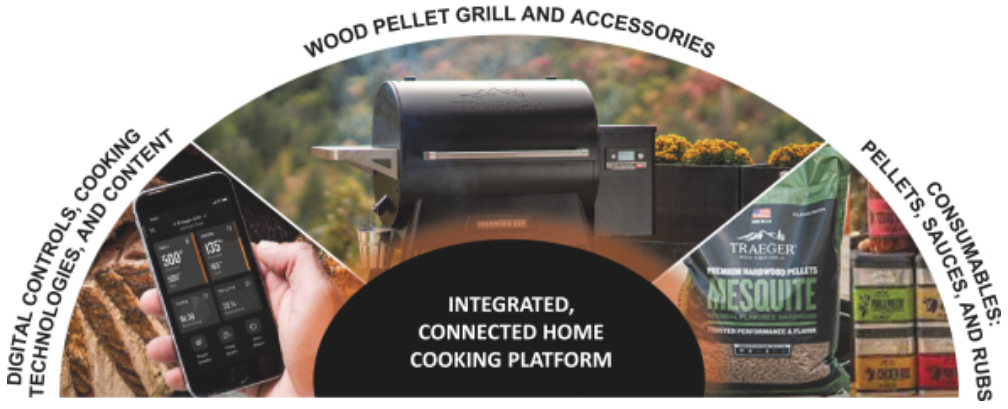 Its flagship wood pellet grills are internet of things, or IoT, devices that allow owners to program, monitor, and control their grill through our Traeger app, which is used on more than 1.6 million mobile devices per month and includes a digital library of approximately 1,600 original recipes and Traeger Kitchen Live cooking classes. Traeger has an engaged community called the Traegerhood, which includes everyone from casual grillers to competition pitmasters and professional chefs.
COOK also has a growing consumables business leveraging its brand of grills with consumers buying its wood pellets and special sauces & rubs. For the year ended December 31, 2020, Traeger owners bought approximately 110 pounds of Traeger wood pellets, up from approximately 87 pounds for the year ended December 31, 2018. COOK acquired Apption Labs in July which specializes in the design and manufacture of innovative hardware and software related to small kitchen appliances, including the MEATER smart thermometer and related technology.
The outdoor grilling market is large, estimates that 60% of U.S. households own a grill, representing a total addressable market of approximately 75 million households in the United States. COOK has sold 2M grills since 2020 indicating a penetration of just 3% of the market. It sees opportunities to expand its integrated, connected cooking platform with new types of technologies and experiences and disrupt the home cooking market. Data from its cloud-connected grills suggest the average owner cooked 56 times on their Traeger in 2020. Latest data shows grills are replaced every five years on average, and that approximately 20 million grills were purchased in the United States in 2020. Brand awareness for the wood pellet category is approximately 25%, which suggests that a majority of U.S. consumers are unfamiliar with a wood pellet grill and its advantages over gas and charcoal.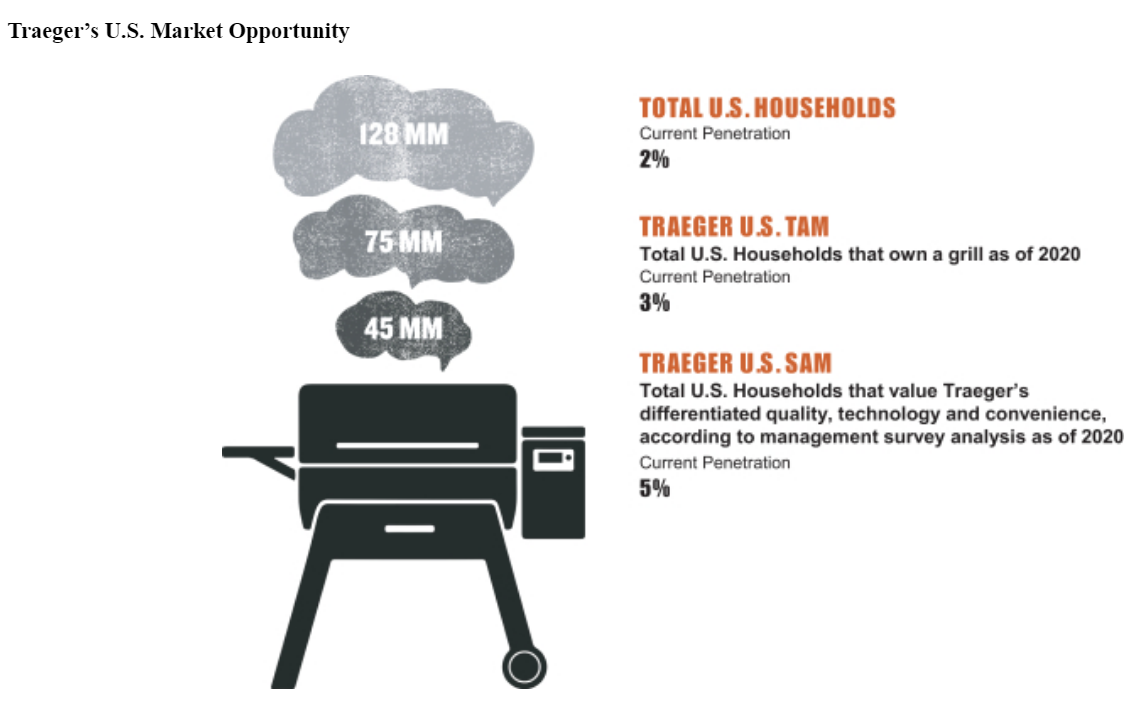 COOK has a market cap of $3.17B and trades 3.7X FY22 EV/Sales and 23X EBITDA. COOK revenues are seen rising 38% in 2021 and then 20-25% annual growth the next five years while profitability remains strong and EBITDA seen reaching $350M in 2025 from $105M in 2021. COOK revenues have risen at a 28% CAGR 2017-2020 and the average retail equivalent price paid has risen at a 7% CAGR. Adjusted EBITDA more than doubled in 2020 from 2019.
COOK has plenty of positive tailwinds from a growing portion of food being cooked at home, growing share of wood pellet grills and desire for food-technology, and increased spending for at-home sanctuaries. It has a very loyal customer base with a dominant brand leadership while penetration rates remain very low and as it increases it will driver more strength from its consumables business, almost a razor-razorblades model. COOK shares do trade at premium valuation and if comparing to a brand like YETI which has similar margins it trades at equivalent EV/EBITDA though has a stronger growth outlook and likely has more upside to margins. COOK is a core small cap name to own providing an exceptional growth profile in a category lacking many growth plays while having very strong financials and a compelling go-forward strategy.