IPO Profile: An Emerging Financial Services Software Company
Intapp (INTA) a recent IPO that has trended in an orderly pattern since its debut with shares +34.5% and currently forming a nice bull consolidation below the $40 level.
Intapp is a leading provider of industry-specific, cloud-based software solutions for the professional and financial services industry globally. Its products empower the world's premier private capital, investment banking, legal, accounting, and consulting firms with the technology they need to meet rapidly changing client, investor, and regulatory requirements, deliver the right insights to the right professionals, and operate more competitively. Intapp has three revenue streams: 1) Cloud ARR driving SaaS revenue, 2) On-premise ARR driving support and subscription revenue, and 3) professional services revenue.
The Intapp Platform is purpose-built to modernize these firms. The platform facilitates greater team collaboration, digitizes complex workflows to optimize deal and engagement execution, and leverages proprietary AI to help nurture relationships and originate new business. By better connecting their most important assets—people, processes, and data—the platform helps firms increase client fees and investment returns, operate more efficiently, and better manage risk and compliance.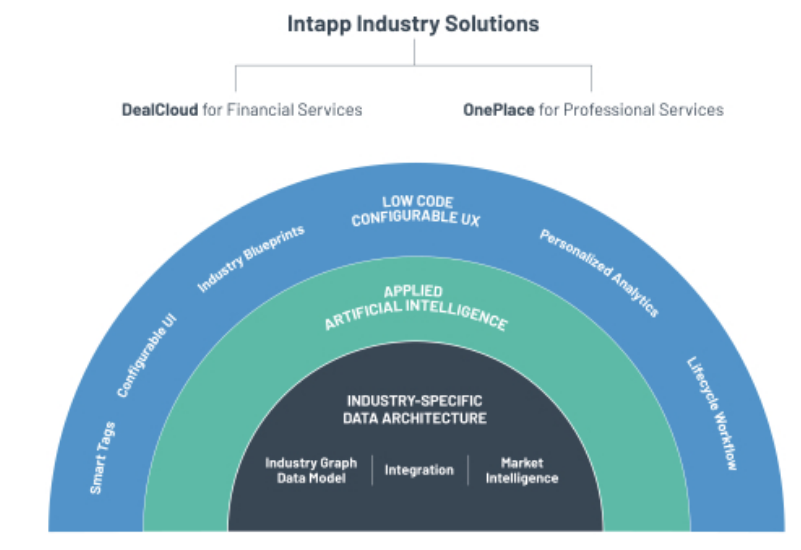 Intapp's main products are DealCloud and OnePlace. DealCloud is a deal and relationship management solution for financial services firms. The solution manages firms' market relationships, prospective clients and investments, current engagements and deal processes, and operations and compliance activities, allowing investors and advisors to react faster, make better decisions, and execute the best deals. For investment banks and advisory firms, this helps enhance their coverage models, achieve greater win rates, and drive higher success fees. For investors, this helps increase origination volume, support investment selection, and drive greater returns. OnePlace is a solution to manage all aspects of a professional services firm's client and engagement lifecycle. The solution improves client strategy and targeting, business development and origination, and work delivery, increasing financial performance and regulatory compliance. INTA's platform is low-code integration pre-built with connectors that enables faster digital transformation. Intapp's vertical solutions come pre-configured out of the box with industry specific workflows and language built-in, with a cloud/mobility-first vision and architecture.
Within the professional and financial services verticals, Intapp is competing against horizontal solutions, such as Microsoft Dynamics, Salesforce, and SAP, which can be complex and expensive to customize and difficult to align with professional and financial services firms' workflows. Legacy point solution vendors include Navatar, Aderant, and Thomson Reuters.
INTA has more than 1600 clients as of last quarter and has historically grown through a combination of expanding within the existing client base—including additional users and capabilities—and selling to new clients. INTA is operating in the massive field of financial services and sees its customer base as one with $3 trillion in global revenues. The failure of legacy systems and horizontal solutions to adequately address the specialized technology needs of today's professional and financial services firms creates demand for companies like Intapp that focus on industry-specific, cloud-based software solutions. INTA has calculated its TAM at $24B with a SAM of $9.6B. INTA plans to continue growing via new platform solutions, expanding internationally, pursuing M&A and growing its client base. It's target market is around 46,000 customers which implies 3.5% penetration.
INTA has a market cap of $2.24B and trades 10.9X FY22 EV/Sales and 9.2X FY22 with revenues seen growing 13.2% in 2022 and 18% in 2023 after 30.5% and 14.9% growth the last two years. INTA operates with gross margins of 65% and although negative profitability near-term due to investments the business has potential to achieve 25-30% operating margins. Intapp's LTV/CAC ratio is ~ 5X which is below the peer average of 6X.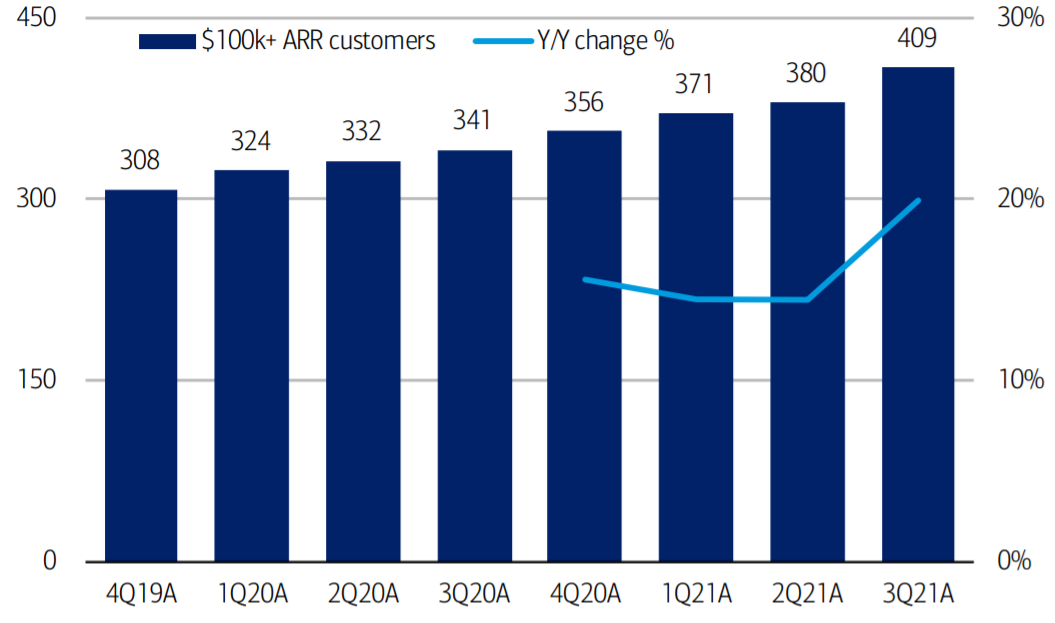 INTA operates in a large and growing market that is highly underpenetrated and provides a value-add software service. INTA's revenue growth numbers are not in the hyper-growth category but the forward opportunity is strong and to this point management looks to be solid delivering impressive numbers and has a strong vision. INTA should be able to increase its penetration rates while also working towards platform expansion to open up additional opportunities. It is an attractive small cap software growth name for a portfolio.