Small Cap Beverage Company with Strong DTC/Premiumization Themes
The Duckhorn Portfolio (NAPA) a small cap that screened well into 2022 and shares have held up well down 8% YTD and gaining 20% the last three months. NAPA shares put in a strong candle last week and are breaking out of its high volume value zone with the $24 level next major resistance.
Duckhorn is a premier scaled producer of luxury wines in North America with a comprehensive portfolio of highly acclaimed luxury wines across multiple winery brands, varietals, appellations and price points. The portfolio is focused exclusively on the desirable luxury segment, which it defines as wines sold for $15 or higher per 750ml bottle. NAPA sells wines in all 50 states and over 50 countries at SRPs ranging from $20 to $200 per bottle under a world-class luxury portfolio of brands, including Duckhorn Vineyards, Decoy, Kosta Browne, Goldeneye, Paraduxx, Calera, Migration, Canvasback, Greenwing and Postmark.
NAPA does sell through the wholesale channel to distributors but also has a powerful omni-channel sales model that leverages its multi-winery e-commerce website, and features award-winning subscription wine clubs and tasting rooms. The DTC channel made up 34.7% of our net sales in 2021 which delivers stronger margins. According to data from Statista capturing on-premise and off-premise sales, the total sales value of wine in the United States was more than $53B in 2019. The luxury wine segment, which comprised between 10% and 15% of the total U.S. wine market in 2020, expanded at more than double the pace of the broader wine industry from 2012 to 2020 with premiumization a key them across alcoholic beverages.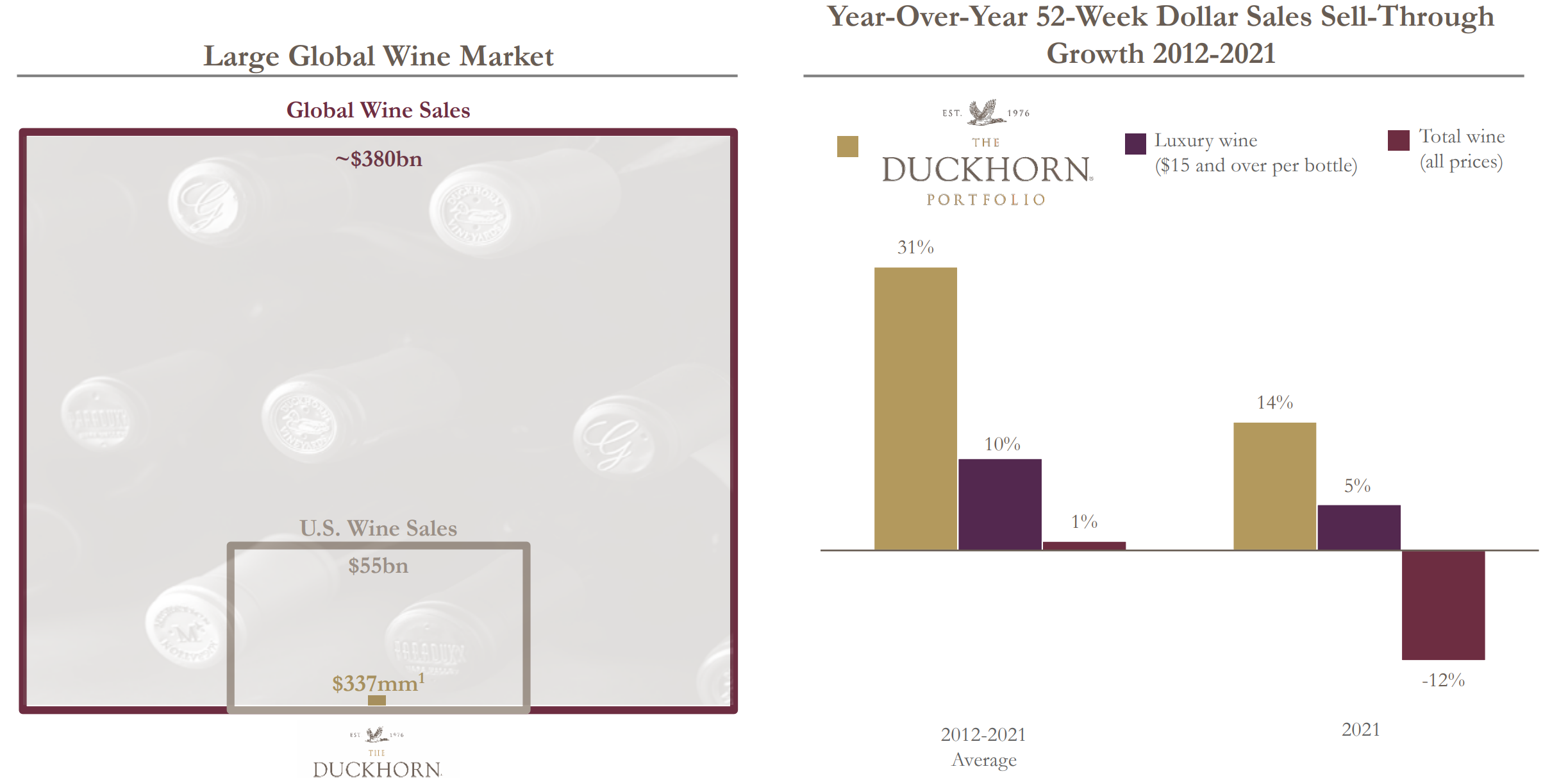 NAPA has a market cap of $2.5B and trades 29.8X Earnings, 18X FY23 EBITDA, 58X FCF and 6.9X Sales with revenues rising 24.4% in 2021 and seen growing 8-10% annually through 2024. NAPA operates with impressive 15% FCF margins and 33.5% EBITDA margins. NAPA's 3-year volume CAGR was 19.9% as of its latest report and is seeing healthy consumer demand and strong brand strength. When looking at IRI consumption data as a proxy for certain types of off-premise sales, the Duckhorn portfolio remains the fastest-growing supplier of scale in the over $15 per bottle U.S. luxury wine segment having posted mid-teens growth in both dollars and units. NAPA is seeing accelerating growth on all 3 key metrics: cases, accounts sold and points of distribution. Its high-margin DTC channel growth continues to be somewhat restrained by Costa Brown supply constraints but is seen fully recovering by late FY23.
NAPA is an impressive growth story operating in a more insulated consumer area of luxury wins while having a strong business model and high margin business. Shares do trade at a premium valuation but, in this case, it looks deserved and should continue to be a top performing small cap consumer goods stock. NAPA operates in a very fragmented industry and its breadth/scale offers significant operational advantages. NAPA should continue to gain market share, launch new labels, expand distribution and salesforce and capitalize on its DTC channel.