Small Cap Healthcare Services Provider with Large Opportunity in Value-Based Care
Option Care Health (OPCH) is the largest independent provider of home and alternate site infusion services through its national network of 145 locations in 45 states. Option Care Health's infusion services include the clinical management of infusion therapy, nursing support and care coordination. Option Care Health's multidisciplinary team of approximately 2,900 clinicians, including pharmacists, pharmacy technicians, nurses and dietitians, are able to provide infusion service coverage for nearly all patients across the United States needing treatment for complex and chronic medical conditions. Option Care Health contracts with managed care organizations, third-party payers, hospitals, physicians and other referral sources to provide pharmaceuticals and complex compounded solutions to patients for intravenous delivery in the patients' homes or other nonhospital settings.
Infusion therapy is the administration of parenteral drugs to a patient either by nurse, or the patient themselves across a number of potential care settings. The drug infusions generally fall into several therapy categories including anti-infectives, nutrition, immune deficiency, chemotherapy, and hemophelia, among others. The companies that effectively compete in this market typically need capabilities in pharmacy and nursing services, care coordination, access to drugs via supply agreements, and relationships with both payors and prescribing physicians.
The drivers of market growth can be broken down into (1) patient growth for chronic and acute conditions, (2) new IV drugs that enable market adoption, and (3) the transition from outpatient facilities to the home setting. The key trends driving end-market patient growth are (1) the increasing population of elderly in the US, (2) the growing incidence of chronic conditions, and (3) increased patient access to healthcare. Broad trends in pharmaceutical and biotechnology drug development also drive underlying growth in the infusion market, including overall pharma R&D spend and new infusible drug launches.
Competitors within the home infusion market include Coram CVS/specialty infusion services (a division of CVS Health), Accredo Health Group, Inc. (a unit of Cigna), Briova (a subsidiary of OptumRx, which is a unit of the United Healthcare Insurance Company) and various regional and local providers. The Home Infusion market is estimated at $14B while the total Infusion market is $100B, an opportunity for further penetration.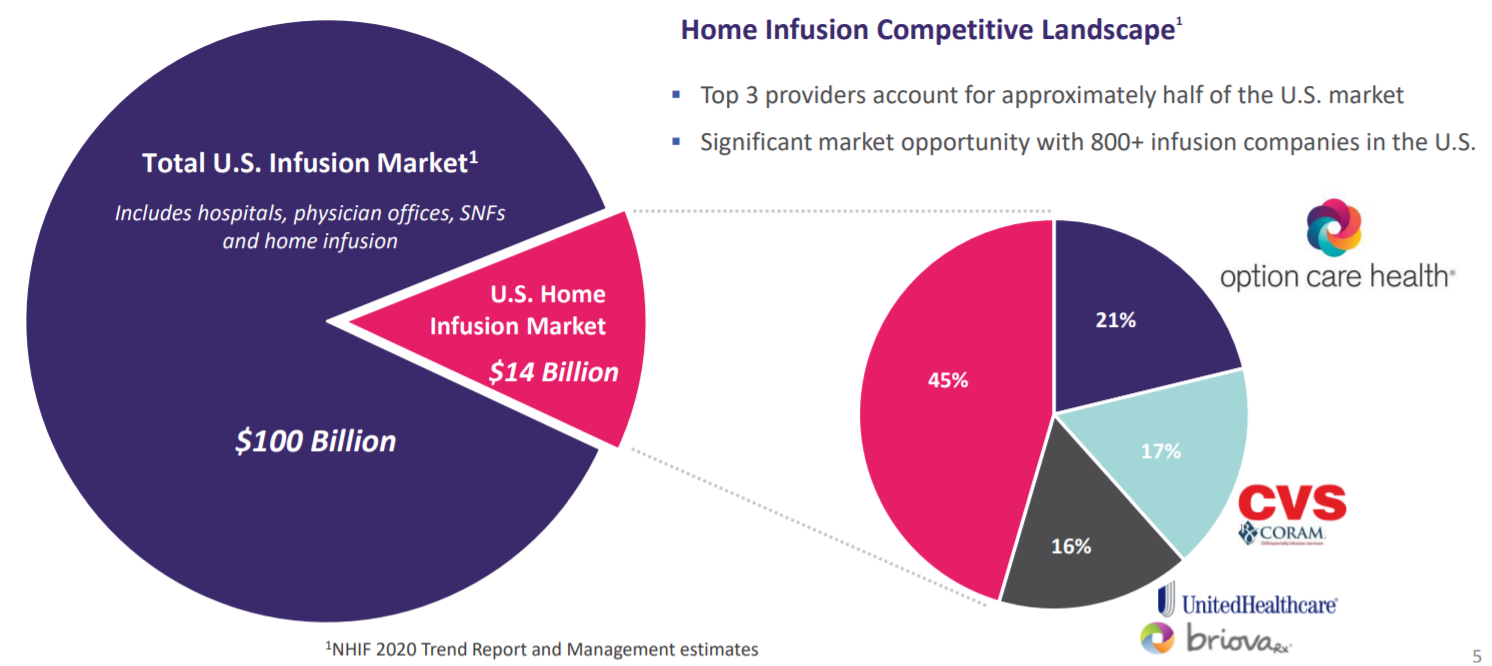 The Company generates most of its revenue from contracts with third party payers, including managed care organizations, insurance companies, self-insured employers, Medicare, and Medicaid programs. The Company's largest payer is United Health Group, which represented approximately 15% of its revenue for the year ended December 31, 2020.

OPCH is positioned to capture the emerging healthcare trends of cost reduction and favorable outcomes, alternative site care via technology, emerging therapies for chronic conditions and patient engagement and involvement. OPCH has opportunities to leverage its competitive positioning to grow market share with payors and gain access to novel drugs under limited distribution agreements with manufacturers.
OPCH has a market cap of $4.6B and trades 29.5X Earnings, 1.43X Sales and 32.45X FCF with Debt/Equity ratio of 1.07X. OPCH revenues grew 31% in 2020 and sees 12.5% growth in 2021 and 7-8% in 2022/2023 while EBITDA of $130.8M in 2019 is seen hitting $280M in 2021 and $350M by 2023. OPCH is translating expanded patient growth into earnings growth with its scalable platform. OPCH does not currently see the Aduhelm approval as an opportunity until Medicare reimbursement changes.
OPCH looks to be an attractive long-term investment offering steady growth and clearly stands to benefit from major emerging trends in Healthcare while trading at an attractive valuation.