How I Trade Inside Multiple Timeframes Actively
It's not a crime to take bullish short-term trades while medium term bearish….
Our lead indicator, NYSI, turned bearish 2/8 and has turned out to be a great lead indicator once again as it was a time I exited my longs and took April SPY puts. That same signal turned bullish on 1/5 and captured most of the entire rally higher.
On 2/14 we had a rally that faded at key resistance and I tweeted it was a good time to buy March/April puts:

On 2/24 I reiterated these points but also noted this is a very normal correction and was looking for the 393-395 zone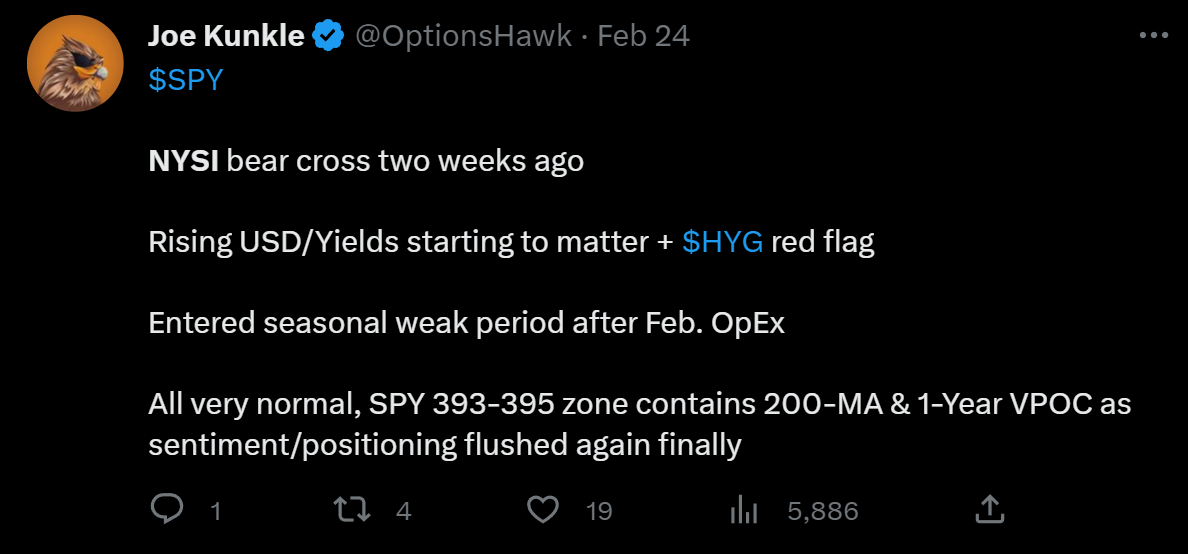 On 3/1 we hit my target level for puts and noted the confluence of major support levels: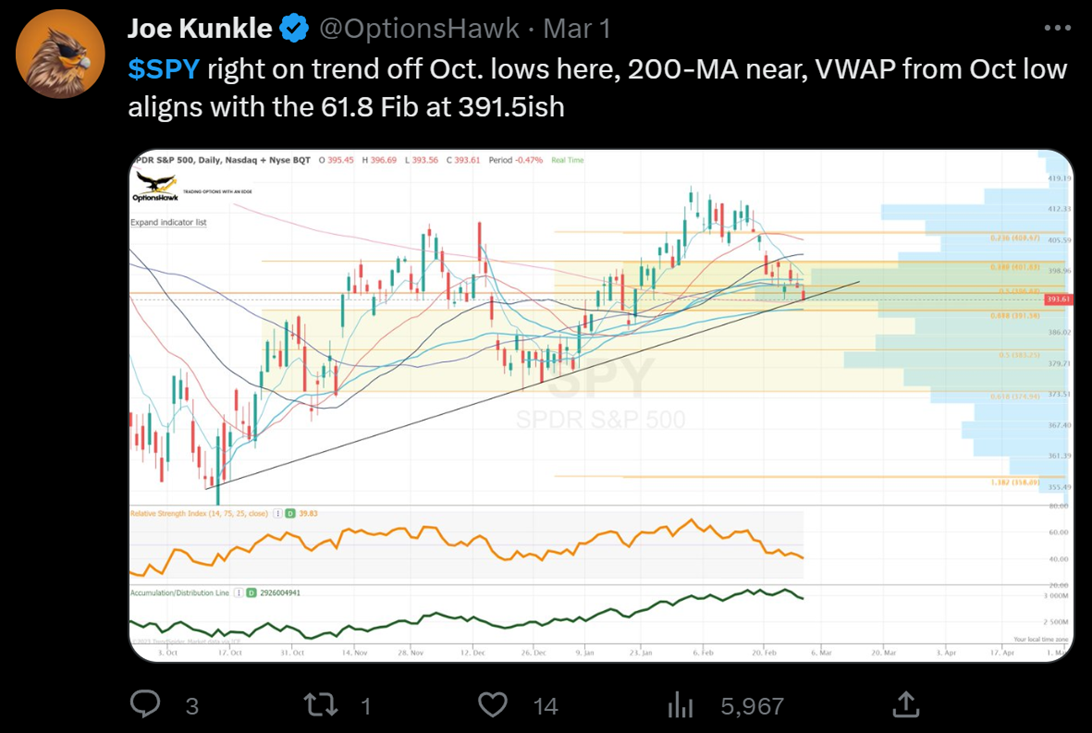 When conditions are ripe, it would be idiotic not to risk 1% to make 5% or more. We hit massive support convergence (200-day, 6-month trend + YTD VWAP) on indices & sentiment turned back overly bearish. There were also a ton of individual stock set-ups that remained very bullish through the very normal correction.
So, on 3/1 I started loading up on longs and on 3/2 we opened week and saw indices move below the 200-day but then quickly retake them while breadth indicators confirmed a trend-up day would occur, so I got even more aggressive and levered long. It turned out great as we ripped 3/2 and follow-through with another big surge 3/3. This is an example of what I often discuss as "trade-against" levels, there are a few opportunities each year where we get to a major support and can play for a snapback rally, so you have a low risk stop-out with potential to catch a big move higher.
Again, despite remaining in mostly bear signals medium-term we had the opportunity to trade and was able to capture a massive week of gains. But, since we remain in a bear signal I also take profits quickly as the moves are less likely to sustain unless signals flip back to bull-mode, which is not the case yet. My view was the S&P would rally to 4050 so I took off a good amount of my buys Friday though still holding some as the 21-day just overhead at 405.73 is a natural target to fade the move.
I realize that it is not possible for most people to be able to trade as actively as I do, I can go from 0% exposure to 150% exposure in thirty minutes, it is all about taking your shot when the risk/reward is ultra-favorable.
There are always going to be haters on Twitter that think it is impossible for someone to be this tactical but I think I provide as much value to Twitter as anyone out there with market reads, and ask for nothing in return.
They say one cannot beat the indices, and for most, that is true, but I have crushed the indices consistently since I started trading and have no reason to stop applying my process that continues to improve and develop even more every month.