OptionsHawk in Earnings Season
At OptionsHawk we are constantly creating new tools to allow traders to be more informed in decision making, and earnings season is a time that the site really excels with unparalleled research and analysis.
A quick view of some of the access OptionsHawk provides members for trading better in earnings season:
Earnings Calendar:  The calendar is provided with accurate dates and the EPS/Revenue Estimates and is filled in as results come out with additional notes on important metrics/guidance.
Earnings Snapshots:  Each week I provide in depth previews of the top 5-10 earnings reports covering fundamental, technical, and options flow/volatility analysis.  I also look at all of the top sell-side research reports to get a better gauge of Street expectations and pivotal numbers, and then create an options strategy to best capture the move.  I also provide these each week a la carte available for purchase.  Past reports are available for viewing at https://www.optionshawk.com/earnings-snapshots/
Earnings Research:  Outside of the main earnings reports each week, we also cover a number of other names reporting with in depth earnings previews.  The weekly radar report on Sunday features one additional name, and throughout the week in the Trading Hub chat more previews are provided.
Earnings Grid: A daily post in the Trading Hub chat featuring Historical Moves, Notable Open Interest, Implied Moves, Short Interest and Trends, and Skew data in all the names reporting after the close and the next day pre-market, highlighting bullish/bearish names to enable trades to be set-up.  An example: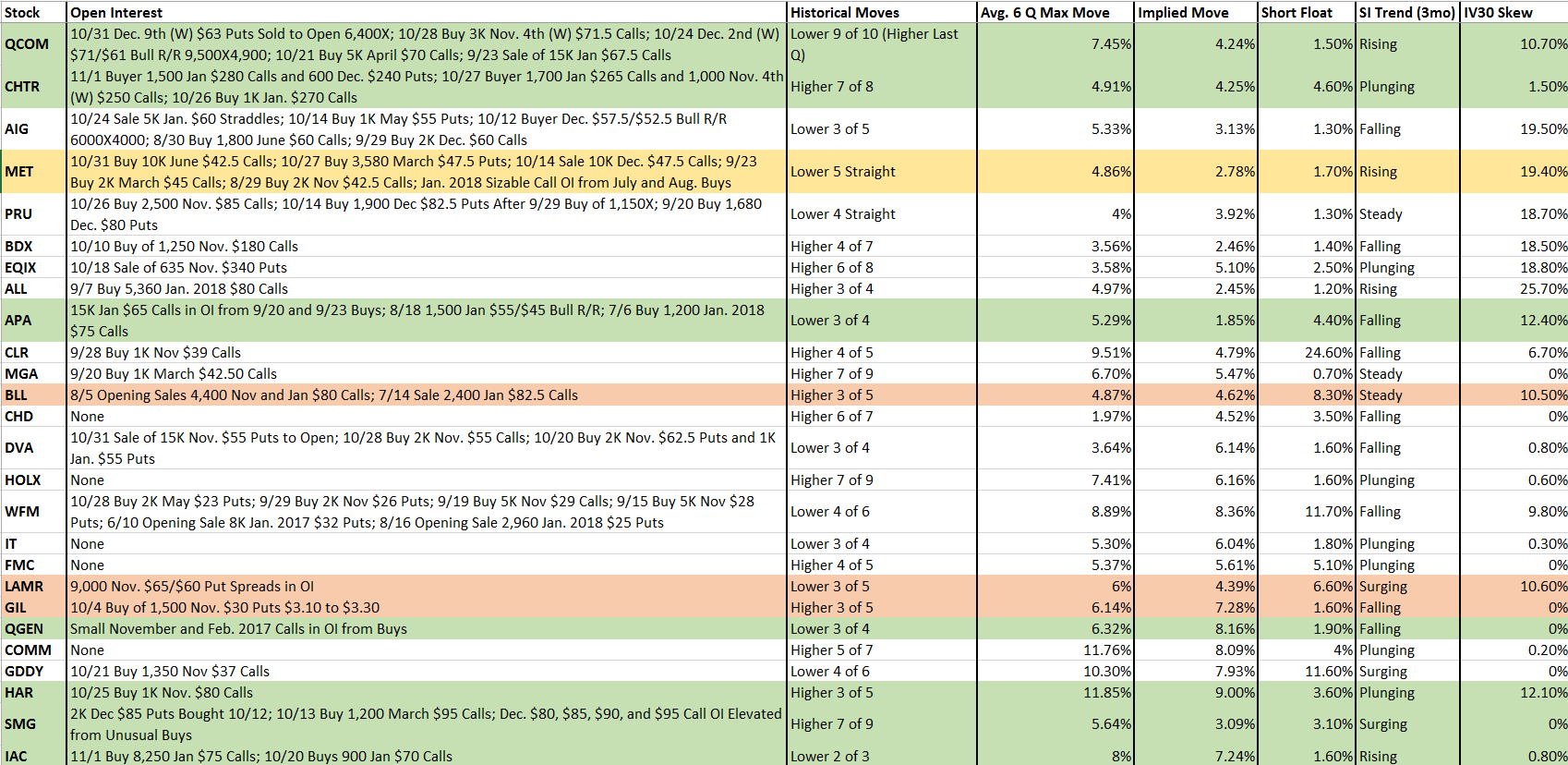 Earnings Flow Trades:  Each morning I provide the best bull/bear set-ups for names set to report earnings with option strategies when options flow, fundamentals, and technicals are all giving the same signal.  In Q3 reporting season the earnings flow trades had a 70.5% win rate for $50,000 in profits using $5,000/position.
Earnings Database:  A spreadsheet that contains earnings trends for each quarter to find areas of strength/weakness that can impact upcoming peer reports.  It also has a Beat/Miss breakdown, and a database of companies with notes on former quarterly reports.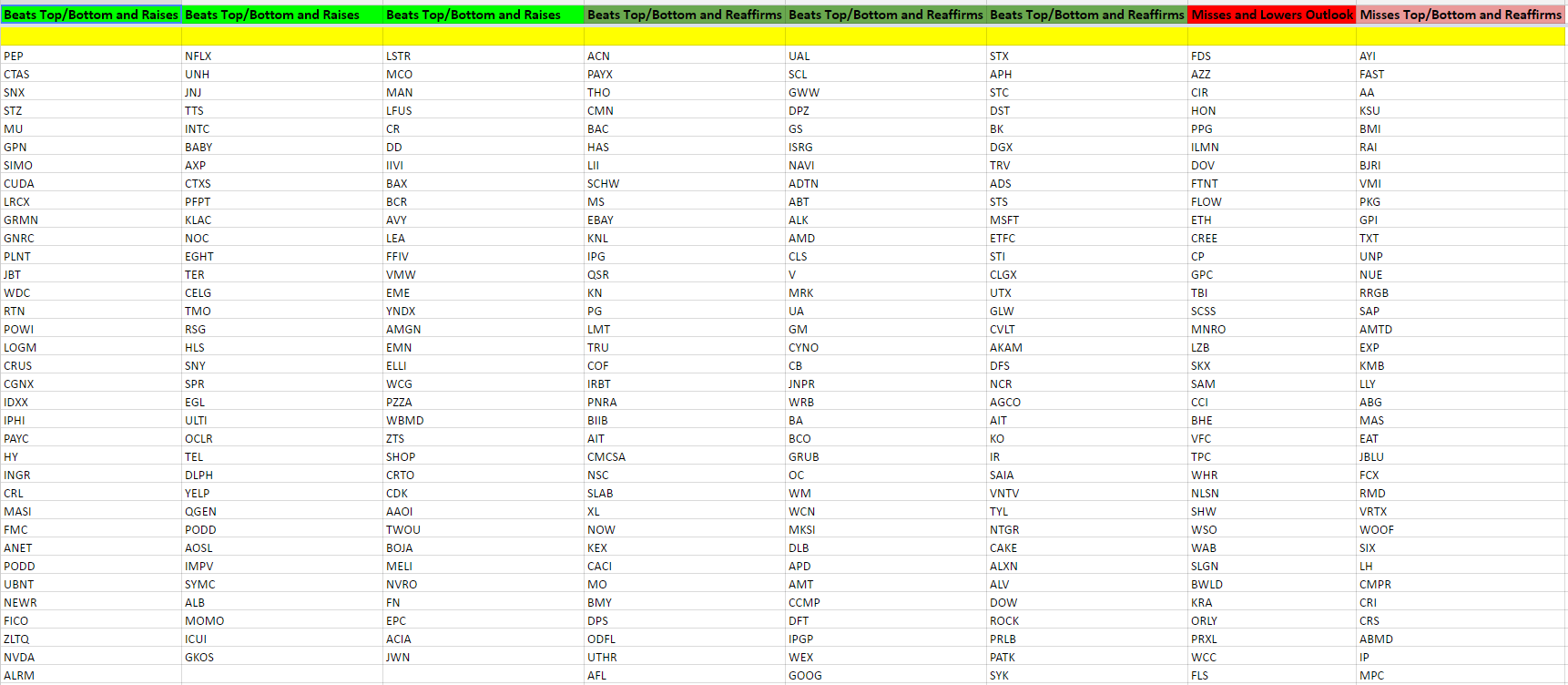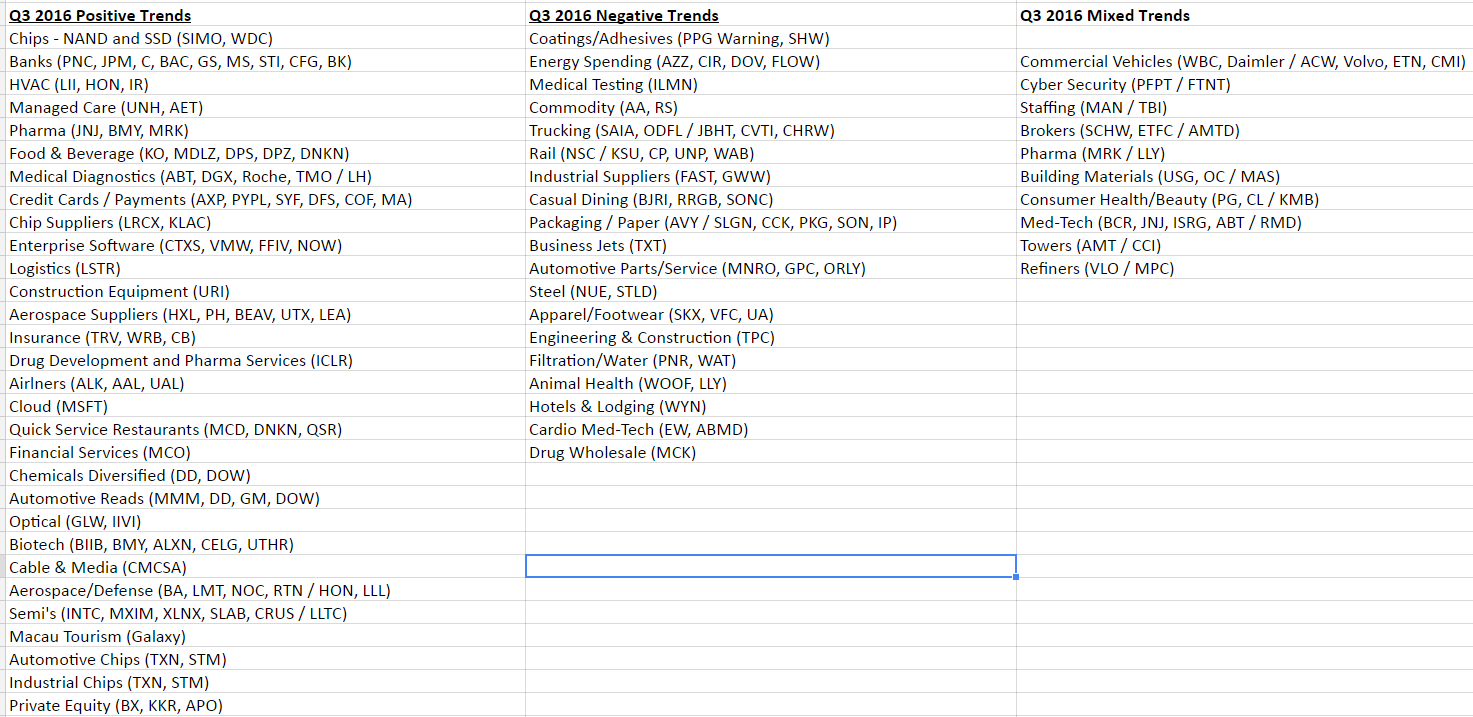 Earnings Reviews: Each morning with the Market Blitz, which provides traders with everything they need for the day ahead in markets, we also breakdown the key earnings reports with both the quantitative analysis and qualitative, after reading through the presentations, transcripts.
Notable Options Database: This tool is extremely useful at all times, but especially in earnings season to get a sense of how the options market is positioned with upside and downside positions in key strikes.  The database can be filtered a number of ways (Ticker, Expiry, Position Size), an example with IBM is below:

Trading Hub Chat:  This allows us to provide live coverage throughout earnings season and constantly looking for unusual/notable options flow, reading into earnings reports to find sympathy plays and read-throughs that can impact reports from other names in the industry, etc.
There simply is not any more complete or higher quality coverage of the markets, especially during earnings season, than OptionsHawk!