Time Warner (TWX) Upside Calls Attractive with Further Re-Org. Potential
Time Warner (TWX) shares have been fairly quiet with many of the top media names like Disney (DIS) and CBS Corp (CBS) rallying sharply to new highs.  It's a name worth a look at this level looking forward the next 6 months, and will break it down below on each degree of analysis.
Fundamental:
Time Warner (TWX) has a $58.63B market cap and trades 14.36X earnings, 1.97X sales, 1.96X book and 28.77X FCF with a 1.77% dividend yield, and 15% forward EPS growth projected.  TWX has a record of consistency posting 5 straight years of double digit EPS growth, and in 2013 FCF rose 20%.  TWX also recently raised its dividend 10% and announced a $5B buyback.
Now, the value I see in TWX is that when looking at its report it clearly is segmented into 3 companies, Turner Broadcasting (TV), Home Box Office (Premium TV), and Warner Brothers (Movies).  Time Warner has already decided to spin-off it's publishing segment, Time Inc., and I think it could easily decide to spin-off one of its segments, most likely Warner Brothers to focus more on TV (recent new investment into a sports network), and after recent Box Office success (Lego Movie, The Hobbit, Gravity).
Analysts target include FBR Capital at $85, Bernstein at $73, and Wells Fargo at $75.
Institutional Ownership:
TWX is a #9 holding at Dodge & Cox, #6 holding at Viking Global, and #9 holding at Longview Partners, notable gurus.
Technical:
TWX recently put in a strong reversal hammer bottom on a re-test of its former 2013 top breakout, and also held near support that was created in August 2013, still in a strong uptrend.  TWX shares are currently consolidating below its 20 week EMA, and a move above $65.50 sets up for a measured move out of this small cup and handle forming to $70 for the chance to make a run through its highs.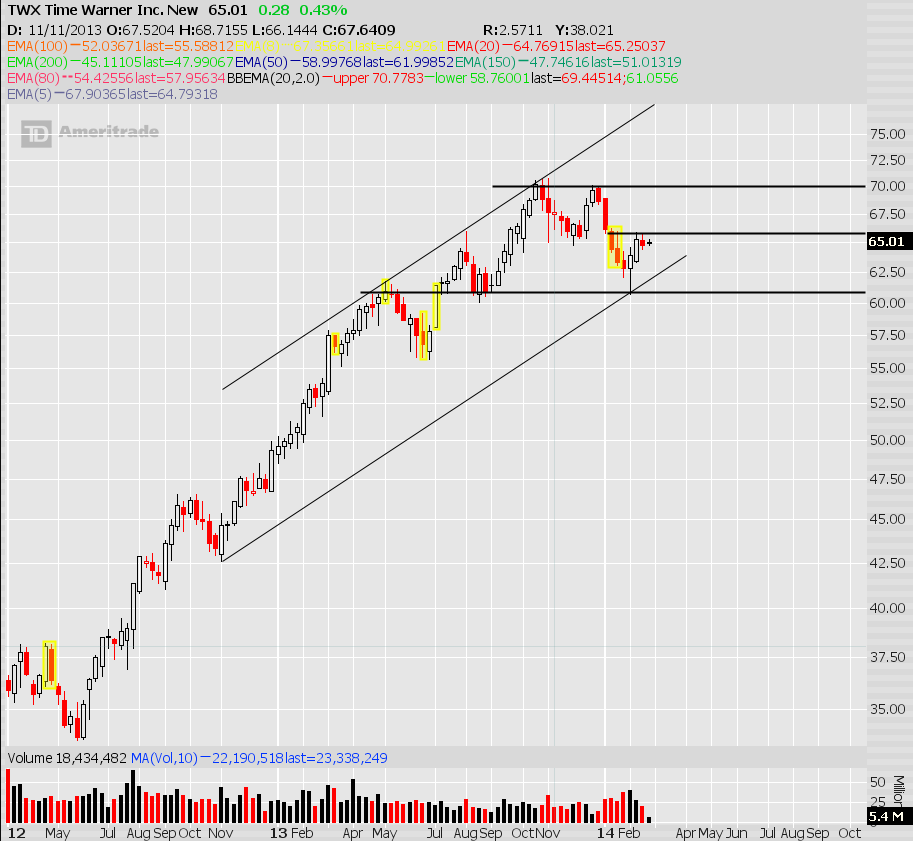 Options Activity:
TWX has seen some notable upside positioning in calls that remain in OI:
5,000 July $72.50 calls bought to open $0.78 to $0.80 on 2-6
March $67.50 Calls Bought to Open 15,000X on 1-27 at $0.52
7,000 April $70 calls in OI from a series of buys
TWX options are fairly cheap with IV30 at 19.2%, the 29th percentile for the past year.  The July $67.5/$75 call spread at $1.50 is a nice reward/risk strategy.