Schlumberger (SLB) a Lesson in Trusting Longer-Dated Options Flow
Schlumberger (SLB) shares have risen 60% YTD as Energy stocks have outperformed and has seen a lot of call activity since March. On 3/10 action really stood out and we discussed the name in detail on why option traders were positioning so bullishly.
"Schlumberger (SLB) with a surge in bullish activity 3/10 in the afternoon with size buyers in August $35 calls and June $40 calls while May $27.5 puts sold to open 2800X, and follows a recent buy-write with 5000 August $40 calls, buyers of May $35 calls that now have more than 11,000 in open interest, and May $25 calls have 18,820 in OI while the 12,000 March $25 calls from 12/17 continue to hold and 8,970 of the May $20 calls from 10/2 remain. SLB shares are pushing higher out of a nice bull flag this week riding the 8-day moving average higher while the longer-term view shows a name coming out of a bottoming pattern with near-term room to $34.50 before meeting any volume resistance. The $41B oil services leader trades 12X EBITDA, 20.9X Earnings and yields a 1.67% dividend with an outlook for 6.8% EBITDA growth in 2021 and 17% growth in 2022. SLB was hit hard by weak Oil prices that resulted in a cut-back to CAPEX across the exploration industry but the recent rise in prices is likely to restart production across the industry and benefit SLB. SLB's four divisions are Digital/Integration, Reservoir Performance, Well Construction and Production Systems and has been making a strong push into digital. The resultant improvements in operations and efficiency will lead to a stronger and higher margin company emerging out of the downturn. Analysts have an average target of $28.50 and short interest is low at 1.6% of the float. On 1/25 BAML upgraded to Buy seeing International markets supplying most of the incremental production growth in 2022 and beyond where SLB generates more than 80% of revenues. During the last couple of earnings' calls, mgmt. has noted digital adoption is accelerating, where customer pull-though is focused on 3 areas: workflow optimization, unlocking data, and operational asset optimization. On 3/2 Barclays raised its target to $35 saying the oilfield service sector run is just getting started and SLB is a great turnaround story nobody is talking about. Hedge Fund ownership rose slightly in the latest filings. "
The August $35 calls referenced were bought around $2 on 3/10 and then on 3/30 another 10,000 were bought at $1, a trader averaging down but staying with the belief shares would rise over the Summer. SLB shares pulled back after these trades and these calls traded down near $0.30 on the April 21st lows but here we are in June and the calls are now trading above $3 with all 15,000 remaining in open interest.
This is a great example of why we track all the options flow but are not always itching to get involved right away, it is often best to wait for the right set-up that gives a better reward/risk when shares approach a support level. In the fifteen years I have been utilizing options flow I have always found that the smart money is rarely getting in at the perfect level and rarely getting out at the perfect level but more times than not the size trades work over time for the patient holder and there is a major opportunity in that to strategically enter and exit at your own levels.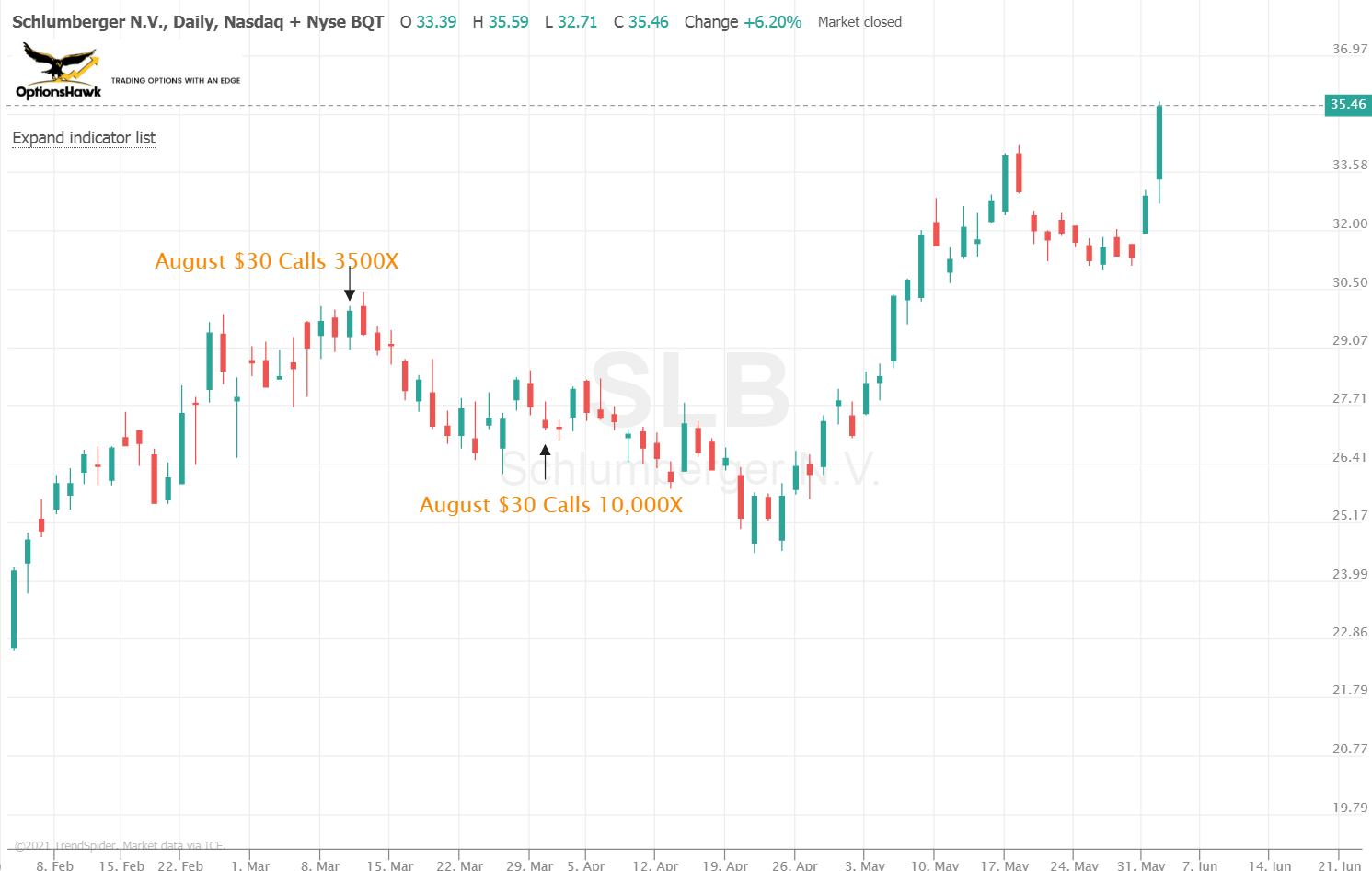 There were also plenty of other flows along the way with a clear bullish bias in action including August $32.50 calls and November $32.50 calls bought in mid-April and nearly 10,000 November $37.50 calls on 3/31.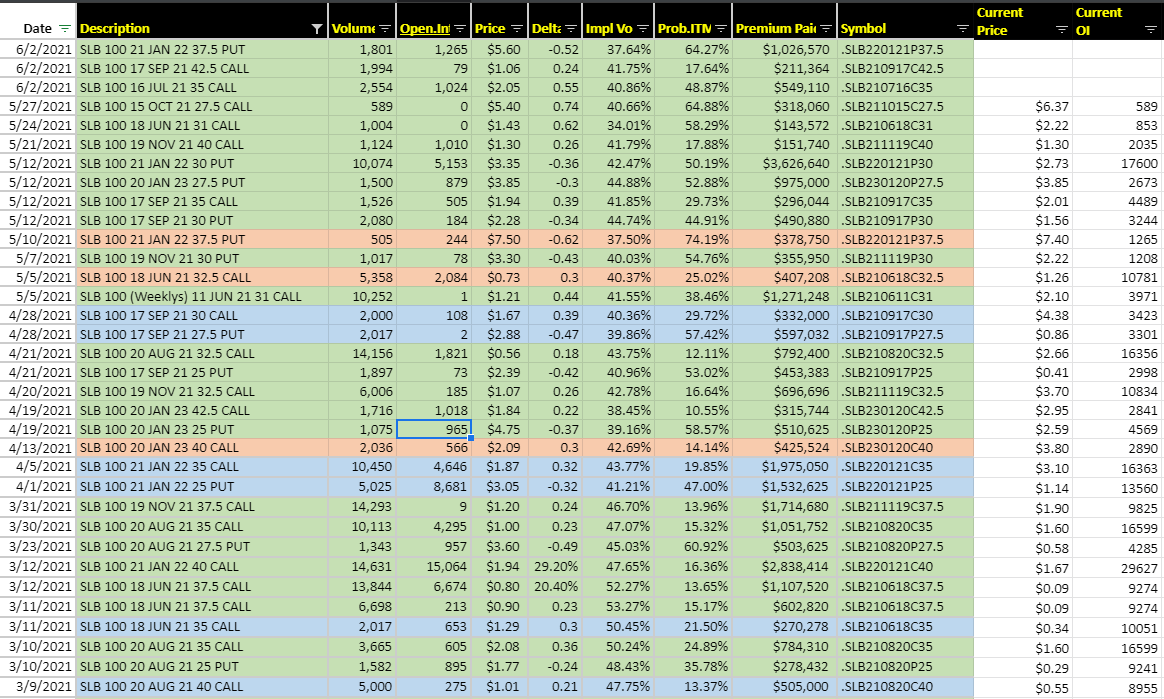 I find it helpful to look back at a lot of these trades and discover how these traders moving large positions think, often relentless in their view and adjusting positions if they do not work initially while also often doubling down. It is a strategy that takes conviction but also one I see work with the strongest hit rates and why I tend to focus on activity at least 3 months out.