Weekly Market View 10-8-23
The SPX closed Friday sharply higher after making new lows midweek and see buyers defend the 4250 zone of support multiple times. The bullish engulfing candle to finish the week closed price back over the key 4300 level and 8 EMA with the 21 EMA the next hurdle to clear at 4340 that would confirm a potential medium-term bottom formed. Some positive factors seen into the recent lows was price testing and holding the rising 200-day MA, the 50% fib retracement and lower edge of the bullish uptrend channel pointed out here the past month as likely targets. RSI and NYMO got oversold enough into that selloff along with sentiment now flushed out and the VIX tagging 20. MACD is now curling up and potential this week to see a bullish cross. Resistance above is at 4400 on the upside which lines up with the open gap to fill while the 50% retrace of the recent decline comes in near 4411.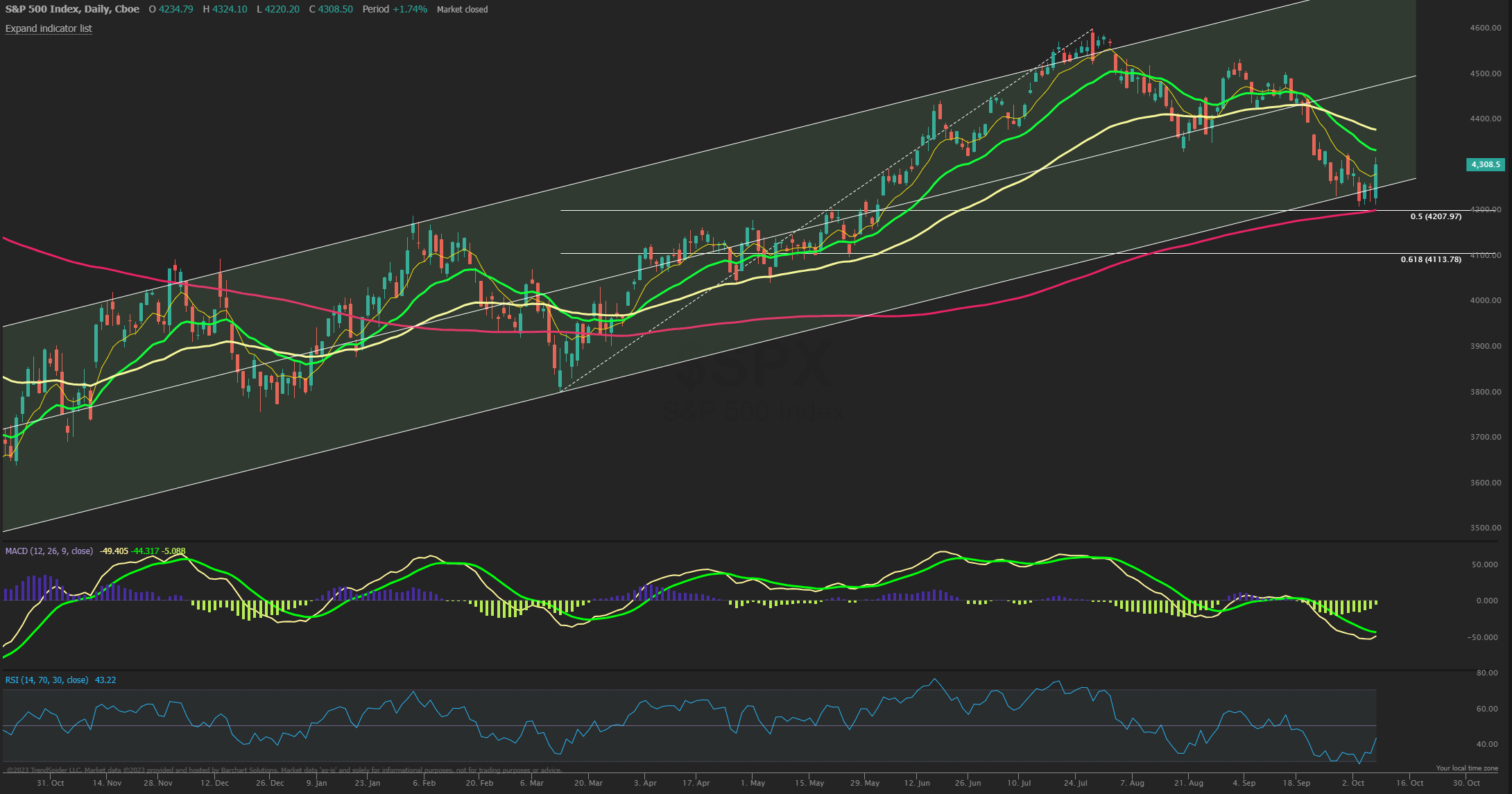 Market Sentiment/Breadth
AAII sentiment for the week ending 10/4 showed bullish responses increased to 30.1% from 27.8% prior while bearish responses rose to 41.6% from 40.9%. Neutral sentiment fell to 28.3% from 31.3%. Even with the increase, optimism is below its historical average of 37.5% for the seventh time in eight weeks. The bull-bear spread (bullish minus bearish sentiment) rebounded by 1.7 percentage points to –11.5%. The NAAIM Exposure index decreased to 36.21 from 43.01 and is under last quarter's average of 70.22 but at an extreme. Lipper fund flows for the week ending 10/4 had $-6.9B of outflows in equities. Friday's close saw NYSE new highs at 27 while new lows of 335 and the 10-day MA of New High/Low Differential is now negative at -217. The percentage of SPX stocks above their 50-MA is 17.4% while those above their 200-MA was 38.4%. NYSI Summation index may try to rebound in the coming days but is still below its 8-MA and in a short term sell signal. NYMO McClellan Oscillator closed at -21 and Neutral. The cumulative AD line is below the 40 EMA short term breadth and below the 89 EMA long term bull signal. CBOE Equity P/C 50-day MA at 0.77. CNN Fear and Greed index is in the Fear zone at 29 from 25 last week. The VIX/VXV ratio rose to 0.97 and closed at 0.932, which measures the spread between 1- and 3-month implied volatility, above 1.0 exhibits fear and tends to mark a low.