Weekly Market View 11-19-23
The SPX closed the week higher again by +2.2% and above the large 4500 strike level as November OPEX week played out with a bullish lean highlighted by a nearly 3 sigma surprise move higher on CPI Day. The market now hitting the early September highs and fairly close already to the top end of the uptrend channel we have been pointing out as a likely yearend target since the late October lows held firm at that key support of one year POC at 412 SPY and now quite extended from its 8 EMA even which is near 444.50 and lines up with SPX 4450 so potential to see a early week dip after options expiration which is typical. However, as it's a shortened holiday week the likelihood of a bearish week by Friday is less since seasonality tends to be strong on the day before and after Thanksgiving. Support is solid at 4400 and the 4425 gap fill on any deeper pullback potential while a continued grind higher would target 4550 and then an open gap at 4575 from the early August highs. Ultimately the SPX is on a path higher into year end with the 4600 highs for 2023 the bigger objective. The 21/55 EMA bull cross also confirmed this past week and weekly MACD nearing a bull cross longer term strength and buy side power is likely to continue into the heavier January option expiration timeframe.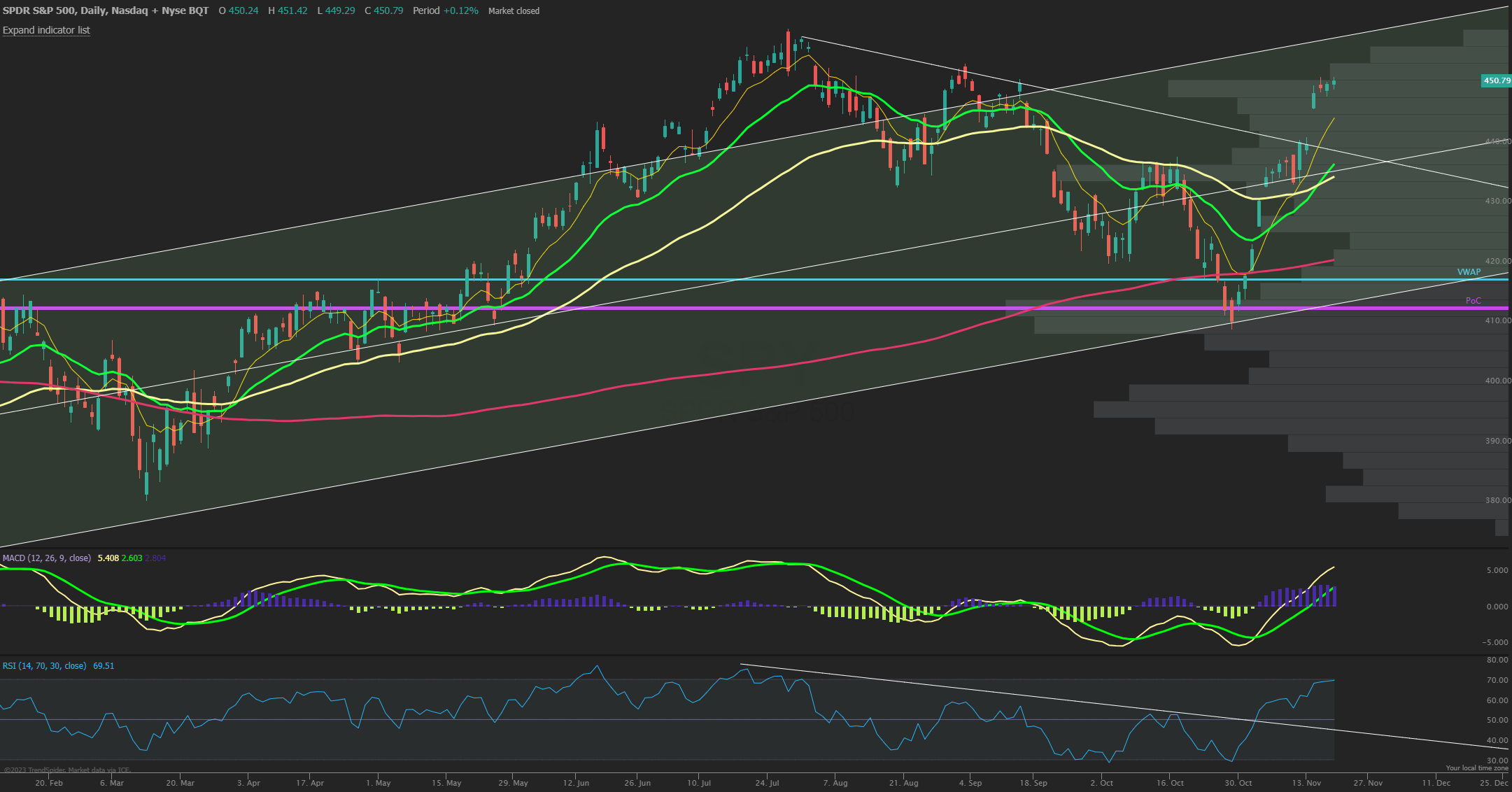 Market Sentiment/Breadth
AAII sentiment for the week ending 11/15 showed bullish responses increased slightly to 43.8% from 42.6% prior while bearish responses ticked up to 28.1% from 27.2%. Neutral sentiment fell to 28.1% from 27.2%. The bull-bear spread (bullish minus bearish sentiment) increased 0.3 percentage points to 15.7%. The bull-bear spread is above its historical average of 6.4% for the third time in 11 weeks. The NAAIM Exposure index increased to 72.06 from 61.76 and now back above last quarter's average of 60.53 but still not overbought. Equity fund flows for the week ending 11/15 had $+10 billion of inflows in equities. Friday's close saw NYSE new highs at 59 while new lows of 14 and the 10-day MA of New High/Low Differential is positive at +7. The percentage of SPX stocks above their 50-MA is 71.4% after lows of 10% while those above their 200-MA was 54.2%. NYSI Summation index is above its 8-MA for a short term buy signal. NYMO McClellan Oscillator closed at +61 and getting near Overbought. The cumulative AD line crossed above the 40 EMA short term breadth and now back above the 89 EMA long term bull signal. CBOE Equity P/C 50-day MA at 0.78. CNN Fear and Greed index is in the Greed zone at 58 from 40 last week. The VIX/VXV ratio closed at 0.871. This measures the spread between 1- and 3-month implied volatility, above 1.0 exhibits fear and tends to mark a low.