Weekly Market View 11-28-22
The SPX had a quiet holiday week of strength that closed higher above 4000 as VIX saw downside pressure which supported markets. The index now nears the 200-day MA just above at 4056 and coincides with the trendline from the January highs that comes in a bit higher near 4100. The market has not done anything wrong so for now innocent until it gets at least a close below the 8 EMA which currently is near 3975 and the 21 EMA closer to 3900 a key bull/bear line in sand headed into the end of November. MACD and RSI still in bull mode although momentum is flattening there. Overall, the September highs near 4120 are a likely target on the upside and potential level to watch for a reversal from overbought territory if typical month end selling resumes that has been a theme in 2022.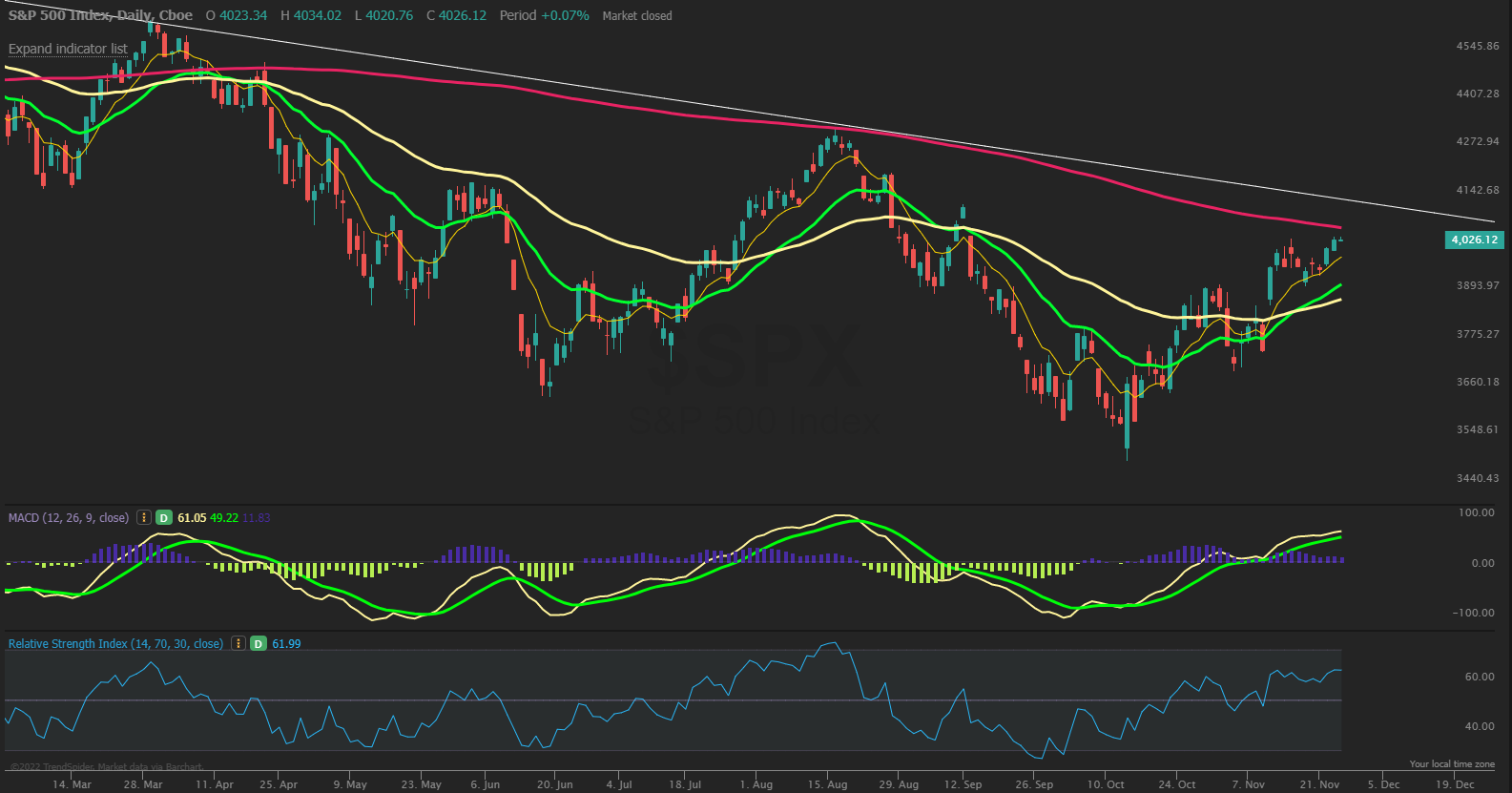 Market Sentiment/Breadth
AAII sentiment for the week ending 11/23 showed bullish responses fall to 28.9% from 33.5% prior while bearish responses stayed flat to 40.2% from 40.2%. Neutral sentiment rose to 30.9% from 26.3%. Optimism ticked down slightly this week after seeing new 2022 highs the prior week. Even with the recent big increase, bullish sentiment remains below its historical average of 37.5% for the 46th consecutive week. NAAIM Exposure index increased to 64.96 from 53.33 and is above last quarters average of 40.63. Lipper fund flows for the week ending 11/23 had $10.2B of outflows in equities. Friday's close saw NYSE new highs at 63 while new lows of 30 and the 10-day MA of New High/Low Differential is at +17 and positive for the first time since August. The percentage of SPX stocks above their 50-MA is 89.8% while those above their 200-MA was 63.2%. NYSI and NASI Summation indexes are positive above 8-MA for a short-term bullish signal. NYMO McClellan Oscillator closed at 52.1 and is slightly overbought short term. Cumulative AD line has crossed above the 40 EMA and this week saw a bullish cross above the 89 EMA long term signal. CBOE Equity P/C 50-day MA at 0.76 and at 2-year highs showing high pessimism. CNN Fear and Greed index is in Greed zone at 64 from 62 last week.