Weekly Market View 11-5-23
The SPX closed higher by nearly +6% on the week that saw some of the strongest one-sided buy side pressure in recent memory. Breadth confirmed the move with strong breadth thrusts occurring that tend to mark major multi month bottoms and the VIX collapsed by nearly 30%. The 410 SPY level mentioned last week as a huge support based on the volume profile proved to be rock solid and now likely is a low into year end with the SPX closing the week solidly back over 4350. The 435 SPY level lines up with the higher volume node on the profile and the midpoint of the uptrend channel that held the lower support last week. Back at a balance level overall now that could consolidate likely for a week before likely seeing a follow through grind higher into 440 as November OPEX week approaches in two weeks. Support is strong at 430 and the 21 EMA now at 427 should be supportive on any dip lower as the 8/21 EMA crosses bullish and RSI now surging back over the October highs pointing to a likely continuation from price action as well.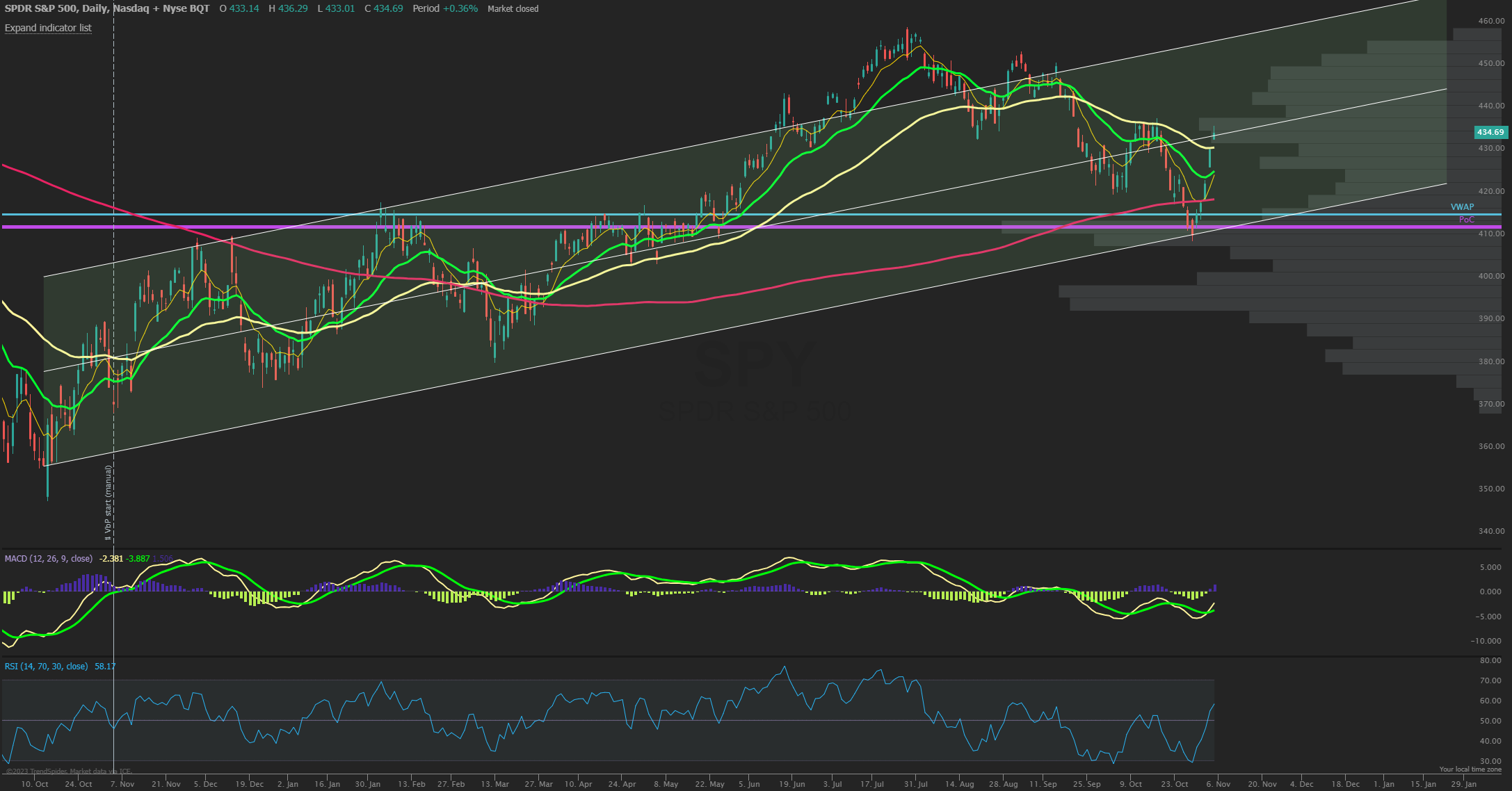 Market Sentiment/Breadth
AAII sentiment for the week ending 11.1 showed bullish responses decreased to 24.3% from 29.3% prior while bearish responses rose to 50.3% from 43.2%. Neutral sentiment fell to 25.4% from 27.5%. Optimism is unusually low for the second consecutive week and is below its historical average of 37.5% for the seventh time in eight weeks. Bullish sentiment was last lower on May 18, 2023 (22.9%). The bull-bear spread (bullish minus bearish sentiment) decreased 12.1 percentage points to –26.0%. The bull-bear spread remains below its historical average of 6.4% for the eighth time in nine weeks. The NAAIM Exposure index increased to 29.17 from 24.82 but still unusually low and well below last quarter's average of 60.53. Equity fund flows for the week ending 11/1 had $-22.98 billion of outflows in equities, the 7th straight week of outflows. Friday's close saw NYSE new highs at 82 while new lows of 18 and the 10-day MA of New High/Low Differential is negative at -203. The percentage of SPX stocks above their 50-MA is 50.4% after printing near lows of 10% last week while those above their 200-MA was 43.8%. NYSI Summation index crossed higher above its 8-MA for a short term buy signal. NYMO McClellan Oscillator closed at +96 and now overbought at the highest levels since January but these signals off major bottoms tend to just stay higher. The cumulative AD line surged higher and crossed above the 40 EMA short term breadth and nearing a positive cross above the 89 EMA long term bull signal. CBOE Equity P/C 50-day MA at 0.78. CNN Fear and Greed index is in the Fear zone at 42 from 27 last week. The VIX/VXV ratio closed at 0.866 after peaking near 0.96. This measures the spread between 1- and 3-month implied volatility, above 1.0 exhibits fear and tends to mark a low.