Weekly Market View 12-19-22
The SPX pulled back to close the week after making an early week spike high after the CPI report and hitting resistance at 4100 perfectly on Tuesday which also lined up with the down trend line from the 2022 highs. SPX closed back under the 21 EMA and 55 EMA which sits at 3915 and filled the lower gap on Friday near 3820. The market being in a short-term bearish signal and MACD pointing lower with RSI now back under the 50 level. Support is seen just below at 3800 and is also near the 50% retracement from lows to highs at 3796 while the 61.8% fib would be at 3725. The market being down nearly 300 points in 4 days can likely see a rebound after OPEX with a likely first resistance target at 3900 and then 21 EMA near 3950 with the large 4000 gamma strike a large line in sand for the final two weeks of the year.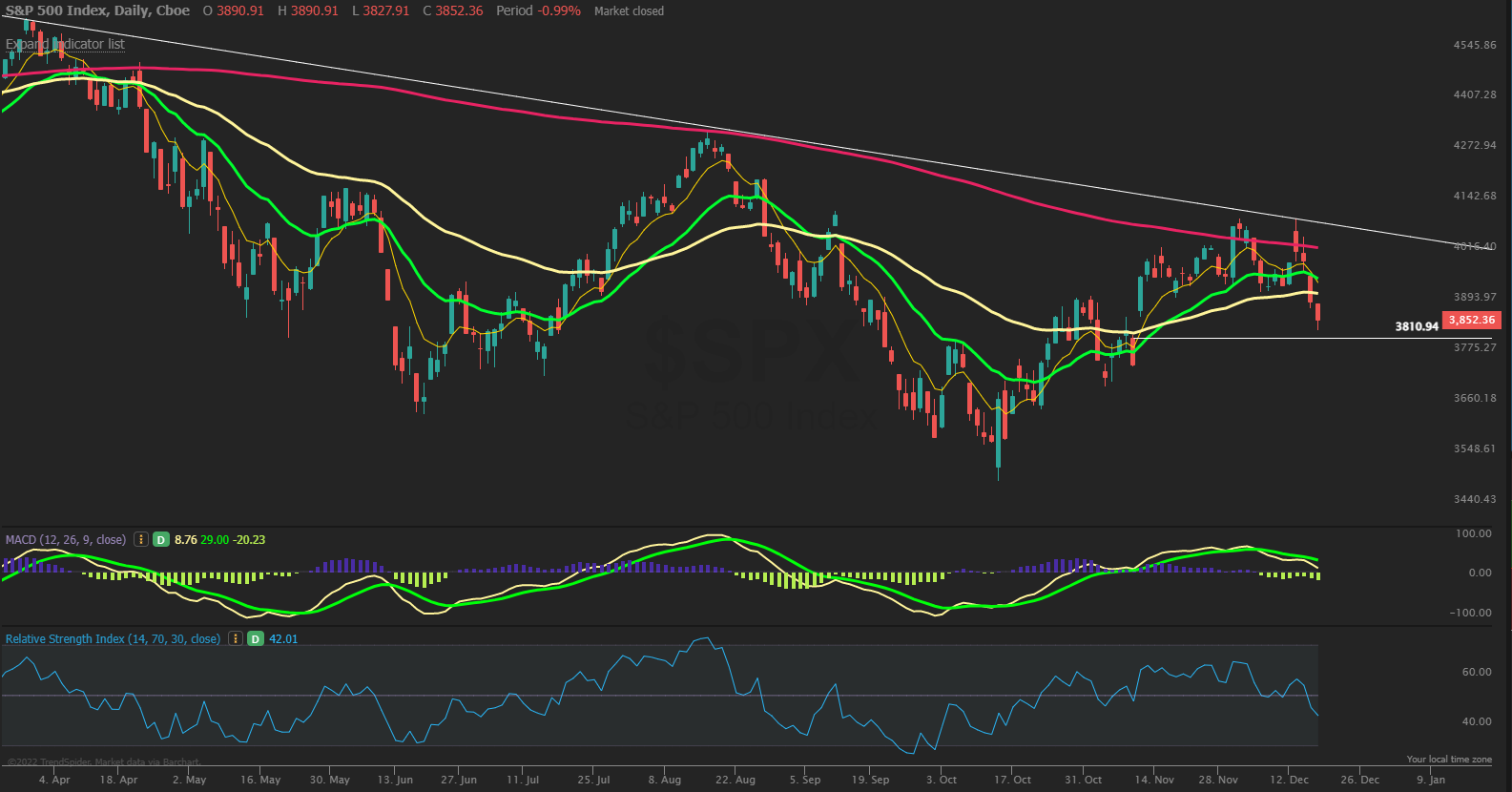 Market Sentiment/Breadth
AAII sentiment for the week ending 12/14 showed bullish responses stay unchanged at 24.3% from 24.7% prior while bearish responses were rose to 44.6% from 41.8%. Neutral sentiment fell to 31.1% from 33.5%. Pessimism among individual investors rose to a five-week high in the latest AAII Sentiment Survey. Neutral sentiment fell, while optimism remained at an unusually low level. NAAIM Exposure index increased to 71.60 from 55.69 and is making 4-month highs above last quarters average of 40.63. Lipper fund flows for the week ending 12/14 had $6B of outflows in equities, the 4th straight week of outflows. Friday's close saw NYSE new highs at 31 while new lows of 178 and the 10-day MA of New High/Low Differential is at -46. The percentage of SPX stocks above their 50-MA is 58.8% while those above their 200-MA was 49.4%. NYSI and NASI Summation indexes have crossed below the 8-MA for a short-term bearish signal. NYMO McClellan Oscillator closed at -50.5 and is nearing short term oversold. Cumulative AD line slipped under the 40 EMA and now below the 89 EMA long term signal. CBOE Equity P/C 50-day MA at 0.79 and at new highs based primarily on put arb trades. CNN Fear and Greed index is in Fear zone at 42 from 53 last week.