Weekly Market View 12-27-22
The SPX had a quiet choppy week with a midweek selloff after the rally Wednesday was sold into at 8 EMA near 3900 but was able to find strong support at 3775 just under the 50% retracement from the October lows. The 3775-3800 zone remains a crucial level to hold going into the new year and with the final week of 2022 likely seeing lower volumes and potential decreasing volatility is opens the door for the seasonal Santa rally that historically is the final 5 days of the year and into the first two days of the new year. A move higher would see first resistance at near 3900 where the 21 EMA is at followed by 3930 and 3975 likely next targets higher with the declining 200-day MA closer to 4000 if markets were able to rally further. RSI and MACD are in bearish trends still but potentially losing downside momentum for a bounce.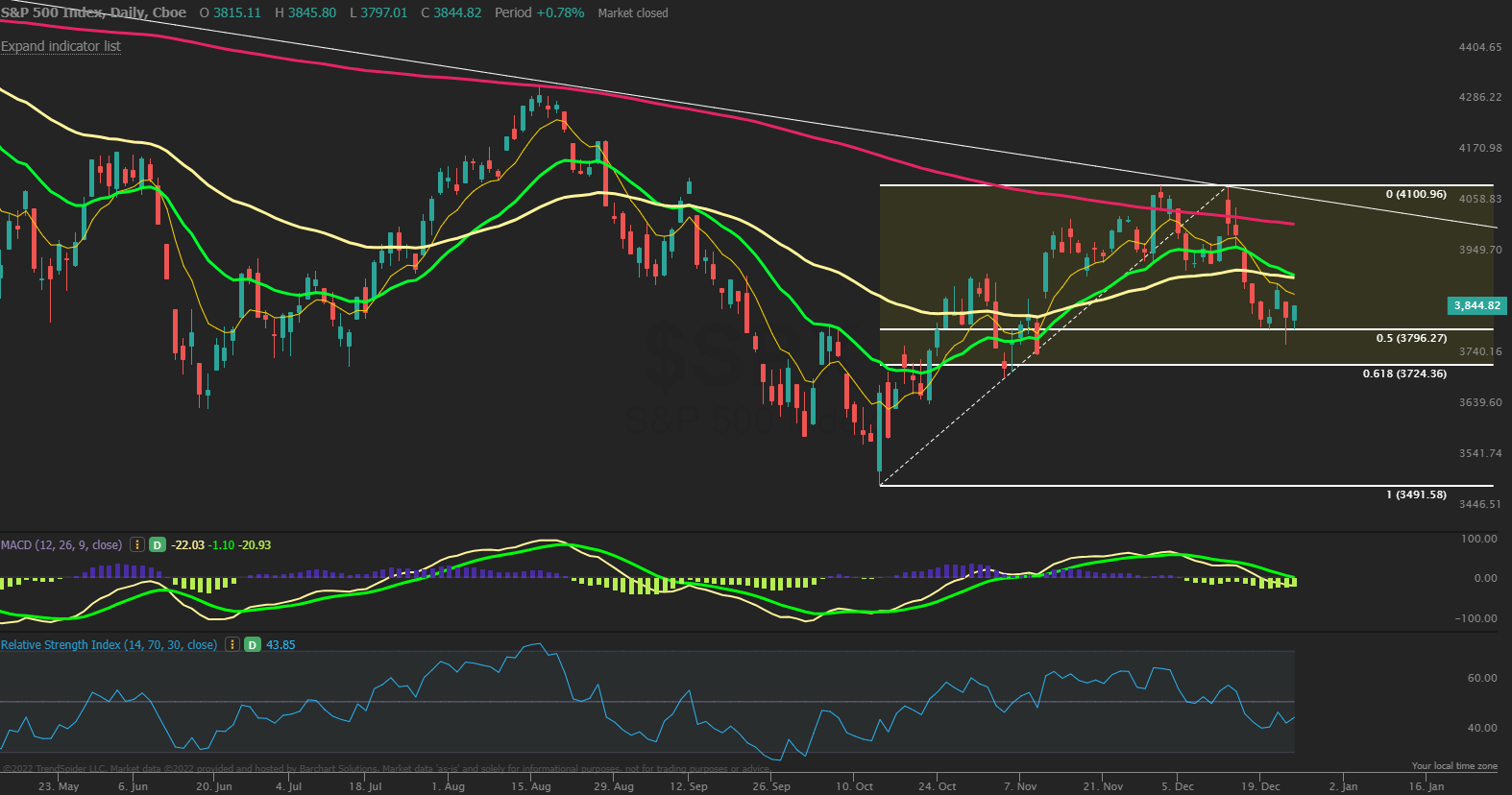 Market Sentiment/Breadth
AAII sentiment for the week ending 12/21 showed bullish responses fall to 20.3% from 24.3% prior while bearish responses rose to 52.3% from 44.6%. Neutral sentiment fell to 27.4% from 31.1%. Pessimism among individual investors about the short-term direction of the stock market rose to a nine-week high. This week's bullish sentiment reading is the 52nd lowest recorded since the survey started in 1987. NAAIM Exposure index decreased to 39.35 from 71.60 and is back below last quarters average of 40.63. Lipper fund flows for the week ending 12/21 had $19.5B of outflows in equities, the 5th straight week of outflows. Friday's close saw NYSE new highs at 52 while new lows of 82 and the 10-day MA of New High/Low Differential is at -73. The percentage of SPX stocks above their 50-MA is 57.0% while those above their 200-MA was 51.8%. NYSI and NASI Summation indexes are below the 8-MA for a short-term bearish signal. NYMO McClellan Oscillator closed at -20 and is short term oversold. Cumulative AD line is just under the 40 EMA and now below the 89 EMA long term signal. CBOE Equity P/C 50-day MA at 0.83 and at new highs based primarily on put arb trades skewing the data. CNN Fear and Greed index is in Fear zone at 39 from 43 last week.