Weekly Market View 12-5-22
The SPX closed the week higher by +1.25% after pulling back to near the 21 EMA mid-week and found support before the spike higher on Powell's dovish speech. The SPX now has closed above its 200-day MA for 3 straight days which is a first occurrence since early April and now nears a potential break above the trendline from 2022 highs. The market has climbed the wall of worry and now has potential to drift higher into the 4200-level next zone of resistance with December triple witching OPEX just two weeks away. That will also be the same week as the next important catalysts on the schedule being CPI and FOMC so barring news, the technical picture appears bullish with a tailwind into positive seasonality coming the mid to late part of December. Support is seen below at the key 4000 level and then 3975 being roughly the rising 21 EMA and then 3925 another large support that held recent pullbacks in November. If prices were to slip below that then the open gap becomes in play down into the 3800 zone.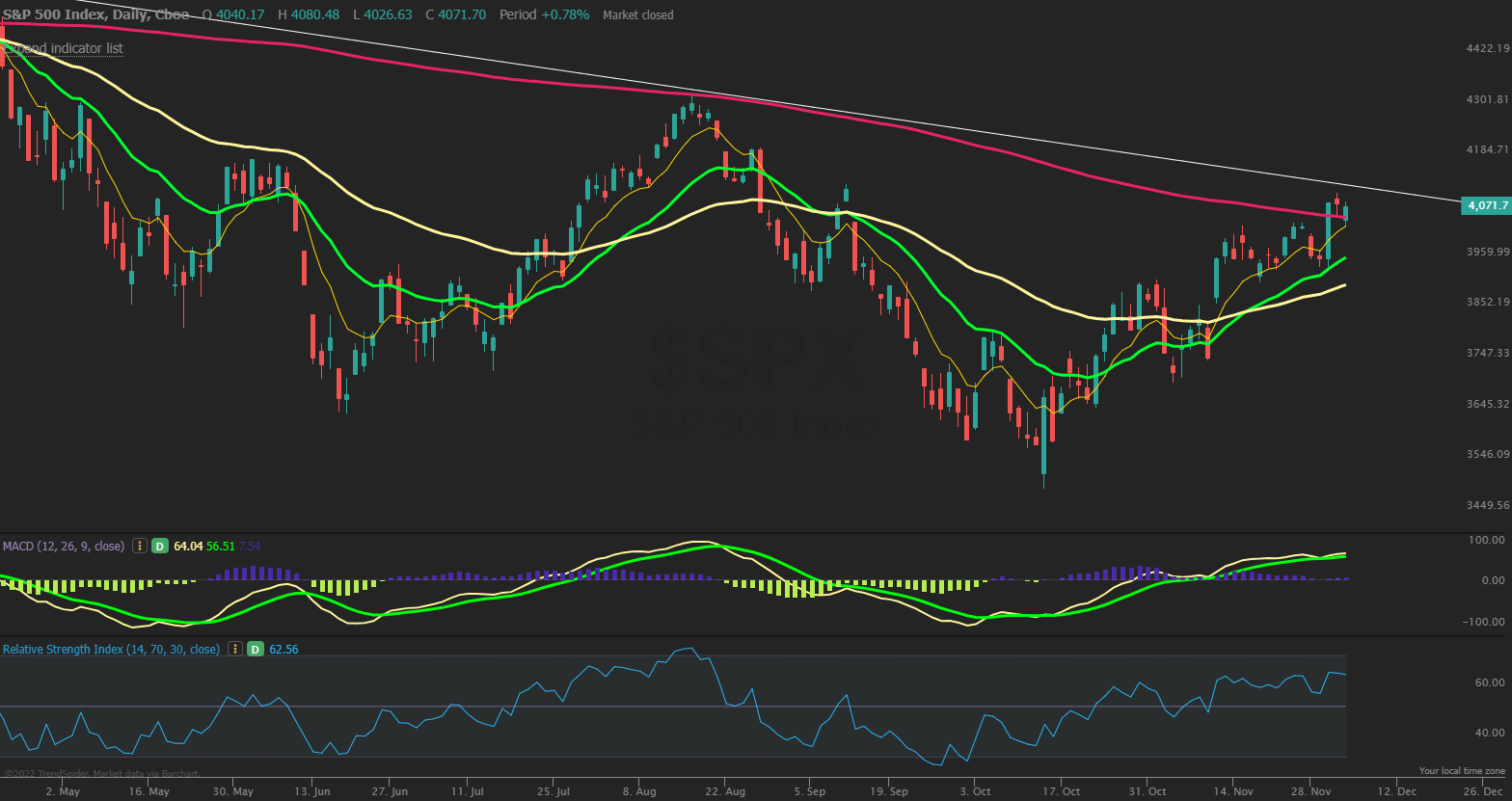 Market Sentiment/Breadth
AAII sentiment for the week ending 11/30 showed bullish responses fall to 24.5% from 28.9% prior while bearish responses were unchanged at 40.4% from 40.2%. Neutral sentiment rose to 35.1% from 30.9%. Optimism among individual investors about the short-term direction of the market fell to a six-week low. Neutral sentiment jumped for the second straight week, and pessimism stayed around the same level. NAAIM Exposure index increased to 64.36 from 60.29 and is above last quarters average of 40.63. Lipper fund flows for the week ending 11/30 had $7.7B of outflows in equities, the 2nd straight week of outflows as the market rises. Friday's close saw NYSE new highs at 89 while new lows of 44 and the 10-day MA of New High/Low Differential is at +20 and short term bullish. The percentage of SPX stocks above their 50-MA is 91.0% while those above their 200-MA was 63.8%. NYSI and NASI Summation indexes are positive above 8-MA for a short-term bullish signal. NYMO McClellan Oscillator closed at 45.1 and is Neutral. Cumulative AD line is above the 40 EMA and now above the 89 EMA long term signal. CBOE Equity P/C 50-day MA at 0.77 and at new highs. CNN Fear and Greed index is in Greed zone at 63 from 64 last week.