Weekly Market View 6-19-23
The SPX closed strong into the June options expiration and up +2.6% for the week as somewhat of a blowoff move took place into the and above the 4400 level that has not been seen since April 2022. The market finds itself extended now into a lull of earnings and macro data as quarter end nears in just 10 days and the risk/reward at these levels likely favors a pullback to the rising 8-week EMA closer to 4250. Weekly MACD and RSI are strong in bull mode, so dips are likely to get bought but RSI being at 68 on the weekly timeframe and 73 on the daily signal's overbought conditions. Friday's candle opened at the highs and sold off through the day closing on its lows so price action started to show some exhaustion into OPEX Friday as well. A first support to look for on the downside would be the 4355 level at the 8 EMA and then the 21 EMA being at 4280 currently. A shallow market dip this week may find dip buyers into quarter end.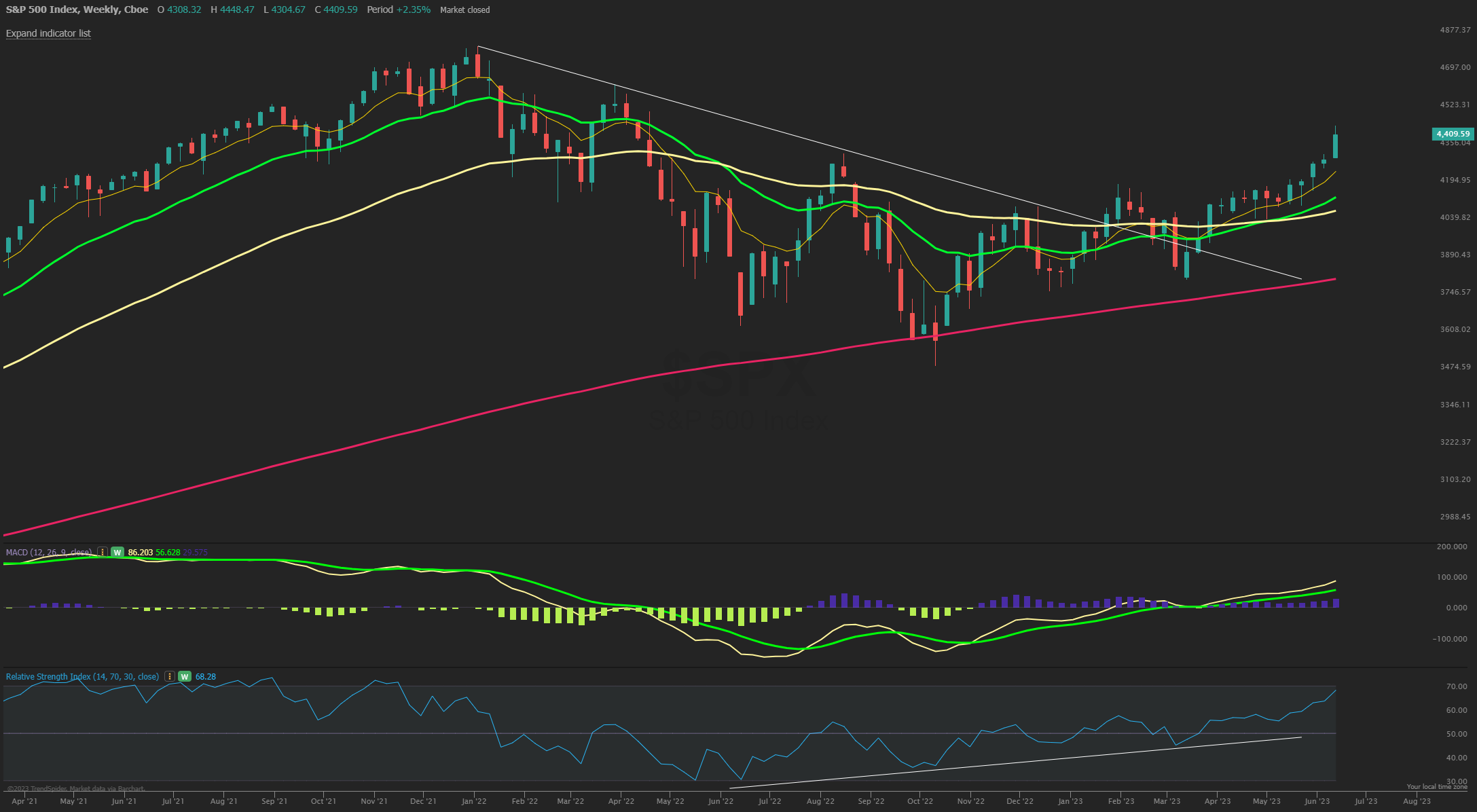 Market Sentiment/Breadth
AAII sentiment for the week ending 6/14 showed bullish responses rise to 45.2% from 44.5% prior while bearish responses fell to 22.7% from 24.3%. Neutral sentiment rose to 32.1% from 31.2%. The bull-bear spread (bullish minus bearish sentiment) increased to 22.5%, up 2.2 percentage points. The bull-bear spread is at its highest level since November 11, 2021 (24.0%). The NAAIM Exposure index decreased to 81.66 from 90.07 and still well above last quarter's average of 63.74 and the highest level since January 2022. Lipper fund flows for the week ending 6/14 had $19.9B of inflows in equities, one of the highest inflows in recent memory. Friday's close saw NYSE new highs at 145 while new lows of 15 and the 10-day MA of New High/Low Differential is positive now at +91. The percentage of SPX stocks above their 50-MA is 70.2% while those above their 200-MA was 65.6%. NYSI and NASI Summation indexes are both back above 8-MA and in a short term buy signal. NYMO McClellan Oscillator closed at +27 and in a Neutral zone. The cumulative AD line is back over the 40 EMA short term trend and the 89 EMA long term bull signal. CBOE Equity P/C 50-day MA at 0.65. CNN Fear and Greed index is into Extreme Greed zone at 82 from 77 last week. VIX/VXV ratio is back down to 1 year lows to 0.808, which measures the spread between 1- and 3-month implied volatility.