Weekly Market View 7-23-23
The SPX closed the week higher by +0.64% as early week strength won out and even with the selloff to close the week the SPX finds itself still closing above its 8 EMA which sits at 4520, showing how stretched it was in the short term. The Nasdaq Tech growth names took the brunt of the pullback this week actually closing two days below its 8-day EMA and looks likely to revisit its 21 EMA closing to 371.50 on QQQ. If the SPX were to follow, then its 21 EMA is at 4460 with also a gap to fill at 4472. Momentum is slowing with OPEX week now passed the market could see consolidation at the least that forms a potential bull flag between the 8- and 21-day EMA's but also a big week of catalysts due so volatility can pick up in both directions. SPX 4500 will be an important line in the sand this week for bull/bear bias and holding above can revisit 4575 while 4600 is an extended target likely only hit on unexpected positive FOMC or earnings-related news.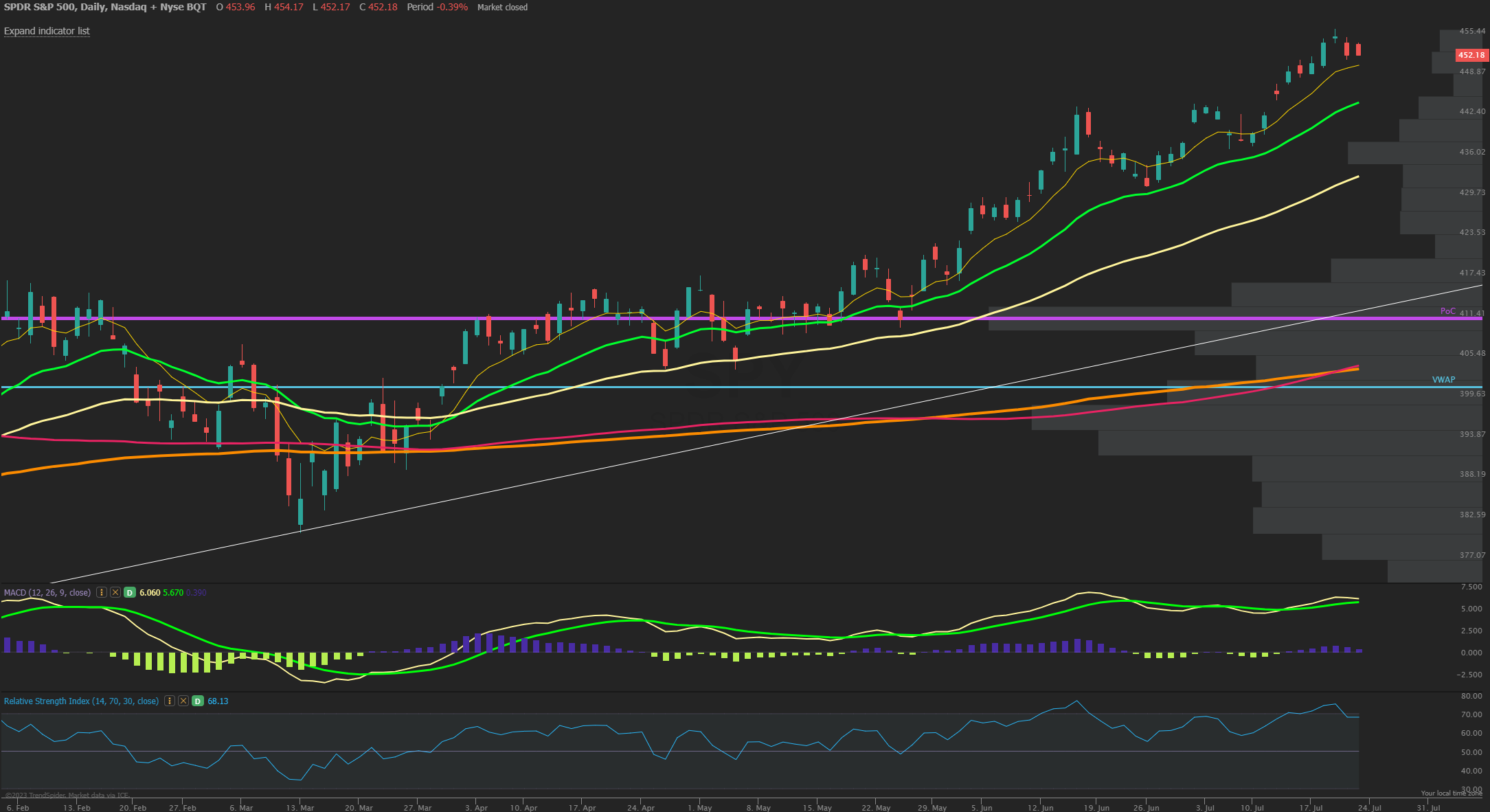 Market Sentiment/Breadth
AAII sentiment for the week ending 7/19 showed bullish responses jumped to 51.4% from 41.0% prior while bearish responses fell to 21.5% from 25.9%. Neutral sentiment fell to 27.1% from 33.1%. This marks the seventh consecutive week that bullish sentiment is above its historical average of 37.5%. This has been the longest above-average streak since a 13-week stretch from February to May 2021. Bullish sentiment was last higher on April 22, 2021 (52.7%) and is currently at an unusually high level. The bull-bear spread (bullish minus bearish sentiment) shot up 14.7 percentage points to 29.9%. The NAAIM Exposure index increased to 99.05 from 93.34, now the highest level since November 2021 and is above last quarter's average of 70.22. Lipper fund flows for the week ending 7/19 had $-2.3B of outflows in equities. Friday's close saw NYSE new highs at 94 while new lows of 7 and the 10-day MA of New High/Low Differential is positive at +128. The percentage of SPX stocks above their 50-MA is 88.0% while those above their 200-MA was 75.0%. NYSI Summation index is above 8-EMA and in a short term buy signal. NYMO McClellan Oscillator closed at +23 and still in a Neutral zone. The cumulative AD line is above the 40 EMA short term breadth trend and above the 89 EMA long term bull signal. CBOE Equity P/C 50-day MA at 0.57. CNN Fear and Greed index is in Extreme Greed zone at 82 from 79 last week. VIX/VXV ratio is 0.829, which measures the spread between 1- and 3-month implied volatility, and under 0.80 shows market complacency while above 1.0 is panic and fear.