Weekly Market View 8-13-23
The SPX closed slightly lower on the week by -0.3% after a mostly choppy range traded up to 4525 on Thursday after CPI but then reversed back down under 4500 and tested 4450 Friday before trying to rebound off that key level near the gap fill from last month. The midpoint of the uptrend channel shown comes in just below at 4420 which also coincides with the 55 day MA and solid support. The 8/21 EMA has crossed bearish but in the short term with OPEX week upon us and price action looking oversold it can see a rebound to start the expiration week after Friday's price action showed some bullish divergence with the VIX closing down over 6% and well off the weeks high print. Seeing this ahead of a monthly options expiration often can point to a 2–4-day snapback rally but the character of the rebound will be interesting to watch for breadth confirmation and sector participation. With macro risks starting to pose more of a concern, the next potential bounce in SPX could be a selling opportunity especially if the 4550 level holds as resistance.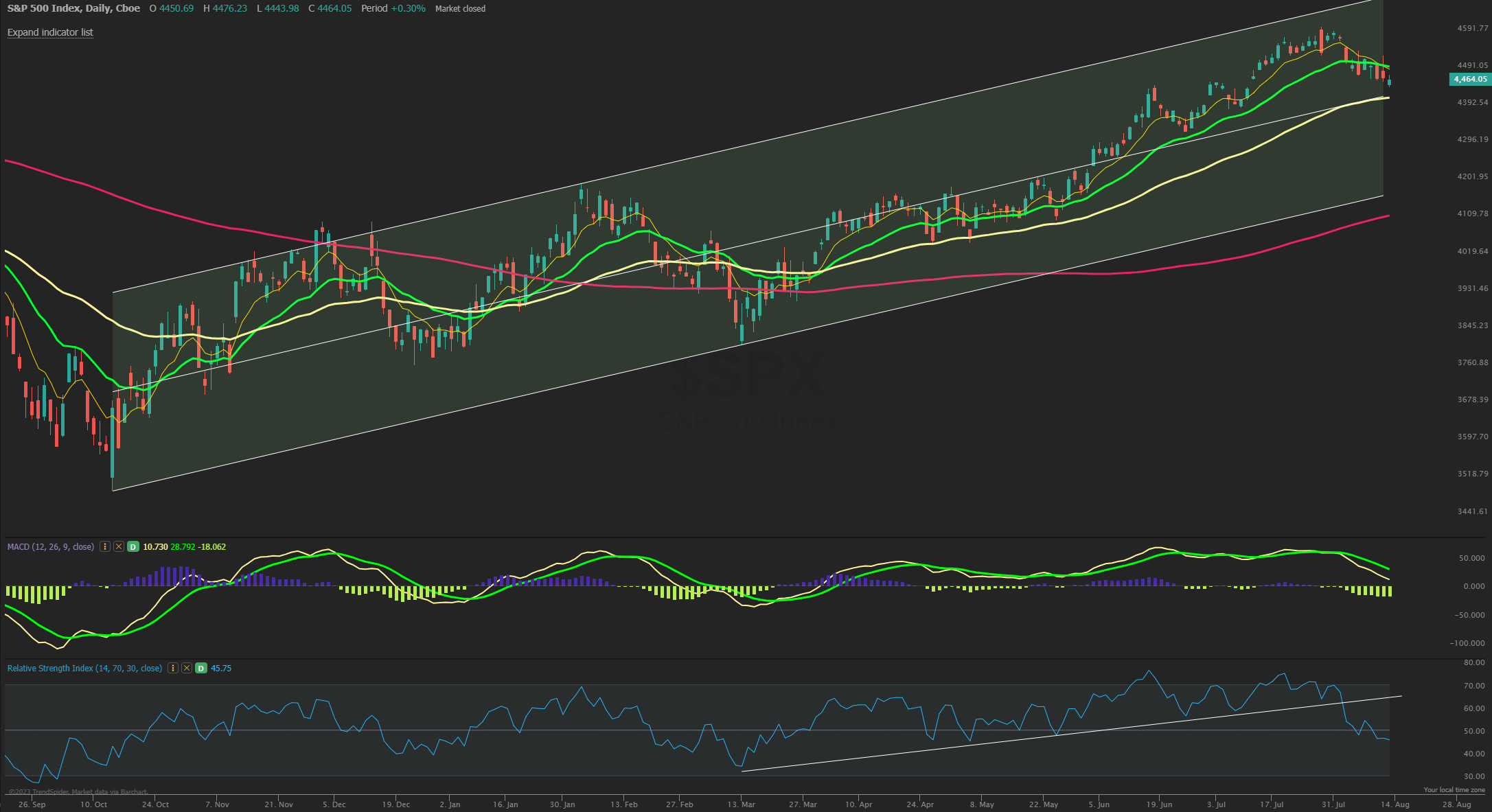 Market Sentiment/Breadth
AAII sentiment for the week ending 8/9 showed bullish responses fall to 44.7% from 49.0% prior while bearish responses rose to 25.5% from 21.3%. Neutral sentiment was unchanged at 29.8% from 29.7%. The bull-bear spread (bullish minus bearish sentiment) decreased 8.5 percentage points to 19.2%. The bull-bear spread is in its typical range and remains above average for the 10th consecutive week. The NAAIM Exposure index decreased sharply for the second week straight to 65.49 from 78.46, and now back under last quarter's average of 70.22. Lipper fund flows for the week ending 8/9 had $-8.6B of outflows in equities, with 3 of the last 5 weeks seeing outflows. Friday's close saw NYSE new highs at 40 while new lows of 37 and the 10-day MA of New High/Low Differential is positive at +52. The percentage of SPX stocks above their 50-MA is 55.4% while those above their 200-MA was 63.6%. NYSI Summation index is below its 8-MA and in a short term sell signal. NYMO McClellan Oscillator closed at -36 and still in a Neutral zone but nearing oversold short term. The cumulative AD line is pulling back but still solidly above the 40 EMA short term breadth trend and above the 89 EMA long term bull signal. CBOE Equity P/C 50-day MA at 0.57, back below one-year lows. CNN Fear and Greed index is in Greed zone at 66 from 69 last week. The VIX/VXV ratio is back down to 0.845, which measures the spread between 1- and 3-month implied volatility, and under 0.80 shows market complacency while above 1.0 exhibits fear.