Weekly Market View 8-20-23
The SPX closed lower on the week by -2.1% after sliding lower below the midpoint of the channel shown below as we mentioned near 4450 being a key support level. Prices now firmly under the 55-day MA and rebounded somewhat Friday near the late June lows of 4335 as RSI now nearing an oversold level along with the NYMO oscillator. Potential to likely see a bounce materialize as a snapback rally is overdue and first resistance is at 4415 and the declining 8 EMA at 4425 while 50% retracement of the entire decline would show up at 4470. The selloff this past week made it back to the rising 21-week EMA and often a spot to look for a buy opportunity in a longer-term weekly uptrend which is still intact. A fall further below would see support at 4300 while any failed rebound that rejects up near 4500 would likely be subject to a retest of the 4200 level which lines up with the February highs and previous breakout level from late May.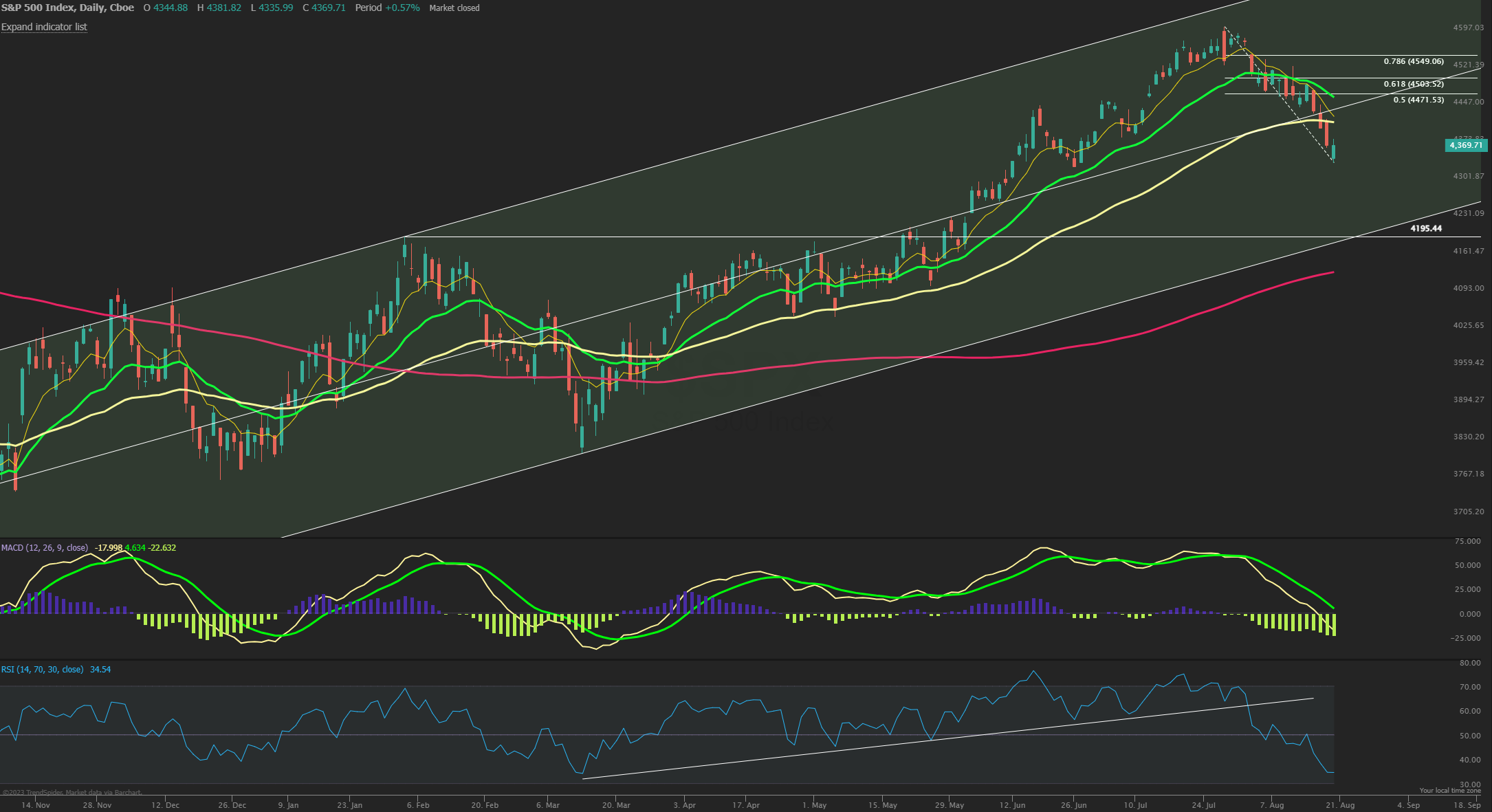 Market Sentiment/Breadth
AAII sentiment for the week ending 8/16 showed bullish responses fall to 35.9% from 44.7% prior while bearish responses rose to 30.1% from 25.5%. Neutral sentiment jumped to 34.0% from 29.8%. The bull-bear spread (bullish minus bearish sentiment) decreased 13.4 percentage points to 5.8%. This is the first time in 11 weeks that the bull-bear spread is below its historical average of 6.5%. The NAAIM Exposure index decreased for the third week straight to 59.87 from 65.49 and is under last quarter's average of 70.22. Lipper fund flows for the week ending 8/16 had $-2.0B of outflows in equities, with 4 of the last 5 weeks seeing outflows. Friday's close saw NYSE new highs at 16 while new lows of 92 and the 10-day MA of New High/Low Differential is crossing negative now -10. The percentage of SPX stocks above their 50-MA is 35.4% while those above their 200-MA was 54.2%. NYSI Summation index is below its 8-MA and in a short term sell signal. NYMO McClellan Oscillator closed at -77 after reaching near -100 this week and at a solid oversold zone now that can bring a snapback bounce. The cumulative AD line is pulling back below the 40 EMA short term breadth trend confirming the current downtrend, still just above the 89 EMA long term bull signal and more important the 89 EMA sloping higher still. CBOE Equity P/C 50-day MA at 0.59. CNN Fear and Greed index is in the Neutral zone at 45 from 62 last week. The VIX/VXV ratio is back down to 0.899, which measures the spread between 1- and 3-month implied volatility, and under 0.80 shows market complacency while above 1.0 exhibits fear.