Weekly Market View 9-24-23
The SPX closed sharply lower for the week down -3% and the first weekly close below the 21-week EMA since mid-March. That level currently is at 4362 and the 8-week EMA at 4420 so likely stiff resistance on any rebounds short term. The SPX has a clear breakdown in progress going into the final week of the month and quarter as seasonality weakness is playing out as the 21/55 EMA bear cross also nearing and could see the next support of 4300 get sliced through with lots of open space down into 55-week EMA at 4230 and the bigger picture support target at 4200. That level also very near the 50% retrace of the rally since the October lows which is 4208 and the uptrend channel while the 200-day MA sits at 4190 so potential to overshoot in a steep selloff and tag that big support which would be an intriguing buy or cover shorts zone more than likely. MACD is sell mode but RSI is getting closer to oversold sub-30.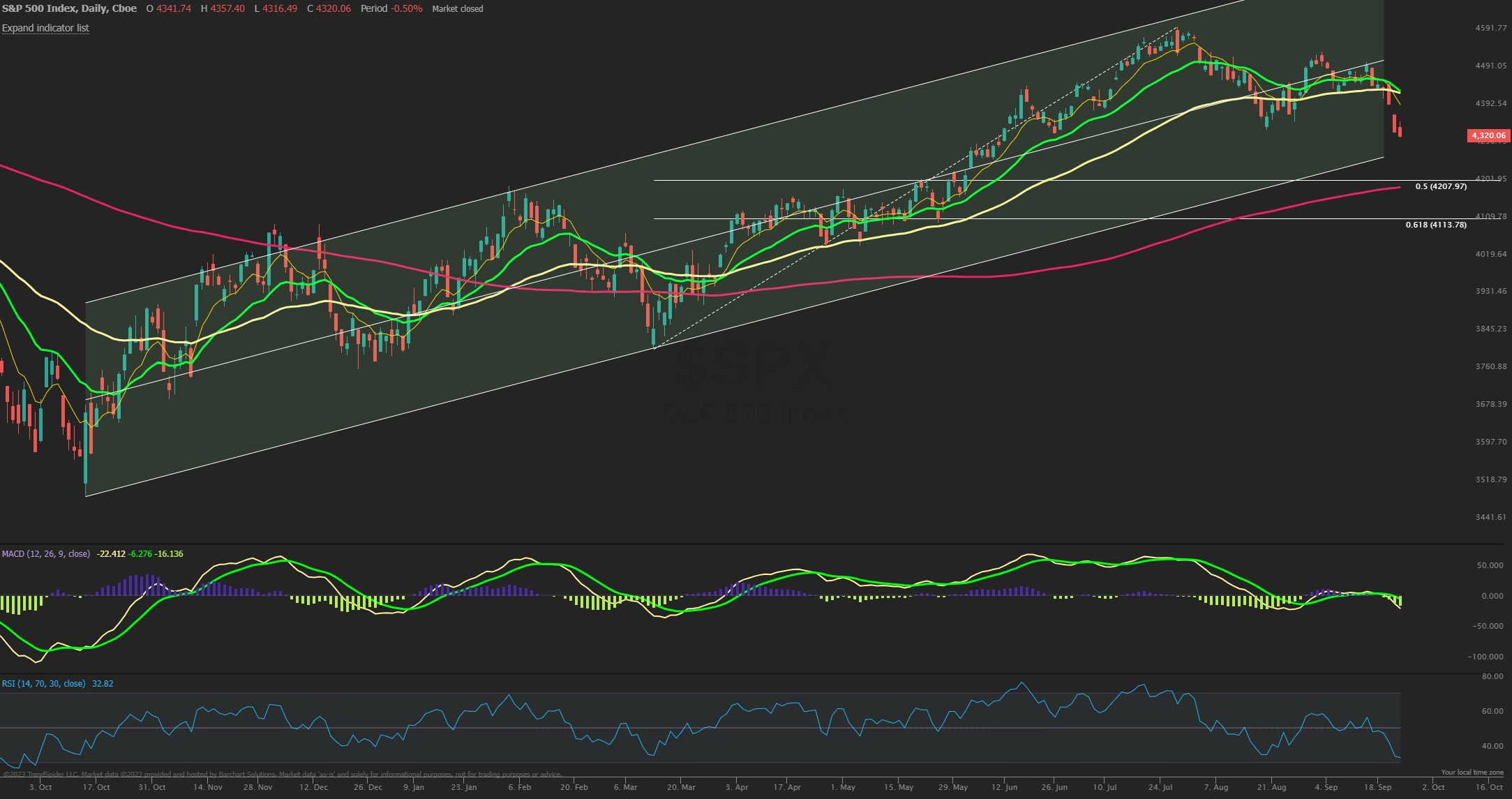 Market Sentiment/Breadth
AAII sentiment for the week ending 9/20 showed bullish responses decreased to 31.3% from 34.4% prior while bearish responses rose to 34.6% from 29.2%. Neutral sentiment fell to 34.1% from 36.4%. Optimism was last lower on June 1, 2023 (29.1%). The bull-bear spread (bullish minus bearish sentiment) fell 8.5 percentage points to –3.3%. This is the fifth time in six weeks that the bull-bear spread is below its historical average of 6.5%. The NAAIM Exposure index decreased to 54.33 from 57.98 and is still under last quarter's average of 70.22 but at an extreme. Lipper fund flows for the week ending 9/20 had $-7.8B of outflows in equities, and now 4 of the last 5 weeks seeing outflows. Friday's close saw NYSE new highs at 21 while new lows of 176 and the 10-day MA of New High/Low Differential is now negative at -62. The percentage of SPX stocks above their 50-MA is 19.2% while those above their 200-MA was 43.8%. NYSI Summation index has continued below its 8-MA and in a short term sell signal. NYMO McClellan Oscillator closed at -48 and Neutral. The cumulative AD line is below the 40 EMA short term breadth and now breaking below the 89 EMA long term bull signal. CBOE Equity P/C 50-day MA at 0.71. CNN Fear and Greed index is in the Fear zone at 36 from 52 last week. The VIX/VXV ratio rose to 0.951, which measures the spread between 1- and 3-month implied volatility, and under 0.80 shows market complacency while above 1.0 exhibits fear.