Weekly Market View 9-4-23
The SPX closed higher last week by +2.5% in a strong rebound back over the 8 EMA and back up by stronger breadth most days of the week as for now the recent pullback found support and buyers just under 4350. With two weeks until a large triple-witching options expiration it may boost the incentive of the buyers to keep stocks bid above 4500 with a next upside resistance at 4600 near the highs from late July. A pullback from here would likely 8 EMA support this week at 4475 with the recent 8/21 EMA cross showing bulls back in charge as long as price closes above. Larger support is at the 55-day MA at 4425 while a move through the recent highs of 4600 would possibly extend up to 4630 which was the August 2022 highs and still has not been fully retested. MACD crossed positive as well confirming bullish momentum and the RSI is back over 50 after rebounding from its oversold levels near 35.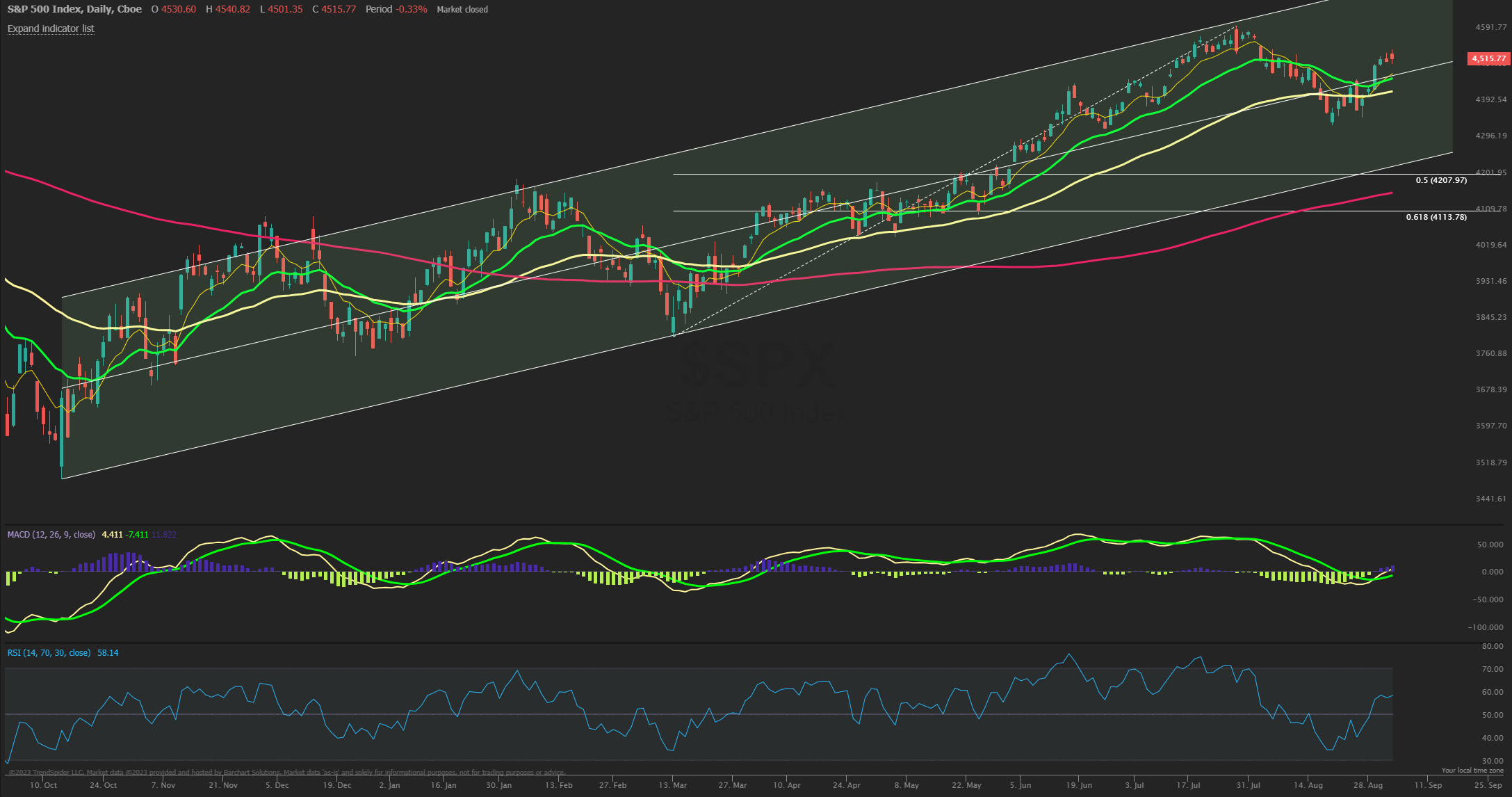 Market Sentiment/Breadth
AAII sentiment for the week ending 8/30 showed bullish responses tick up to 33.1% from 32.3% prior while bearish responses fell to 34.5% from 35.9%. Neutral sentiment rose to 32.4% from 31.8%. Bearish sentiment is above average for the second consecutive week. The bull-bear spread (bullish minus bearish sentiment) increased 2.2 percentage points to –1.4%. This is the third time in 13 weeks that the bull-bear spread is below its historical average of 6.5%. The NAAIM Exposure index increased to 61.19 from 34.36, rising for the first time in a month and is still under last quarter's average of 70.22. Lipper fund flows for the week ending 8/30 had $-4.6B of outflows in equities, the 5th straight week seeing outflows. Friday's close saw NYSE new highs at 116 while new lows of 29 and the 10-day MA of New High/Low Differential is back positive now at +9. The percentage of SPX stocks above their 50-MA is 47.6% while those above their 200-MA was 59.0%. NYSI Summation index has crossed back above its 8-MA and in a short term buy signal. NYMO McClellan Oscillator closed at +36 after the snapback bounce and not yet overbought. The cumulative AD line is above the 40 EMA short term breadth after the strong rebound, and back over the 89 EMA long term bull signal. CBOE Equity P/C 50-day MA at 0.64. CNN Fear and Greed index is in the Neutral zone at 56 from 48 last week. The VIX/VXV ratio is back down to 0.832, which measures the spread between 1- and 3-month implied volatility, and under 0.80 shows market complacency while above 1.0 exhibits fear.