is the premier site for active option and equity traders offering real time coverage of markets via options activity alerts, technical set-ups, breaking news, in-depth research and much more.

Weekly Market View

Open Interest Alerts

Chart
Set-Ups

Market
Talk

Flow Recap/ Highlights
Weekly
market
View
The S&P 500 (SPX) closed lower for the sixth straight week – the first such instance since May/June 2011 – as concerns over growth, high inflation, and the Fed continue to weigh on sentiment. Since 1980 there have been thirteen weekly losing streaks of six weeks or more and the average four-week returns afterwards have been 4.15%. The weekly candle put in a long tail with strength on Thursday and Friday off the 3900 level and channel bottom from the recent highs. The longer timeframe broke down out of balance to start the week and a move higher runs into significant resistance from that range. The 8-EMA is just above Friday's high and a move above can shift the near-term trend higher with upside to the 21-EMA at 4165 while the mid-point of the channel is at 4175. If we do get a 4% move off this recent losing streak that would be near 4185.  Failure to follow-through back up to this zone creates two scenarios: first, we chop between the 4100 and 3950 zone and former a smaller balance; or two, we reverse through last week's lows and move back towards 3800. The 3950-3900 zone will be important support to hold in the week. Momentum is showing signs of inflecting higher with MACD improving and RSI near a downtrend break.
Market Sentiment/Breadth
AAII sentiment for the week ending 5/11 saw bullish responses fall to 24.3% from 26.9% prior while the bearish responses fell to 49% from 52.9%. Neutral sentiment rose to 26.6% from 20%. NAAIM Exposure dropped again to 24.31 from 31.76 and now at its lowest level since the pandemic lows in 2020. Lipper Fund flows had $8.6B in outflows from stocks, the sixth straight week of losses. As of Friday's close there were 25 new highs versus 352 new lows, continuing to be weak overall but not as bad as prior weeks. NYSI closed at -856 and NASI closed at -1116 and both remain in a bearish trend below the 8-EMA. Cumulative AD closed slightly higher on Friday but remains overall in a bearish trend. NYMO closed at -12.56 on Friday after hitting an extreme this week at -68. VIX:VXV ratio is at 0.96, a neutral reading. CNN Fear and Greed is at 12, down from 16 a week prior, and remains in 'extreme fear.'
Open
Interest
Alerts
Resolute Forest (RFP) nice looking small cap breakout and 1250 July $15 puts selling to open for $1.30, name with 11,250 January $15 calls in OI form a 1/27 buyer at $2. The RFP weekly chart also looks great in a one-year coiled consolidation range. RFP a name we featured in March noting:
"The $955M company trades 4.5X earnings, 0.26X sales, and 8X cash. RFP is a forest products company with exposure to pulp, tissue, wood products and paper production and the leading Canadian producer of wood products east of the Rockies. They have exposure to products like newsprint, books, and mailers as well as, consumer products, lumber and more. RFP is benefitting from higher lumber prices which have more than doubled off the August lows. RFP has been shifting more focus towards wood products and pulp as demand for paper wanes and they see a significant opportunity to capitalize on housing demand with plenty of high-return projects in the pipeline. They have some of the largest-scale and capital-efficient operations in the region as well as significant harvesting rights in Canada that position them well to be a leader in the coming years. RFP has also been deleveraging the balance sheet and could pursue M&A to build out those higher-growth businesses. Analysts have an average target for shares of $17.25 with a Street High $19. CIBC upgrading recently to Outperformer citing a forecast for significant free cash flow generation in a stronger lumber market. Scotiabank positive on the name recently, as well, noting that the outlook for the U.S. housing market remains supportive of elevated oriented strand board and lumber demand which will give RFP better pricing power in 2022. Short interest is 2.5%. Hedge fund ownership  fell modestly. Point72 a new buyer of stock. Insiders have been active in the name recently too including a director buying 13,300 shares in mid-February at $11.80 to $15. "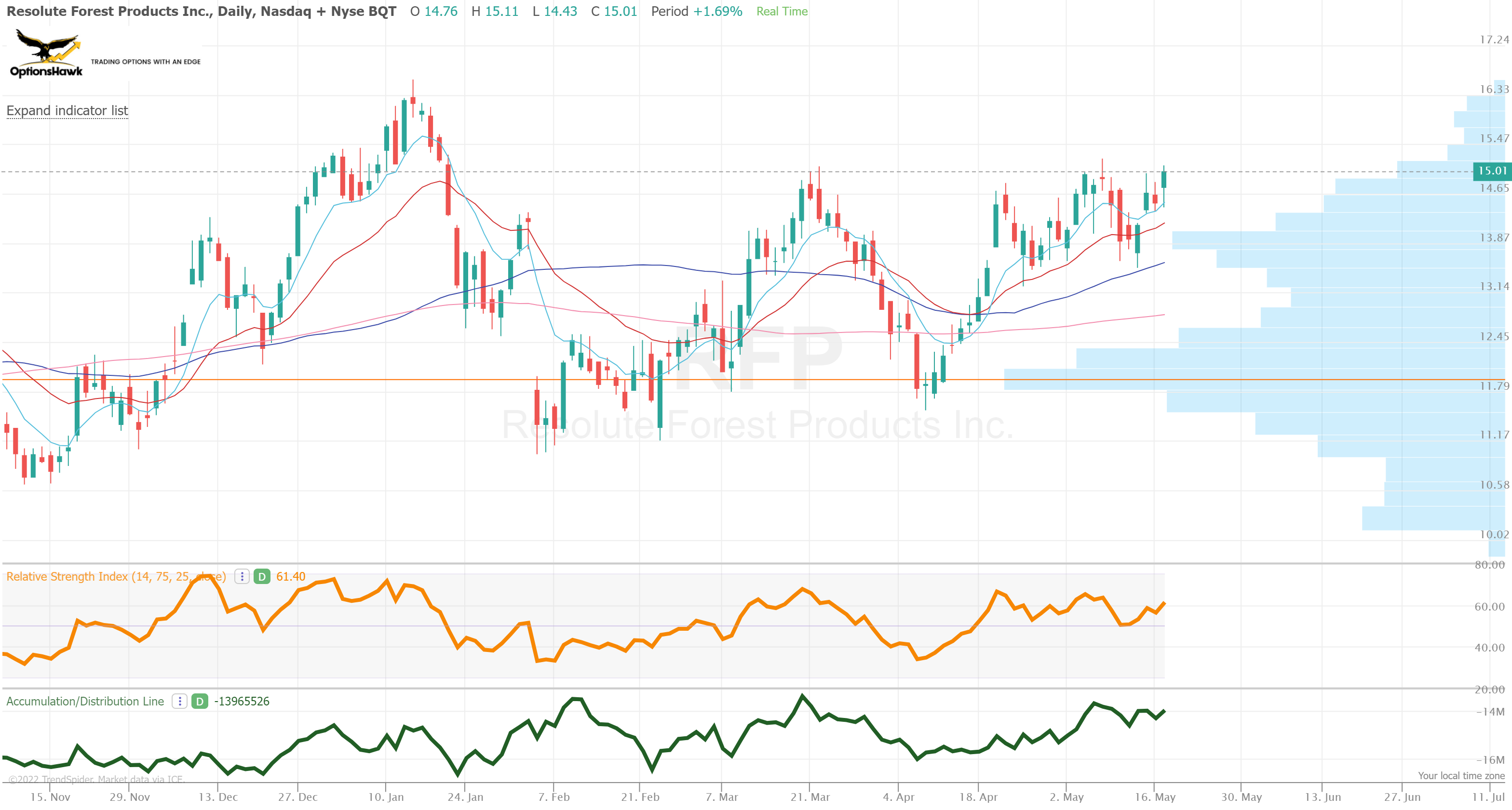 Chart
Set-Ups
Exelon (EXC) strong trending name that has pulled back to the 55-EMA and based for the last couple weeks. EXC has been a relative strength name and above $48 could spark a nice run back at the prior highs. A measured move on the breakout targets $55. MACD has pulled back to zero and nearing a bull cross as momentum starts to inflect higher.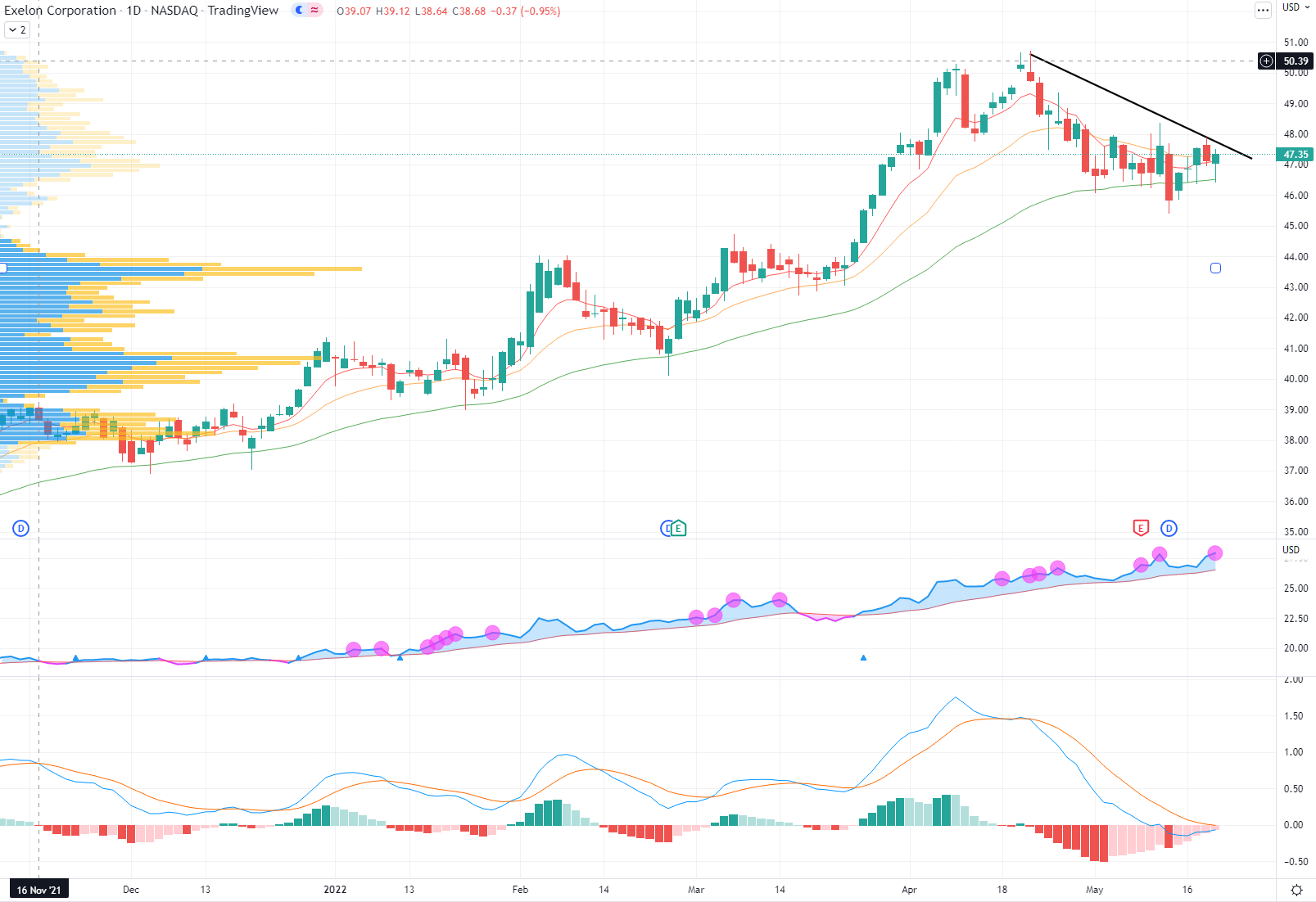 Market
Talk
The SPX was down about -3% for the week but it was a wild week yet again with early strength into the Powell speech Tuesday up to 4100 rejected before sellers drove things back to lows. Friday options expiration day was met with an opening gap higher that faded all day until the closing hour saw a massive short covering rally to close slightly green on the day. Likely some dealer flows that pushed things lower into OPEX and then the unwind released some selling pressure. Potentially a short term low in place as these big monthly OPEX days tend to mark turning points and in a bear market has been a good signal for a short term low. The environment undoubtedly is staying unstable as long as VIX is above 25 but the VIX continues to lack a real concern on selling days it's just not surging to hgihs like some would expect. This doesn't mean it cannot occur but it will take a real rush for panic put buying for the VIX to get over 35. That is the risk in this market, if 1-2 day bounces cannot follow through it can eventually lead to that VIX pop but it doesn't have to. Breadth and internals continue to show weakness from a swing timeframe and need to see NYSI turn up for anything to stick. The only positive seen this week is the decreasing amount of New Lows on the NYSE compared to last week while the SPX retested those same levels. Lots of divergences piling up and sentiment in the tank but need to see at least a close above the 8 EMA for QQQ and SPY to confirm any character change.
The sector leaders for the week were Solar +8.9%, Gold Miners +3.8%, Biotech +2.2%. Laggards included Retail -9.5%, Staples -8.1%, Consumer Discretionary -7.8%. Friday's strongest relative strength groups included Software +1.2%, Healthcare +1.2% and Real Estate +1.2%.
The market will look ahead next week to Durable Goods and GDP numbers with inflation data on Friday. Overall not a lot as June FOMC meeting the next big catalyst is about 4 weeks away. Earnings slow down as well but some reports from NVDA, BABA, COST, MDT, DG, SNOW, BIDU, ADSK, DLTR, DELL, ZM, ULTA, ZS, BBY, DKS, TOL, M. 
Flow
Recap/
Highlights
Options flows for the week saw early week large call buys for Aug/Sept in Fertilizer names CF, MOS. Midweek saw a surge in put buying across Retail with the weak reports from WMT and TGT. There were overall larger put buyers in many names related to the consumer. December put buyers also in F, GM. Thursday saw some bullish call buys and put sales in casino names like MGM, CZR, WYNN, LVS. Also opening put sellers in cyber security names for Aug/Sept potentially calling for a bottom in some higher growth software stocks. Friday saw more weakness early and put buys in Medtech names like STAA, TXG.
OptionsHawk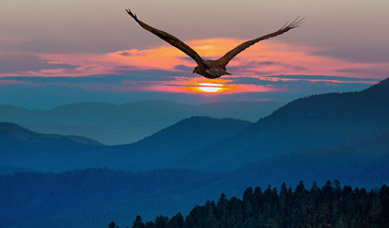 OptionsHawk is the premier site for active investors
We provide real time coverage of the market via options activity alerts, fundamental research, breaking news, technical set-ups and alerts, earnings strategies, sell-side commentary and much more. We provide a full suite of research and analysis to allow investors to make better informed decisions.
Our Mission
OptionsHawk is an idea generation and research platform providing accurate, unique, and high quality analysis of the equity and options market in real time. OptionsHawk aims to be the premier community for traders and investors as we simplify and maximize the efficiency of your research process while also handpicking and presenting the best ideas based on our many years of experience in a concise and timely manner.
Our Process
We integrate all methods into our process to give the most thorough assessment of a company, which includes fundamentals, technicals, institutional option and equity flows, management commentary, Macro views, catalyst discovery, and sell-side research.
Our Vision
The Hawk symbolizes the ability to use intuition and higher vision in order to complete tasks or make important decisions. Hawks also encourage you to use laser focus and precision to get things done, and to take the lead in life. The hawk represents focus, strength, and poise, and as messengers to learn powerful lessons or expand your knowledge and wisdom. The Hawk encapsulates our company vision.
Signed up for your highest tier solely for brief succinct timely option flow. I've been trading 15 years and never paid for anything until now. People who manage large accounts would be stubborn to ignore option flow as as a leading indicator/precursor to movement. -Tom in Fla
OptionsHawk hands down has been the best research service I've used. The amount of ideas and guidance is inimitable. Would recommend to anyone serious about investing– Michael
OptionsHawk stands out in a very crowded field. I have been a professional investor for over twenty years and have access to research from all Wall Street powerhouses, Bloomberg, Reuters, and many others. OptionsHawk's research and ideas are actionable, not reactionary like most of Wall Street's research. Their morning note is better than a lot of morning calls I've listened to over the years. The current 2nd Half Open Interest report is worth reading in full detail because you will not find comparable thinking elsewhere. If you are interested in a fresh look at the market using the options prism, this is it.– Dan P
"I've been subscribing to OptionsHawk for about 6 months and it has been awesome. Before this, I wasted a lot of time looking at option flow but had a hard time interpreting it. Joe has helped me to understand what is happening and focus my trading. His service has paid for itself in days. It's so good, like finding the perfect surf spot, you do not want to share it, but I will since it will make this service better. Joe is also entertaining and makes me laugh."– Erik
I have been using the service for about six months and the subscription fee is worth every penny and some. Latest example; Joe flagged ADSK June 19 220 calls as buyer flow, I bought at $2.15, sold at $5.45 for $3300 profit. That's eleven months of service in one day, thanks Joe!– Anthony
Joe you do some fantastic research and your weekend research is so too the point. You don't flip flop your call on the market depending on how the wind blows….
Your trade notifications are very detailed and perfect timing with sending after market so people can plan around them….. thanks for all you do for us.– Jitesh
I decided to try Options Hawk Max for a couple of months. Two years later I'm still a member. If you want great trade ideas as well as the information and education necessary to make your own trades, Options Hawk Max is for you.– Steven
I'm so glad I signed up for OptionsHawk. This service is second to none. Joe's knowledge and guidance is very crisp with best in class in depth analysis provided regularly. Your commentary makes stock picking easy and has been extremely helpful to me navigate the markets during these times.– MHCH
"I've been a subscriber for many years and find the information invaluable and critical to my trading success. Worth every penny."– Matt
"OptionsHawk has tons of tradable data information everyday. Do your own thing or take their setups, either way, its a winning site"– Howard
OptionsHawk is by far the best service around! Their research and insight is unmatched by any other service. The market recap alone will pay for the price of the subscription!– Zum
"I have used OptionsHawk's service from the day it was born. It's been a pleasure and benefit watching the service evolve over the years. As an institutional money manager with unlimited access to sell side research and commentary, I always turn to OptionsHawk first."– Jeff
"Actionable ideas galore. Option Hawk delivers every day"– Andrew
Thanks Joe! This week has been the best ever! I've literally made 100,000 with you couldn't be happier. Changed my life– Elad
Like most people here I've subscribed to other services in the past. Clearly the best, most detailed and best value in the industry, hands down. These guys don't take shots in the dark. It's bizarre their hit rate.– Joe P
I'm an independent RIA and had followed you on twitter for a while prior to taking the plunge and subscribing. To be honest I wish I had done it so much sooner than I did. The insights are unparalleled. Watching the trade flows and positioning gives you a major edge in generating sizable returns.– Michael
"As a trader new to options trading and wanting to have a read on options flow to back up my equity trades, I stumbled upon OptionsHawk via an internet search. Now being a member, I cannot imagine trading without the insight and information Joe and his team provide. Beyond simple option flow, they include technical analysis and professional thoughts to show you the full picture on their trade ideas. Having seen these services before, I expected to get very few trade ideas from the service. I got the complete opposite and I couldn't be happier. Joe and his team outline trade ideas and how they value them and most importantly the fundamentals to back them. From the live chat while the market is open, to the recaps, to the weekly trade ideas, to the earnings set ups Joe's service is the best in the business and feels like it has a personal touch. If you are a trader looking for additional insight, I couldn't think of a better service to spend my dollars on."– Jake
I have been an OptionsHawk Max member for a while now. Joe's uncanny ability to read overall market flows and distill them into actionable options/stock trading strategies sets OptionsHawk apart. Their market coverage is comprehensive and impressive. From the Market Blitz before market open to the Market Recap at market close, from Weekly Option Radar to Earnings Trading strategies, OptionsHawk offers products and services to suit all trading styles. As an individual investor OptionsHawk provides me with an ever-expanding trading/investing toolkit that keeps me connected to the market. Truly an intellectually and financially rewarding experience!– Nick
Your knowledge about the market is incredible. I really enjoy playing your Earning Plays and looks forward to reading your Market Blitz report every day in the morning as I don't have to go to 20 different sites for the information. I would recommend OptionsHawk to new and experienced traders. Joe keep up the good work.– Ajay Maheshwari