is the premier site for active option and equity traders offering real time coverage of markets via options activity alerts, technical set-ups, breaking news, in-depth research and much more.

Weekly Market View

Open Interest Alerts

Chart
Set-Ups

Market
Talk

Flow Recap/ Highlights
Weekly
market
View
The SPX had a mixed week but overall finishing slightly lower even with the Friday rebound rally closing strong right back at the 200 day MA near 3975. There may have been some OPEX flows pushing prices higher Friday so the start of this week should be interesting to see if can see price close back over the 200 MA and make a higher high above the trendline from the highs which could be a pivotal trend shift longer term and point to a stronger rally up to the 50% retrace at 4155 and even maybe the 61.8% fib retrace up at 4311. But earnings season is here and that brings a wildcard factor along with the coming next FOMC meeting on 2/1 likely being a big inflection date for momentum. The MACD and RSI are still in bull mode and breadth continues to impress and suggest bulls are in control. Support is seen at 3915 below and then 3875 while a drop below that likely retests 3800. Closing January above 3840 would ensure a positive month to start 2023 and that is looked at as a key barometer for the year ahead.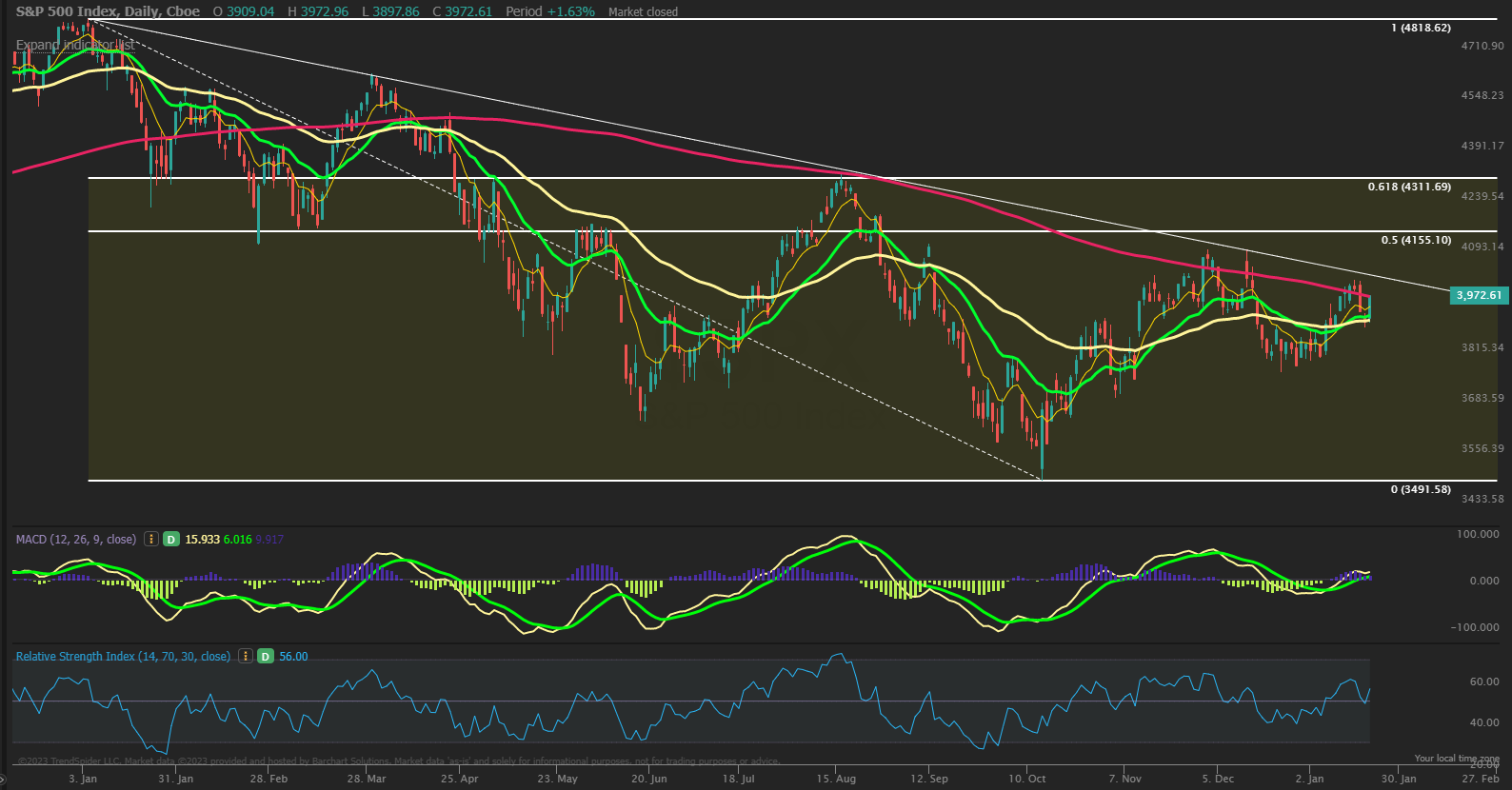 Market Sentiment/Breadth
AAII sentiment for the week ending 1/18 showed bullish responses rise to 31.0% from 24.0% prior while bearish responses fell to 33.1% from 39.9%. Neutral sentiment was unchanged at 36.0% from 36.0%. Optimism among individual investors about the short-term direction of the stock market rose to its highest level in nine weeks. Neutral sentiment remained the same, while pessimism fell to its lowest level in 11 weeks. NAAIM Exposure index increased to 65.07 from 45.31 and is now above last quarters average of 51.03. Lipper fund flows for the week ending 1/18 had $4.1B of outflows in equities. Friday's close saw NYSE new highs at 47 while new lows of 16 and the 10-day MA of New High/Low Differential is positive at +73. The percentage of SPX stocks above their 50-MA is 62.8% while those above their 200-MA was 62.2%. NYSI and NASI Summation indexes are above the 8-MA for a short-term bullish signal. NYMO McClellan Oscillator closed at +56 and is now back near the neutral zone. Cumulative AD line had a strong surge above the 40 EMA and above the 89 EMA long term bull signal. CBOE Equity P/C 50-day MA at 0.89 and at new highs based primarily on put arb trades skewing the data. CNN Fear and Greed index is in Greed zone at 59 from 64 last week.
Open
Interest
Alerts
Fidelity Info (FIS) shares with an early breakout move Thursday of a flag with the 200-MA overhead a potential target, FIS has 7000 October $100 calls bought in open interest with 5000 of the $110 calls short. We discussed FIS in-depth on 6/1, noting FIS spoke at a BAML Conference in March outlining why the market is undervaluing shares with its premier assets and 70% of revenue is generated from software and services to clients with deep, long-term and recurring relationships while the other 30% is generated via consumer spending. Forecasts see revenues growing at a 7% CAGR and EPS 10-15% annually the next three years. FIS cited strong wins last quarter in Banking and Capital Markets and plans to raise buybacks to $6B in 2023 though also likely to be active in M&A to defend/gain market share and increase exposure to faster growing segments.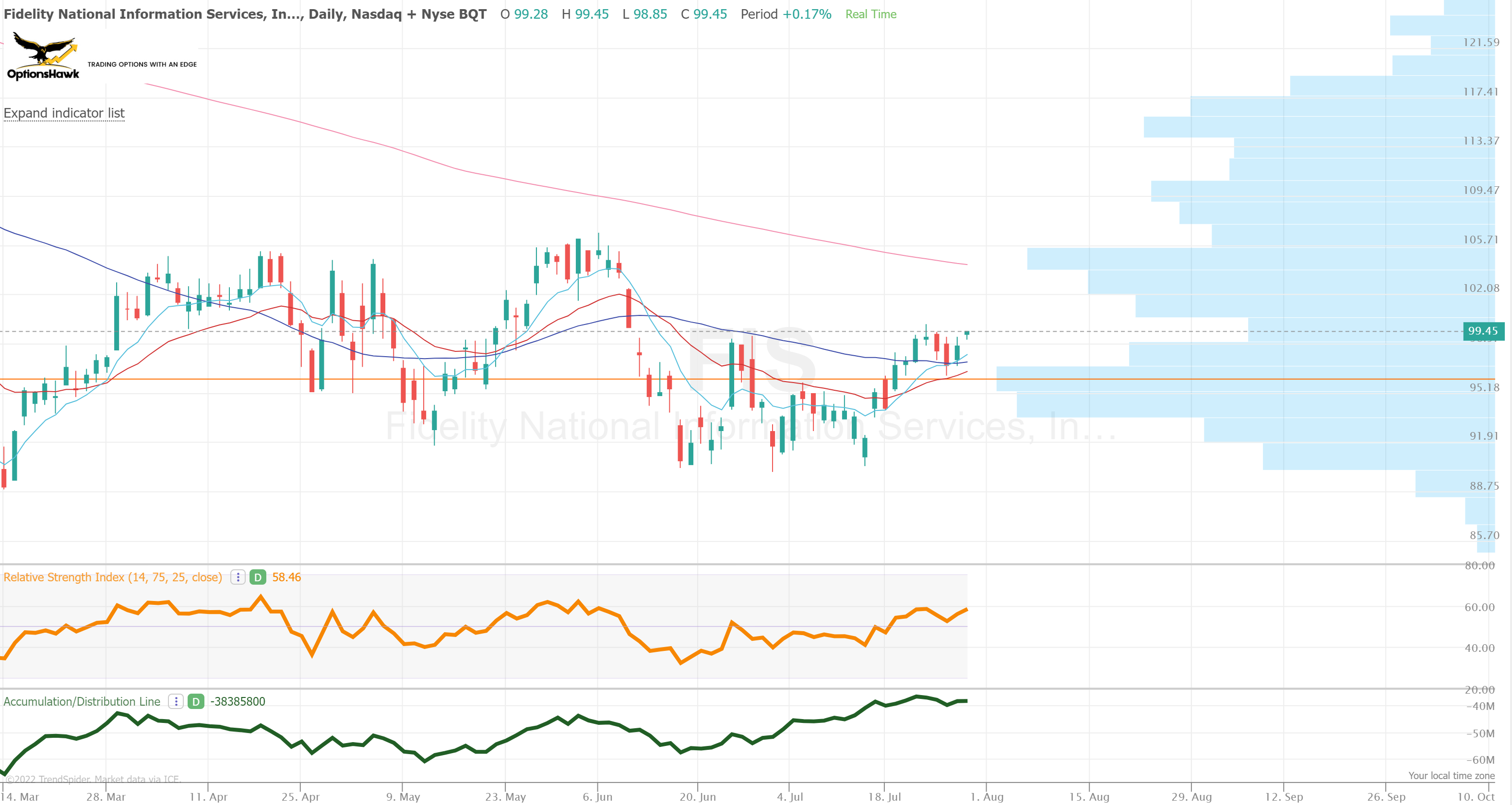 Chart
Set-Ups
CoStar (CSGP) a name that recently tested some trend support and filled a key gap and looks to be basing the last two weeks. Although shares are triggering a bearish 21/55 crossover, a move back above $79 could regain momentum and take aim back at the highs.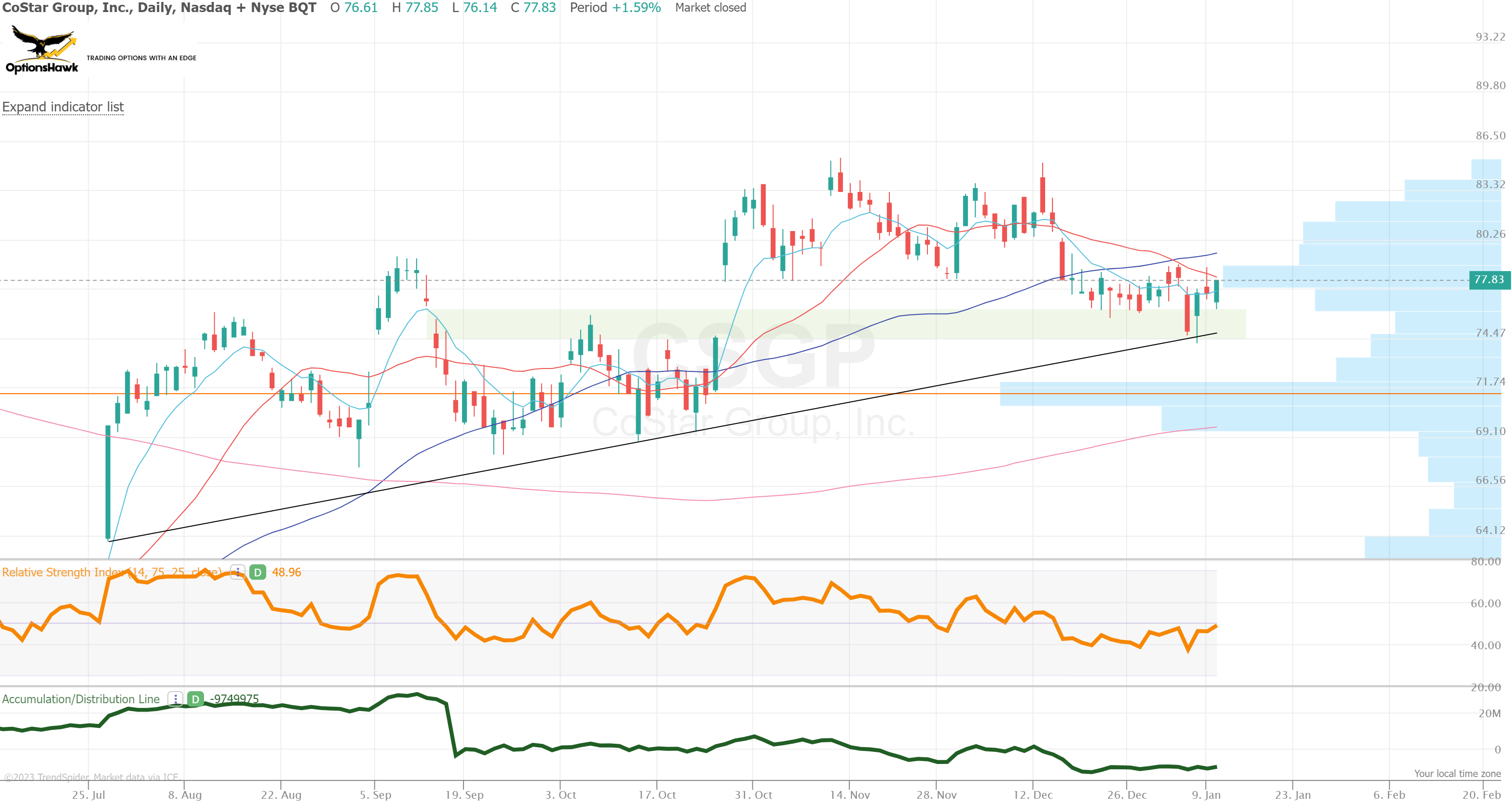 Market
Talk
The SPX had a choppy weak overall starting lower but reversing off a key support near 3900 on Thursday. Morning strength Friday faded midday ahead of the long weekend. Overall the 4000 SPX resistance held tough this week and still remains a gamma line that needs to be reclaimed for less volatility and more dealer supported hedging flows. Staying under that key level would be a sign of caution until September OPEX in two weeks when a lot of put positions likely will expire and provide a potential rebound similar to June when options expiration marked a key turning point. September seasonality tends to be weaker to start but the quad witch options expiration week has historically been quite bullish and the week after OPEX has been more bearish. Those stats primarily in bull markets however have the potential to be the opposite in a downtrending market. Breadth got weaker the past week but overall the NYMO oscillator showed extreme oversold conditions which favors a rebound in the short term. VIX faded midweek off the highs but rebounded off the 22 handle Friday as the markets still remain jittery below that 4000 SPX level. The last week ahead of Labor Day is often a choppier dull market with low liquidity so it will be interesting to see how next week transpires as it's a shorter week and likely more funds come back into the market. Overall the SPX holding the 3900 is needed as that is a cluster of fibonacci support and a trendline from the lows.
The sector leaders for the week were Biotech -1.3%, Insurance -2%, Utilities -1%. Laggards included Metals and Mining -8%, Semi's -6.6%, Solar -5.5%.
The week ahead is quieter but still sees August PMIs, China Trade, ISM Services, and ECB Decision and Press Conference. Earnings from KR, NIO, ZS, UI, DOCU, PATH, BILI, GTLB, GME, COUP.
Flow
Recap/
Highlights
Options flows for the week saw put buyers active in auto names F and LCID while Sept put buys in refiners MPC, VLO. Bulls were active in EL, GM, SLB and also trucking names R, ODFL, LSTR. Later in the week saw call buys in large cap Tech AAPL, TXN while put buyers were out in consumer credit names like AFRM, AXP, ALLY. Lower delta opening put sales were seen in March for Tech names CRM, ANET, ORCL.
OptionsHawk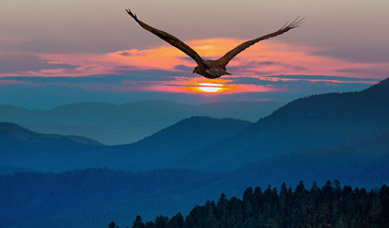 OptionsHawk is the premier site for active investors
We provide real time coverage of the market via options activity alerts, fundamental research, breaking news, technical set-ups and alerts, earnings strategies, sell-side commentary and much more. We provide a full suite of research and analysis to allow investors to make better informed decisions.
Our Mission
OptionsHawk is an idea generation and research platform providing accurate, unique, and high quality analysis of the equity and options market in real time. OptionsHawk aims to be the premier community for traders and investors as we simplify and maximize the efficiency of your research process while also handpicking and presenting the best ideas based on our many years of experience in a concise and timely manner.
Our Process
We integrate all methods into our process to give the most thorough assessment of a company, which includes fundamentals, technicals, institutional option and equity flows, management commentary, Macro views, catalyst discovery, and sell-side research.
Our Vision
The Hawk symbolizes the ability to use intuition and higher vision in order to complete tasks or make important decisions. Hawks also encourage you to use laser focus and precision to get things done, and to take the lead in life. The hawk represents focus, strength, and poise, and as messengers to learn powerful lessons or expand your knowledge and wisdom. The Hawk encapsulates our company vision.
Signed up for your highest tier solely for brief succinct timely option flow. I've been trading 15 years and never paid for anything until now. People who manage large accounts would be stubborn to ignore option flow as as a leading indicator/precursor to movement. -Tom in Fla
OptionsHawk hands down has been the best research service I've used. The amount of ideas and guidance is inimitable. Would recommend to anyone serious about investing– Michael
OptionsHawk stands out in a very crowded field. I have been a professional investor for over twenty years and have access to research from all Wall Street powerhouses, Bloomberg, Reuters, and many others. OptionsHawk's research and ideas are actionable, not reactionary like most of Wall Street's research. Their morning note is better than a lot of morning calls I've listened to over the years. The current 2nd Half Open Interest report is worth reading in full detail because you will not find comparable thinking elsewhere. If you are interested in a fresh look at the market using the options prism, this is it.– Dan P
"I've been subscribing to OptionsHawk for about 6 months and it has been awesome. Before this, I wasted a lot of time looking at option flow but had a hard time interpreting it. Joe has helped me to understand what is happening and focus my trading. His service has paid for itself in days. It's so good, like finding the perfect surf spot, you do not want to share it, but I will since it will make this service better. Joe is also entertaining and makes me laugh."– Erik
I have been using the service for about six months and the subscription fee is worth every penny and some. Latest example; Joe flagged ADSK June 19 220 calls as buyer flow, I bought at $2.15, sold at $5.45 for $3300 profit. That's eleven months of service in one day, thanks Joe!– Anthony
Joe you do some fantastic research and your weekend research is so too the point. You don't flip flop your call on the market depending on how the wind blows….
Your trade notifications are very detailed and perfect timing with sending after market so people can plan around them….. thanks for all you do for us.– Jitesh
I decided to try Options Hawk Max for a couple of months. Two years later I'm still a member. If you want great trade ideas as well as the information and education necessary to make your own trades, Options Hawk Max is for you.– Steven
I'm so glad I signed up for OptionsHawk. This service is second to none. Joe's knowledge and guidance is very crisp with best in class in depth analysis provided regularly. Your commentary makes stock picking easy and has been extremely helpful to me navigate the markets during these times.– MHCH
"I've been a subscriber for many years and find the information invaluable and critical to my trading success. Worth every penny."– Matt
"OptionsHawk has tons of tradable data information everyday. Do your own thing or take their setups, either way, its a winning site"– Howard
OptionsHawk is by far the best service around! Their research and insight is unmatched by any other service. The market recap alone will pay for the price of the subscription!– Zum
"I have used OptionsHawk's service from the day it was born. It's been a pleasure and benefit watching the service evolve over the years. As an institutional money manager with unlimited access to sell side research and commentary, I always turn to OptionsHawk first."– Jeff
"Actionable ideas galore. Option Hawk delivers every day"– Andrew
Thanks Joe! This week has been the best ever! I've literally made 100,000 with you couldn't be happier. Changed my life– Elad
Like most people here I've subscribed to other services in the past. Clearly the best, most detailed and best value in the industry, hands down. These guys don't take shots in the dark. It's bizarre their hit rate.– Joe P
I'm an independent RIA and had followed you on twitter for a while prior to taking the plunge and subscribing. To be honest I wish I had done it so much sooner than I did. The insights are unparalleled. Watching the trade flows and positioning gives you a major edge in generating sizable returns.– Michael
"As a trader new to options trading and wanting to have a read on options flow to back up my equity trades, I stumbled upon OptionsHawk via an internet search. Now being a member, I cannot imagine trading without the insight and information Joe and his team provide. Beyond simple option flow, they include technical analysis and professional thoughts to show you the full picture on their trade ideas. Having seen these services before, I expected to get very few trade ideas from the service. I got the complete opposite and I couldn't be happier. Joe and his team outline trade ideas and how they value them and most importantly the fundamentals to back them. From the live chat while the market is open, to the recaps, to the weekly trade ideas, to the earnings set ups Joe's service is the best in the business and feels like it has a personal touch. If you are a trader looking for additional insight, I couldn't think of a better service to spend my dollars on."– Jake
I have been an OptionsHawk Max member for a while now. Joe's uncanny ability to read overall market flows and distill them into actionable options/stock trading strategies sets OptionsHawk apart. Their market coverage is comprehensive and impressive. From the Market Blitz before market open to the Market Recap at market close, from Weekly Option Radar to Earnings Trading strategies, OptionsHawk offers products and services to suit all trading styles. As an individual investor OptionsHawk provides me with an ever-expanding trading/investing toolkit that keeps me connected to the market. Truly an intellectually and financially rewarding experience!– Nick
Your knowledge about the market is incredible. I really enjoy playing your Earning Plays and looks forward to reading your Market Blitz report every day in the morning as I don't have to go to 20 different sites for the information. I would recommend OptionsHawk to new and experienced traders. Joe keep up the good work.– Ajay Maheshwari