is the premier site for active option and equity traders offering real time coverage of markets via options activity alerts, technical set-ups, breaking news, in-depth research and much more.

Weekly Market View

Open Interest Alerts

Chart
Set-Ups

Market
Talk

Flow Recap/ Highlights
Weekly
market
View
The S&P 500 (SPX) marched higher for the third straight week and made a new all-time weekly closing high at 4536.50 as earnings season kicked off and concerns around Washington and China abated. Friday's candle ended a streak of seven straight sessions highs and now fairly extended above its short-term moving averages, setting up for a possible breather and consolidation phase. S&P futures broke out above monthly value on Tuesday at 4484 which now aligns with the rising 8-EMA, a logical spot to watch for a potential bounce. Other areas of note include VWAP from 10/13 at 4464.25 and then the monthly POC is down around the 21-EMA at 4436.50. A breakout above 4550 in the futures has no resistance as we're at all-time highs. The multi-week range from the September pullback measures out to 4840. Ahead of that level are some key Fibonacci extensions at 4621.50, 4664.75 and then 4700.
Market Sentiment/Breadth
Sentiment overall surged to the bullish side of the ledger this week. The latest AAII sentiment survey for the week ending 10/20 showed another jump in bulls to 46.9% vs 37.9% prior and up from 25.5% on 10/6. Neutral sentiment fell to 25.4% vs 30.3% prior and bears are 27.8% and down from 40.7% in late September. Bulls are now well above the long-term average while bears are below for the first time in over two months. NAAIM Exposure jumped sharply back to 98.02 from 64.46 and now near multi-month highs. Lipper Fund flows had $10.9B of inflows to equities, the biggest by far in over a month. As of Friday's close we had 570 new highs vs 204 new lows, strong breadth. The percentage of stocks above their 50-day and 200-MA also increased again with the former at 56.6%. NYSE Summation continued to rise to 225 and remains above its 8-EMA. NASI also hit its highest level since July and in a bull signal above its 8-EMA. Cumulative AD hit new highs this week. CBOE Equity P/C 50-day MA was 0.49 and continues to fall. VXV:VIX rose to 1.325 this week. CNN Fear and Greed rose to 67, up from 50 last week, and the highest level since early 2021.
Open
Interest
Alerts
Bath and Body Works (BBWI) triggering a strong breakout this morning after consolidating for the last few weeks. BBWI a name we featured in a recent writeup with over 23,000 November $65 calls accumulating from buyers and also 20,000 of the Nov. $70 calls.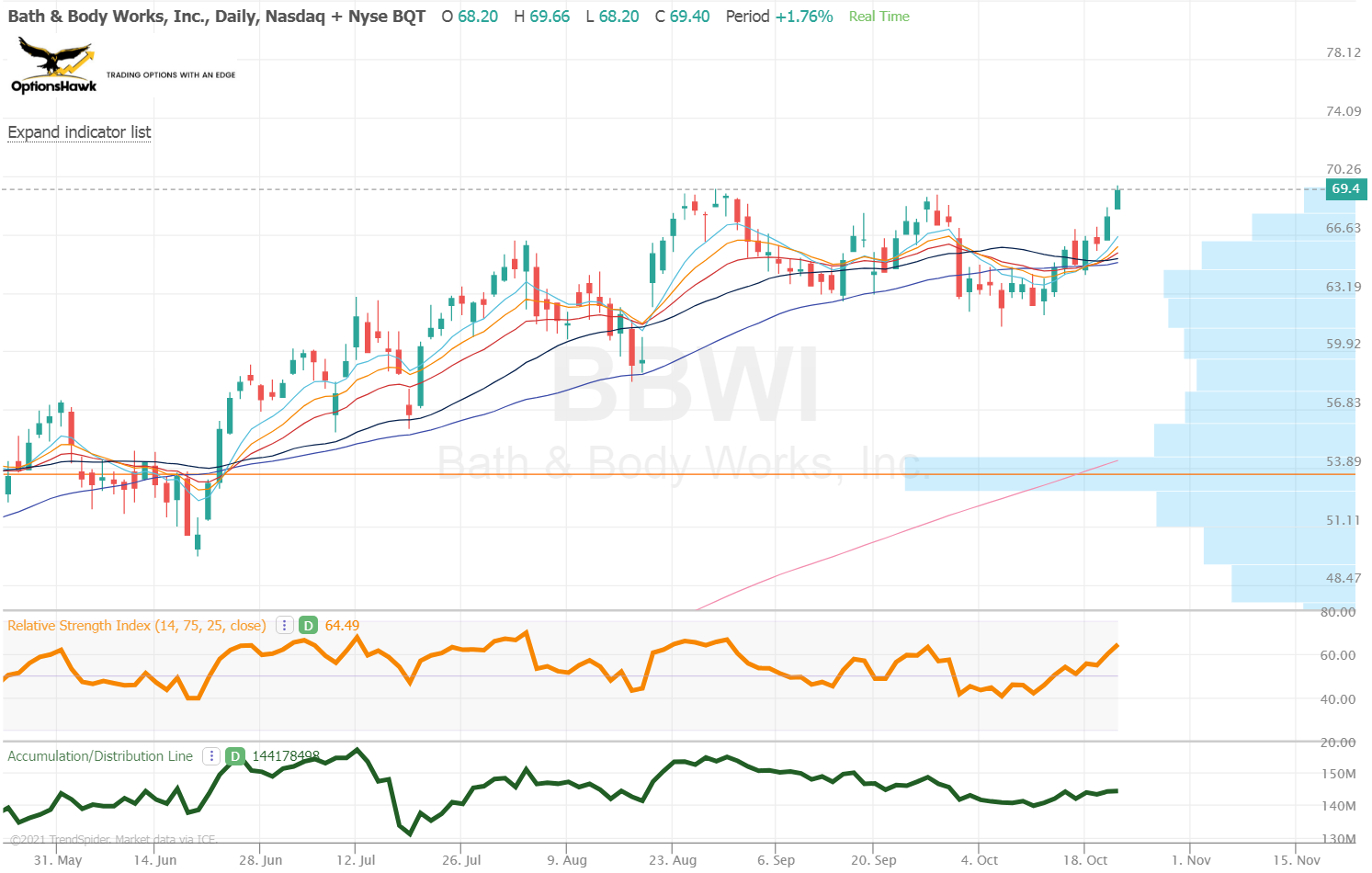 Chart
Set-Ups
Abercrombie & Fitch (ANF) working above monthly value high on Monday and starting to clear a bull wedge with room above $41 to run back to 52-week highs. Shares are forming an inverted head-and-shoulders pattern as well around the 38.2% Fibonacci retracement of the rally. ANF is hitting the 'ready to run' scan today with MACD nearing a bull cross and RSI reset but crossing back above 50 in a sign of strength.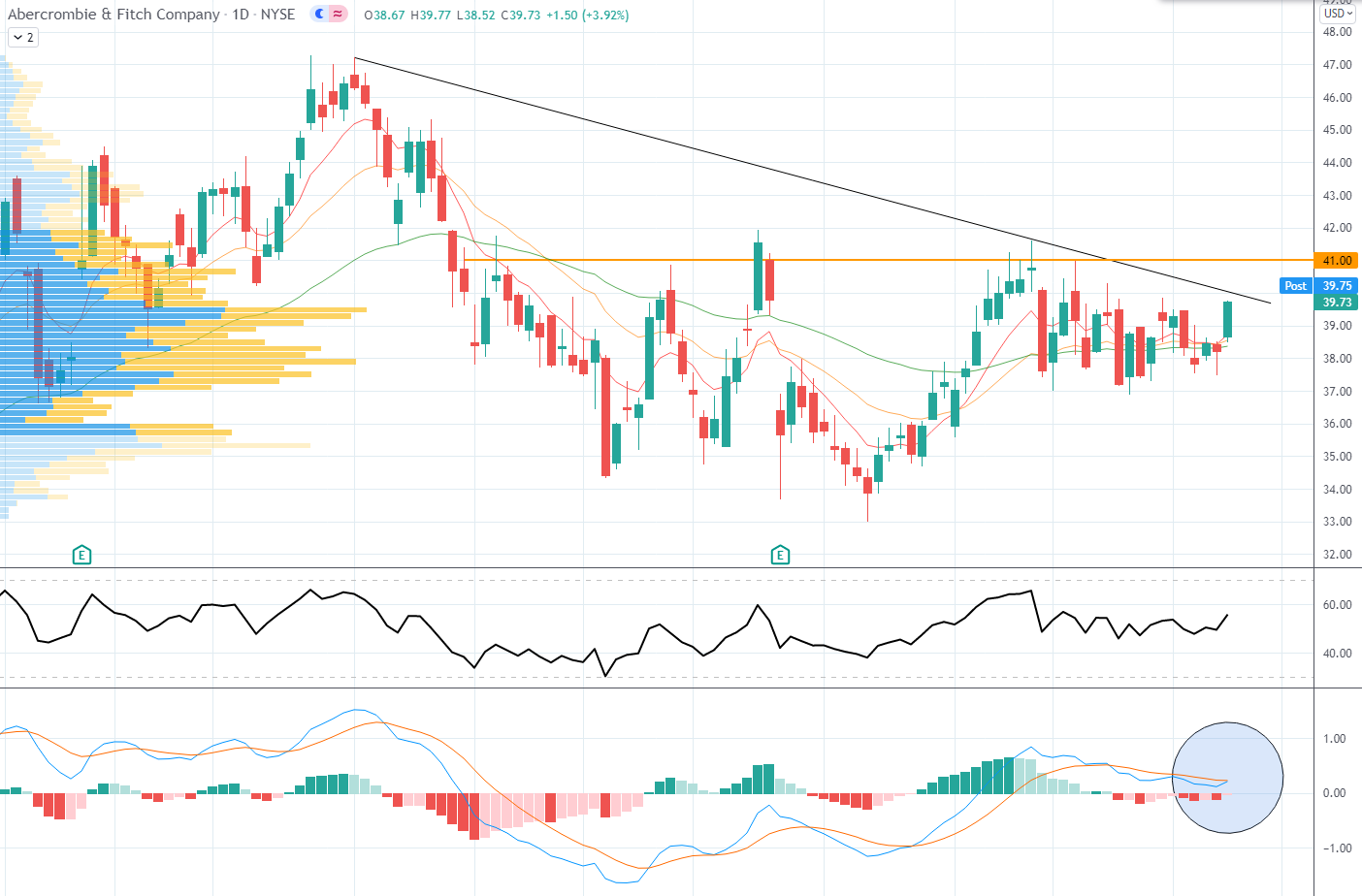 Market
Talk
Tech Stocks made fresh highs Wednesday with the Nasdaq leading the early action thanks to strong earnings reports from MSFT and GOOG. The Nasdaq made a new high but then closed weaker with the SPX also closing at the lows for the first time in the last few weeks. Earnings reports will be key the rest of the week with AAPL and AMZN a few of the bigger names still to report. The VIX creeped higher since Tuesday morning and showing a bit of caution here after hitting 15 recently. Internals sold off early today and pulled the indices down by the end of the day.  Sector leaders included Solar, Bonds, Consumer Discretionary. Weakness was seen in Banks, Energy, Payment Processors. The market overall is in the heart of earnings season after a large move back to new highs the past two weeks. With the FOMC meeting looming the first week of November, could be a time for some profit taking to end October. The SPX is up over 6% for the month of October after the weakness in September so a time for caution but as long as 4500 holds in the short term, it likely provides a path for continued strength into November which is seasonally a stronger month.
Flow
Recap/
Highlights
Option Flows were active in some beaten up Tech stocks with longer dated call buys in TWTR, SNAP, INTC
OptionsHawk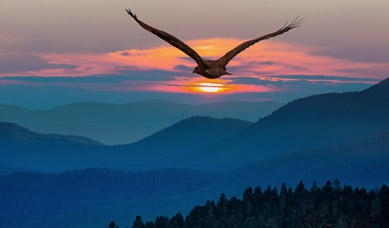 OptionsHawk is the premier site for active investors
We provide real time coverage of the market via options activity alerts, fundamental research, breaking news, technical set-ups and alerts, earnings strategies, sell-side commentary and much more. We provide a full suite of research and analysis to allow investors to make better informed decisions.
Our Mission
OptionsHawk is an idea generation and research platform providing accurate, unique, and high quality analysis of the equity and options market in real time. OptionsHawk aims to be the premier community for traders and investors as we simplify and maximize the efficiency of your research process while also handpicking and presenting the best ideas based on our many years of experience in a concise and timely manner.
Our Process
We integrate all methods into our process to give the most thorough assessment of a company, which includes fundamentals, technicals, institutional option and equity flows, management commentary, Macro views, catalyst discovery, and sell-side research.
Our Vision
The Hawk symbolizes the ability to use intuition and higher vision in order to complete tasks or make important decisions. Hawks also encourage you to use laser focus and precision to get things done, and to take the lead in life. The hawk represents focus, strength, and poise, and as messengers to learn powerful lessons or expand your knowledge and wisdom. The Hawk encapsulates our company vision.
Signed up for your highest tier solely for brief succinct timely option flow. I've been trading 15 years and never paid for anything until now. People who manage large accounts would be stubborn to ignore option flow as as a leading indicator/precursor to movement. -Tom in Fla
OptionsHawk hands down has been the best research service I've used. The amount of ideas and guidance is inimitable. Would recommend to anyone serious about investing– Michael
OptionsHawk stands out in a very crowded field. I have been a professional investor for over twenty years and have access to research from all Wall Street powerhouses, Bloomberg, Reuters, and many others. OptionsHawk's research and ideas are actionable, not reactionary like most of Wall Street's research. Their morning note is better than a lot of morning calls I've listened to over the years. The current 2nd Half Open Interest report is worth reading in full detail because you will not find comparable thinking elsewhere. If you are interested in a fresh look at the market using the options prism, this is it.– Dan P
"I've been subscribing to OptionsHawk for about 6 months and it has been awesome. Before this, I wasted a lot of time looking at option flow but had a hard time interpreting it. Joe has helped me to understand what is happening and focus my trading. His service has paid for itself in days. It's so good, like finding the perfect surf spot, you do not want to share it, but I will since it will make this service better. Joe is also entertaining and makes me laugh."– Erik
I have been using the service for about six months and the subscription fee is worth every penny and some. Latest example; Joe flagged ADSK June 19 220 calls as buyer flow, I bought at $2.15, sold at $5.45 for $3300 profit. That's eleven months of service in one day, thanks Joe!– Anthony
Joe you do some fantastic research and your weekend research is so too the point. You don't flip flop your call on the market depending on how the wind blows….
Your trade notifications are very detailed and perfect timing with sending after market so people can plan around them….. thanks for all you do for us.– Jitesh
I decided to try Options Hawk Max for a couple of months. Two years later I'm still a member. If you want great trade ideas as well as the information and education necessary to make your own trades, Options Hawk Max is for you.– Steven
I'm so glad I signed up for OptionsHawk. This service is second to none. Joe's knowledge and guidance is very crisp with best in class in depth analysis provided regularly. Your commentary makes stock picking easy and has been extremely helpful to me navigate the markets during these times.– MHCH
"I've been a subscriber for many years and find the information invaluable and critical to my trading success. Worth every penny."– Matt
"OptionsHawk has tons of tradable data information everyday. Do your own thing or take their setups, either way, its a winning site"– Howard
OptionsHawk is by far the best service around! Their research and insight is unmatched by any other service. The market recap alone will pay for the price of the subscription!– Zum
"I have used OptionsHawk's service from the day it was born. It's been a pleasure and benefit watching the service evolve over the years. As an institutional money manager with unlimited access to sell side research and commentary, I always turn to OptionsHawk first."– Jeff
"Actionable ideas galore. Option Hawk delivers every day"– Andrew
Thanks Joe! This week has been the best ever! I've literally made 100,000 with you couldn't be happier. Changed my life– Elad
Like most people here I've subscribed to other services in the past. Clearly the best, most detailed and best value in the industry, hands down. These guys don't take shots in the dark. It's bizarre their hit rate.– Joe P
I'm an independent RIA and had followed you on twitter for a while prior to taking the plunge and subscribing. To be honest I wish I had done it so much sooner than I did. The insights are unparalleled. Watching the trade flows and positioning gives you a major edge in generating sizable returns.– Michael
"As a trader new to options trading and wanting to have a read on options flow to back up my equity trades, I stumbled upon OptionsHawk via an internet search. Now being a member, I cannot imagine trading without the insight and information Joe and his team provide. Beyond simple option flow, they include technical analysis and professional thoughts to show you the full picture on their trade ideas. Having seen these services before, I expected to get very few trade ideas from the service. I got the complete opposite and I couldn't be happier. Joe and his team outline trade ideas and how they value them and most importantly the fundamentals to back them. From the live chat while the market is open, to the recaps, to the weekly trade ideas, to the earnings set ups Joe's service is the best in the business and feels like it has a personal touch. If you are a trader looking for additional insight, I couldn't think of a better service to spend my dollars on."– Jake
I have been an OptionsHawk Max member for a while now. Joe's uncanny ability to read overall market flows and distill them into actionable options/stock trading strategies sets OptionsHawk apart. Their market coverage is comprehensive and impressive. From the Market Blitz before market open to the Market Recap at market close, from Weekly Option Radar to Earnings Trading strategies, OptionsHawk offers products and services to suit all trading styles. As an individual investor OptionsHawk provides me with an ever-expanding trading/investing toolkit that keeps me connected to the market. Truly an intellectually and financially rewarding experience!– Nick
Your knowledge about the market is incredible. I really enjoy playing your Earning Plays and looks forward to reading your Market Blitz report every day in the morning as I don't have to go to 20 different sites for the information. I would recommend OptionsHawk to new and experienced traders. Joe keep up the good work.– Ajay Maheshwari