Denbury (DEN) Calls See New Highs for Relative Strength Energy Play
Denbury (DEN) small-cap energy name that drew unusual call buying yesterday with over 2,425 May $45 calls opening for $3.80. DEN doesn't have any other notable open interest. Shares forming a nice bull flag above the 21-day MA and under $45 and hot so far in 2021 up over 60%. They're holding up well also during the recent market pullback and a breakout targets $55.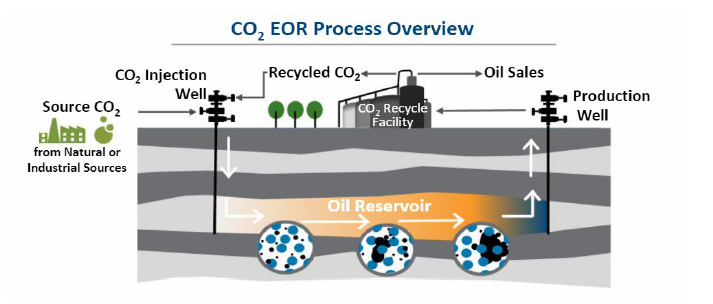 The $1.94B company emerged out of bankruptcy in September after striking a restructuring deal to remove the company's $2.1B in debt. The move gives DEN a lot more flexibility to invest in their carbon capture, use, and storage business. Their unique process is called EOR by which CO2 is injected during the drilling process to more efficiently extract oil from wells. The CO2 combines with the oil and moves into nearby wells and other areas before being drawn back to the surface. The two are them separated and the CO2 is recycled for use. DEN notes that EOR can pull nearly as much oil from a well reservoir as either the primary or secondary recovery. DEN produces high-quality crude, as well, with low sulfur and mid-30s API, one of the leaders in the Rocky Mountain and Gulf Coast regions. The process is also environmentally friendly as it ultimately is net negative on carbon emissions. They explain at the CSFB Energy Summit in early March:
"…we're using industrial sourced CO2 that would otherwise be admitted into the atmosphere, that's where we're making a difference. And that's where, when I say I think that Denbury can be essential to this energy transition, this is one key part of it. We can produce what we call blue oil, which is oil that's produced in this manner using industrial sourced CO2 and having a negative carbon footprint even on a Scope 3 basis. About 20% of Denbury's production right now is produced in that manner."
Shares trade 14.67X earnings, 2.6X sales, and 12.7X FCF. They're adding capacity with a nice bolt-on deal recently for some Wyoming acreage and guiding to 8.5% growth in FY21. Analysts have an average target for shares of $36 with limited coverage. Capital One upgrading to Overweight in September citing their exit from Chapter 11 where they have re-emerged with a $50/Mbbl low decline oil production base, reduced leverage, and the potential to play a meaningful role in energy industry efforts to achieve a lower carbon footprint through its EOR operations. Roth starting coverage in January, "given its unique CO2 enhanced oil recovery operations model, strong balance sheet and free cash flow generation, shares are a compelling investment opportunity." They also highlight that buybacks and dividends have not been discussed by Denbury management in public remarks but a capital return plan is likely in focus if FCF continues to ramp. Short interest is 1.8%.