A Small Cap Thriving in a Beauty Industry Dominated by Giants
e.l.f Beauty (ELF) shares are working out of a pullback trend and bottoming pattern at the rising 200-day moving average, shares just +9.6% YTD and a name that screened attractively into 2021.
ELF is a multi-brand beauty company that offers inclusive, accessible, cruelty-free cosmetics and skin-care products. Its family of brands includes e.l.f. Cosmetics, W3LL PEOPLE and Keys Soulcare. The brands are available online and across leading beauty, mass-market, and clean-beauty specialty retailers, including strong relationships with retail partners such as Walmart, Target, and Ulta Beauty. ELF brands are 100% cruelty-free, it does not conduct or tolerate any tests on animals and it also utilized "clean ingredients."
The color cosmetics category primarily consists of face makeup, eye makeup, lip products, nail products and cosmetics sets/kits, along with beauty tools and accessories such as brushes and applicators. The skin care category primarily consists of facial skin care and eye skin care products. The color cosmetics and skin care categories are relatively concentrated, with a significant portion of retail sales in the United States generated by brands owned by a few large multinational companies, such as L'Oreal, Estee Lauder, Coty, Revlon, Shiseido, Johnson & Johnson, and Procter & Gamble.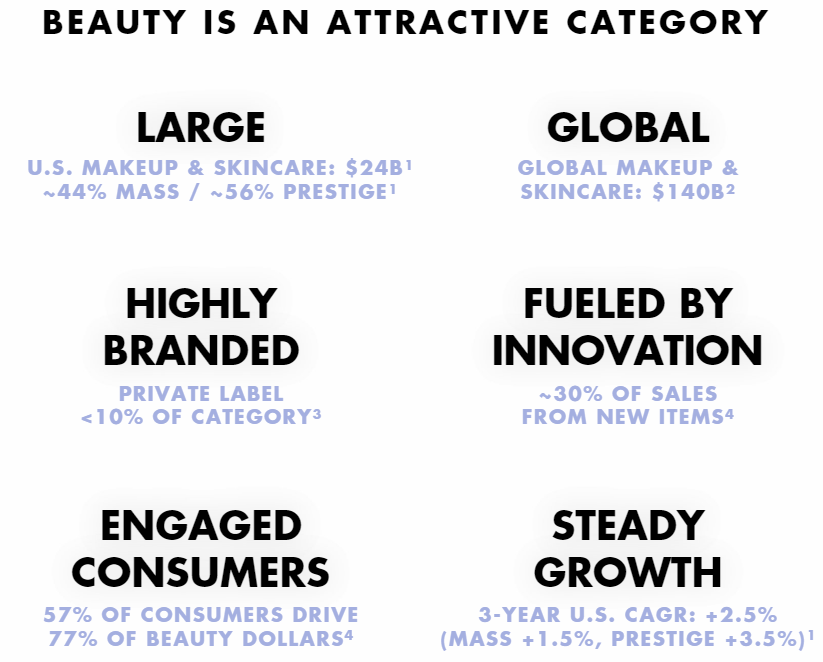 ELF operates a consumer-centric marketing model, driving traffic to its own e-commerce websites though digital and social media. Total expenses for marketing and digital in the year ended March 31, 2021 were $49.7 million, approximately 16% of net sales. Walmart and Target accounted for 26% and 22%, respectively, of net sales in the year ended March 31, 2021.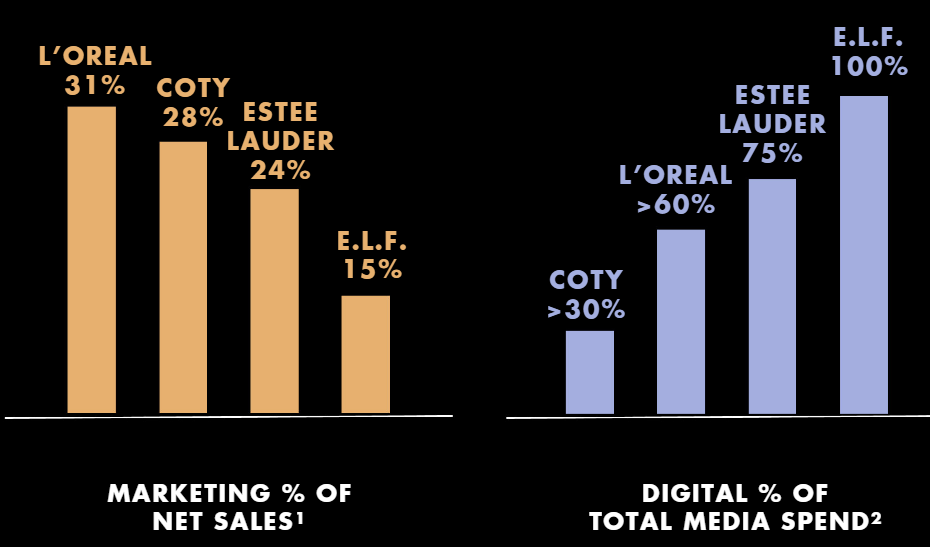 ELF has a market cap of $1.42B and trades 35X Earnings, 4.47X Sales and 61.8X FCF. Forecasts expects 15.7% revenue growth in 2022 after posting 7.1% growth in a tough 2021 while EBITDA seen down 1.5% Y/Y before rebounding to double digit growth in 2023. ELF sales are 16% online and 93% of sales are in color cosmetics. Its 19% Adjusted EBITDA Margins and 20% ROCE exceed that of its largest peer Estee Lauder (EL). ELF has been gaining market share across Brushes, Primers, Concealers, Eyebrows and Sponges.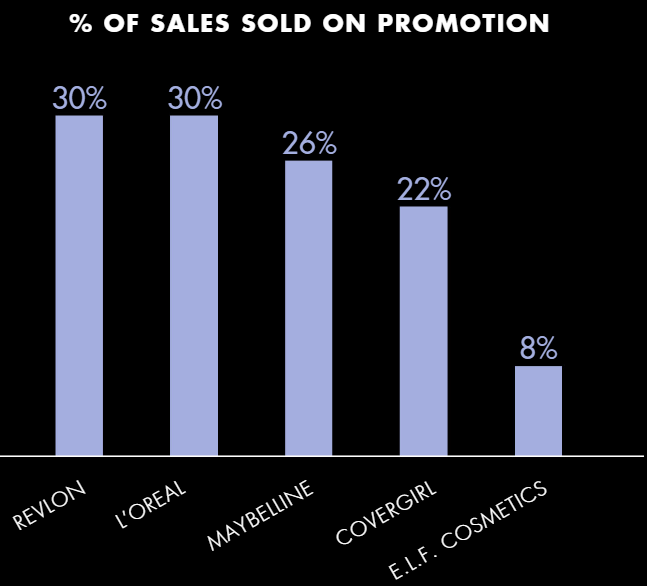 ELF is setting itself apart as a value offering while still maintaining high quality and also has a much faster innovation cycle. It also utilizes a 10% digital advertising strategy and a hybrid supply chain model. It plans to double down digital efforts to close the brand awareness gap with peers. Its Beauty Squad loyalty program is also a positive step that is seeing strong growth. Whitespace opportunities are seen both in products, such as skincare, and geographically with international currently representing just 11% of total sales.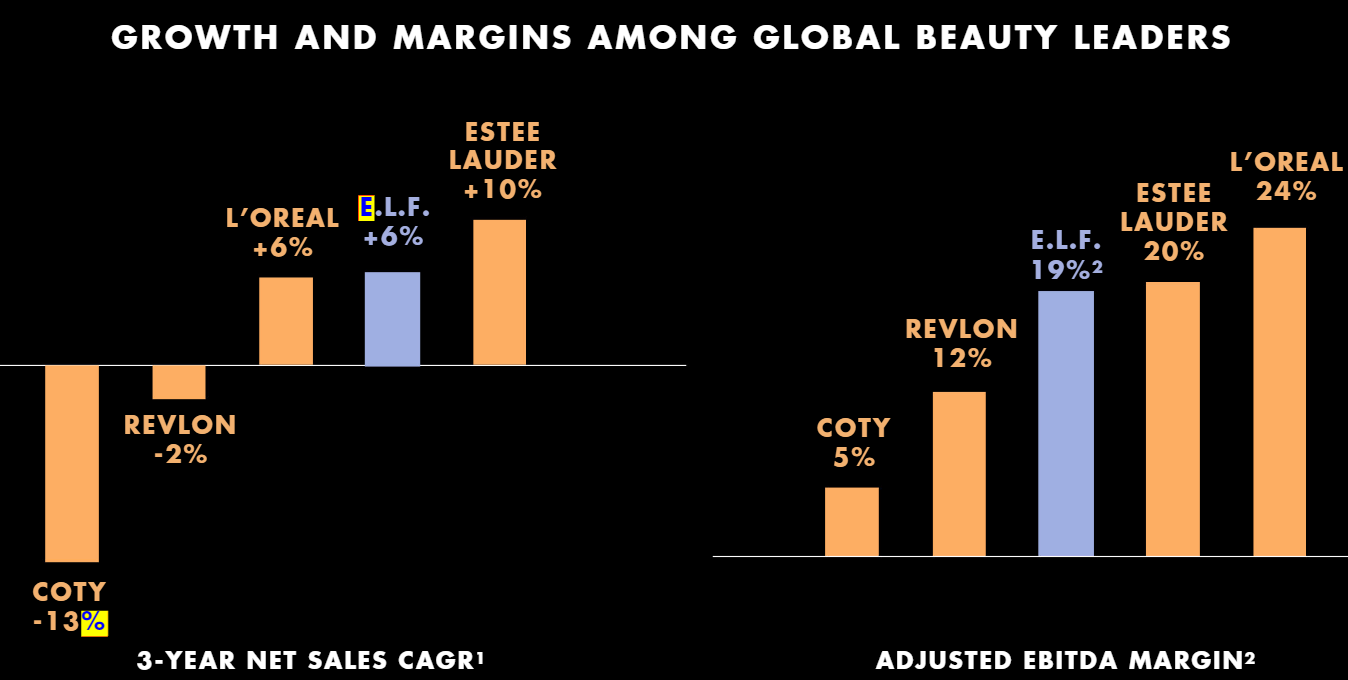 ELF is an attractive small cap with plenty of upside not built into current estimates.