Bull Risk Reversal in High Growth Diagnostics Small Cap
Adaptive Bio (ADPT) worth a closer look after an unusual trade earlier this week with 2000 August $45/$32.50 bull risk reversals opening at $0.30 debit, the only notable open interest in the name. ADPT shares are down more than 35% YTD but recent lows re-tested a key volume support level and starting to form a weekly bottoming pattern with RSI diverging bullish, and a move above $41 should be key. ADPT is a commercial-stage sequencing and diagnostic company leveraging the inherent biology of the immune system to transform the diagnosis and treatment of disease. Currently, ADPT's innovative technology is used in academic and biopharma research (immunoSEQ) and in the clinical setting (clonoSEQ). ADPT has significant upside potenteial from its pipeline of clinical diagnostic products (MSFT-partnered immunoSEQ Dx) and drug discovery pipeline (Genentech/Roche -partnered T-cell receptor (TCR) based cell therapies for oncology, Amgen (AMGN; covered by Terence Flynn)-partnered COVID-19 program). one of the key value drivers is immunoSEQ Dx, ADPT's clinical diagnostic that uses immune signatures identified by ADPT's proprietary platform for the early-stage diagnosis of infectious diseases (including COVID-19, Lyme disease) in addition to Celiac disease and ovarian cancer – with the ability to expand into multiple other disease states driven by Microsoft machine learning capabilities alongside ADPT's immunomics database. A second value driver stems from ADPT's entry into drug development with Genentech for the development of cellular therapies in oncology. ADPT intends to potentially pursue additional opportunities in cell therapy outside of this collaboration, including in other disease states, such as autoimmune diseases, and cancer vaccines.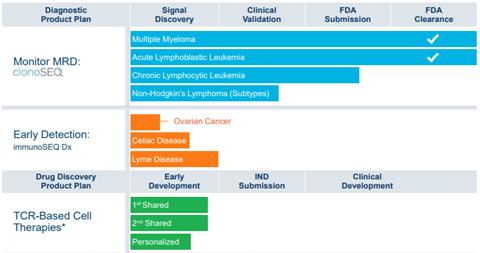 ADPT has a market cap of $5B and trades 30X EV/Sales with revenues seen rising 52.6% in 2021 and 40%+ the next two years forward while profitability remains far off. ADPT spoke at a Healthcare Conference in June and management expressed confidence in the forward growth levers in place for clonoSEQ, including increased penetration into the community setting, leveraging its expanded and trained field force, increasing educational efforts and direct to consumer outreach. On T-Detect, management views the EUA for COVID-19 as a key milestone for the T cell-based diagnostic approach, serving as platform validation and to accelerate ADPT's long-term vision for the technology to become an integrated part of primary care. Lyme disease is likely the second T-Detect product and on-track as a laboratory developed test (LDT) in a CLIA setting by YE21. ADPT launched immunoSEQ Dx in 2021 partnered with Microsoft (MSFT), a clinical diagnostic incorporating machine learning to match immune responses to disease states seen having $1.35B peak sales in 2035. Management estimates a $4.5bn global TAM for clonoSEQ. The US-based market alone represents a ~$1.2 bn – $1.3bn market opportunity, with 25% from ALL and MM, and an additional 25% from CLL. The remaining 50% includes NHL diseases (follicular, diffuse large B cell, mantle cell).