IPO Profile: Similar-Web (SMWB) Positioned Strongly for Digital Intelligence Spending
Similar Web (SMWB) came public in May and shares are +3.9% YTD with a choppy first few months trading range. SMWB is a leader in digital intelligence.
Similarweb provides a leading platform for digital intelligence, delivering a trusted, comprehensive and detailed view of the digital world that empowers our customers to be competitive in their markets. Its proprietary technology analyzes billions of digital interactions and transactions every day from millions of websites and apps, and turns these digital signals into actionable insights. The platform allows businesses to quickly and efficiently discover the best business opportunities, identify potential competitive threats and make critical decisions to capture market share and grow revenues. SMWB offers 5 different solutions, from research intelligence, market intelligence, shopper intelligence, sales intelligence, and, of course, investor intelligence that meet the needs of a wide range of personas and buyers.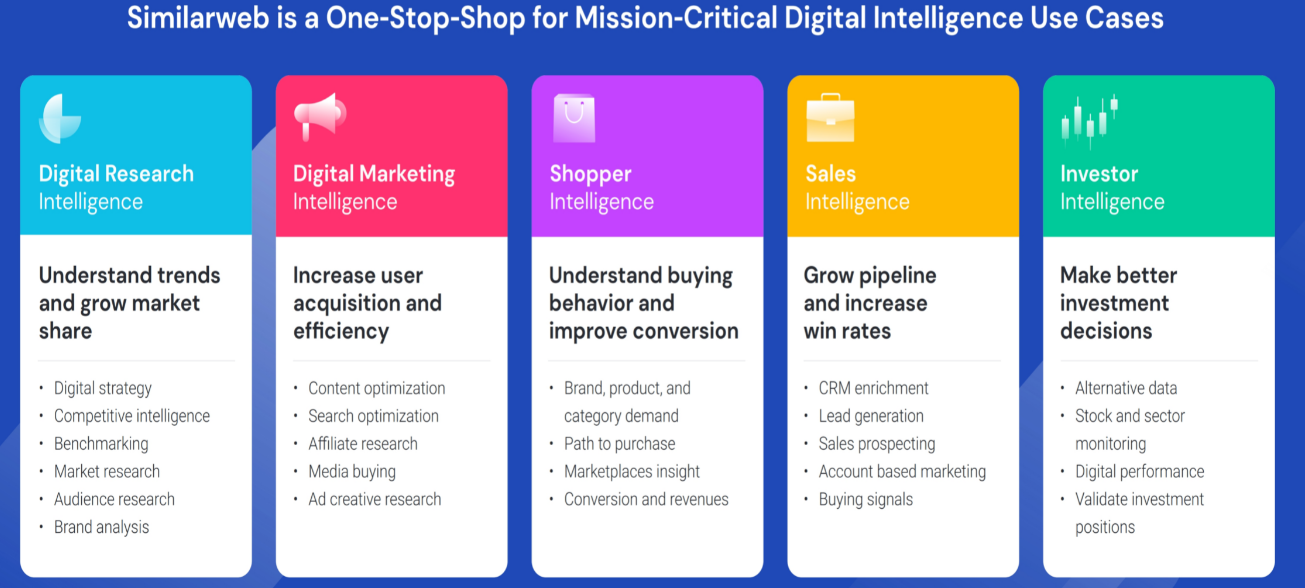 SMWB generates revenues through paid subscription solutions across various pricing tiers based on feature set, geographic coverage and number of users. SMWB sells to companies across a wide range of industries such as retail, consumer packaged goods, travel, consumer finance, consultancies, marketing and advertising agencies, media and publishers, business-to-business software, logistics, payment processors and institutional investors.
According to IDC, an estimated 65% of global GDP will be digitized by 2022, driving accelerated spending on digital transformation of over $6.8 trillion through 2023. SMWB sees an addressable market of $34B and is a 99% subscription revenue company with 113% net dollar-based retention rate. Its growth strategy is to accelerate customer acquisition, grow within existing customers, deepen the product portfolio and utilize M&A.
SMWB currently has a market cap of $1.66B and trades 13X FY21 EV/Sales with revenue growth of 37% in 2019 and 32.4% in 2020 while 2021 seen at 38.7% growth and then 25-30% growth in 2022 and 2023. SMWB profitability is not seen until at least 2024 and operates with 78% gross margins. SMWB is seeing strong trends in customer metrics as shown below. SMWB just reported annualized revenue of about $130 million, nearly 50% of that coming from customers who spend over $100,000 a year.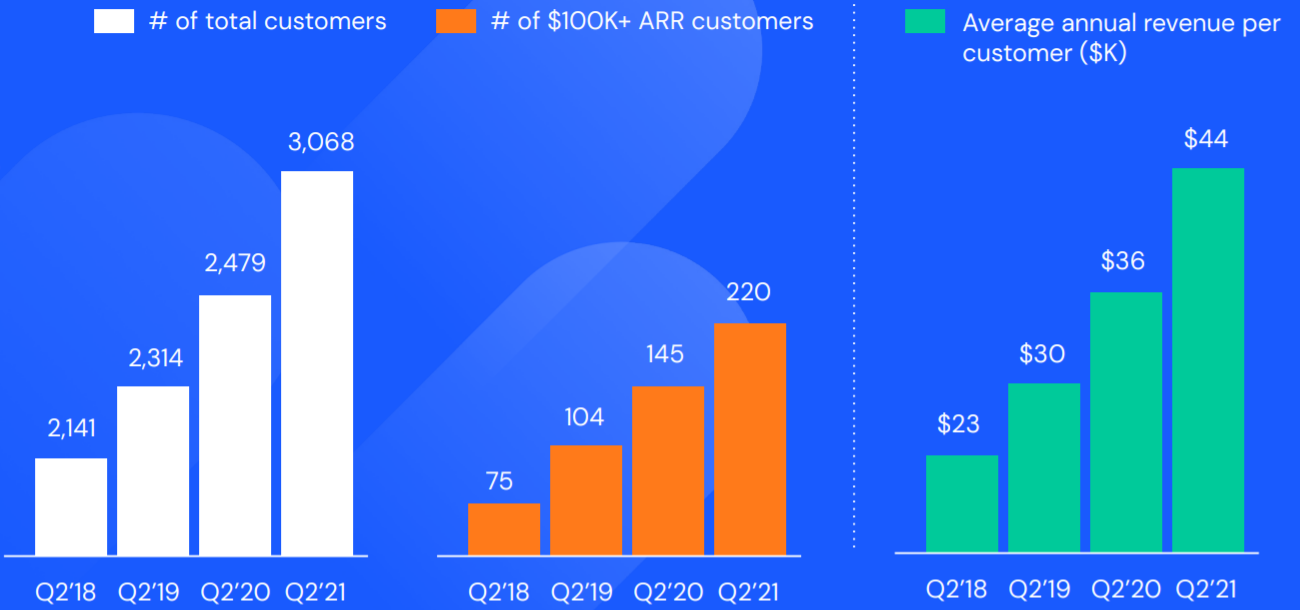 SMWB presented at the Citi Tech Conference on 9/13 and responded to its rise in expenses as it hired 150 people last quarter: "But remember, we're an ARR business. And so we look at that payback over the 12-month subscription that it goes into it. And if you look at our sales and marketing spend today, 60% of that sales and marketing is a new customer acquisition, but 40% of it is investment in that customer retention and expansion, which yields that 13% net operating profit today on the recurring base and a recovery of that CAC in 14 months on a gross margin basis. We think that those are really outstanding and industry-leading kind of metrics and things that we seek to maintain and replicate over the quarters going forward."
SMWB with a $1.66B market cap has a major value-add platform for businesses and is in the very early innings of its opportunity while valuation is attractive for the top-line growth and profitability/FCF inflection may be a few years out but momentum looks strong for it to perform well for the next few years and potentially more.