Options Flow Catching One Big Mover after Another
I have covered in depth previously the rationale and approach to utilizing options activity as the best way of stock discovery, and then applying technical and fundamental analysis to the names.  In this post I want to simply show how effective the approach is after hitting five monster moves over the past month.
Over the last month there are only 10 stocks priced > $10 with $2B+ market caps that have gained 20% or more, and five of them were in depth breakdowns on OptionsHawk after seeing persistent bullish options activity.  Mobileye (MBLY), Vertex Pharma (VRTX), Panera Bread (PNRA), FMC Corp (FMC) and Sprout's Farmers Market (SFM) are the five names caught at OptionsHawk.  Three of the remaining five did have bullish options activity, but we did not spend enough time with in depth reports nor traded the names, those being National Beverage (FIZZ), Grupo Galicia (GGAL), and Nektar Therapeutics (NKTR).  The only two big movers that did not see options activity to tip us off were LATAM Air (LFL) & PLD Inc. (PHI).
If we look at big YTD movers that have gained 25% or more, some other big OptionsHawk report names hit the list such as NRG Energy (NRG), Medicine Co. (MDCO), Arconic (ARNC), Incyte (INCY), New Relic (NEWR), Exelixis (EXEL), ActiVision (ATVI), Wright Medical (WMGI), ST Micro (STM), Wunn Resorts (WYNN), Clovis (CLVS), CSX Corp (CSX), Apollo (APO), Viacom (VIAB), Melco (MPEL), Micron (MU), Symantec (SYMC), Energizer (ENR), Adobe (ADBE) and Teradyne (TER).
For this post I just want to cover the five above to show how the trades came about:
Mobileye (MBLY) shares recently soared more than 30% after Intel (INTC) announced a $15B deal to acquire the company.  In the week leading up to the deal I was noticing a lot of unusual OTM call buying but it was also a name that already had sizable bullish positioning in open interest and price-action was strong, the latter often being a key component.  Below is a view of the MBLY options flow from the OptionsHawk Notable Database, a strong combination of both large call puts and opening put sales: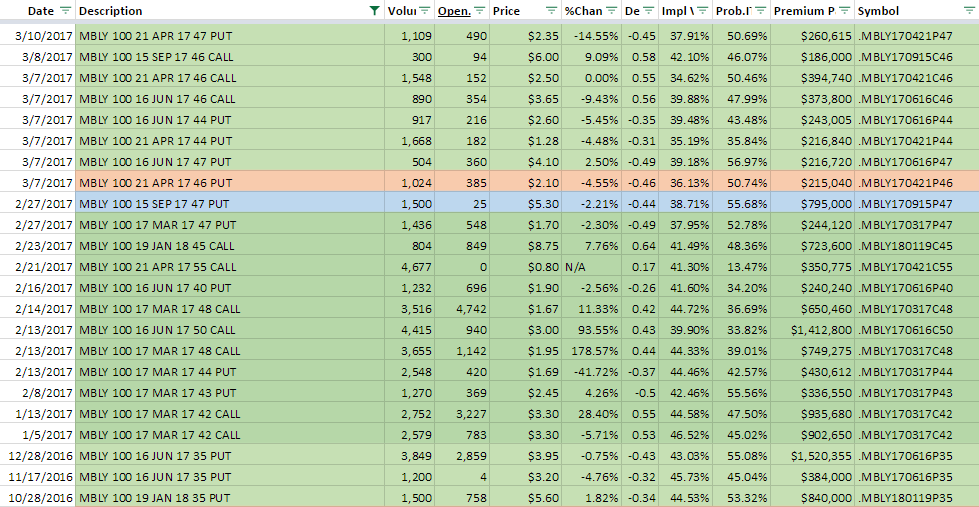 Using the searchable OptionsHawk Trading Hub, we can also see some of the mentions from back in January and February: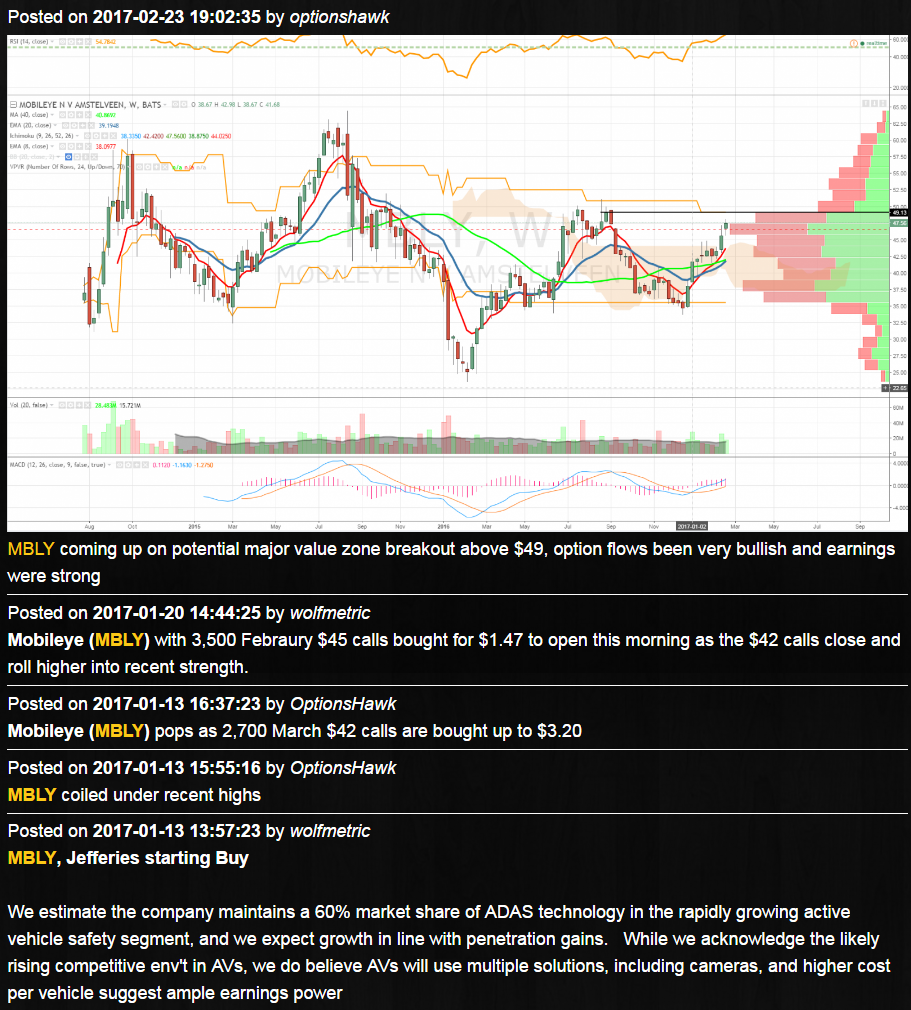 Vertex Pharma (VRTX) shares are 55% higher YTD and recently surged higher after posting positive Cystic Fibrosis data.  VRTX has seen bullish positioning all year in anticipation of this data with much of it focused in April call options, including accumulation in the far OTM $100 calls when shares were below $90.  VRTX was also issued as a Spotlight Trade for April call spreads to members to position for this event.  Below is a view from the OptionsHawk Notable Database (note October OTM call spreads bought in size looking for even more upside since the move):

Looking at the OptionsHawk Trading Hub search feature we can see some mentions recently: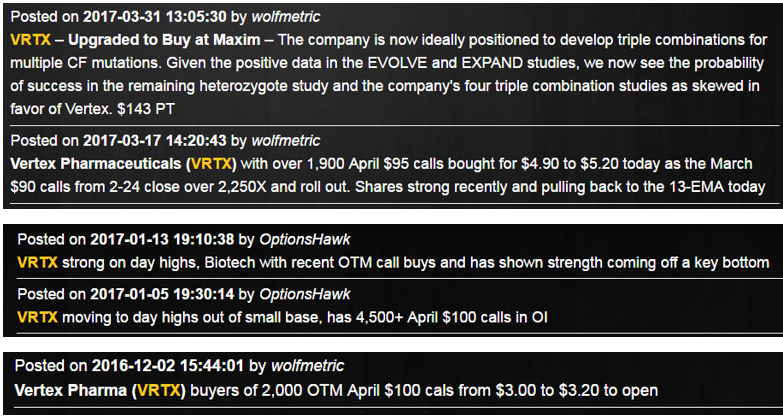 Panera Bread (PNRA) shares spiked in April with a $7.5B takeover offer from JAB Holdings, a 30% premium, and was a name discussed often the week ahead of the news and also with quite a few tweets highlighting unusual call buying, IV surges, and bullish inverted April IV Skew.  Below is the OptionsHawk Notable Database showing all the unusual call buying that started on 3/27:

Using the search in the OptionsHawk Trading Hub we can see all the mentions the week ahead of the news: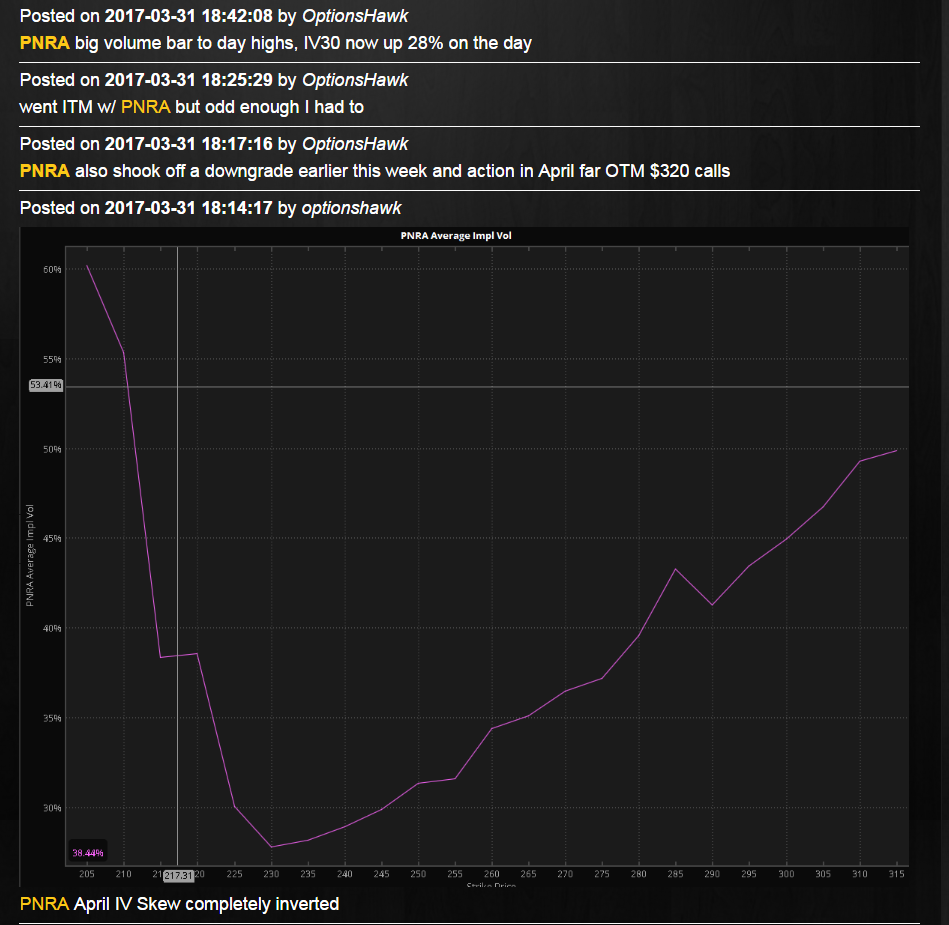 FMC Corp (FMC) shares are 27% higher YTD, recently jumping on news it would acquire DuPont's (DD) crop protection business for $1.2B, an accretive deal.  FMC is another name I had tweeted a few times with shares showing relative strength and setting up nicely while call options were accumulation.

We can see all the mentions just the last two weeks into the event: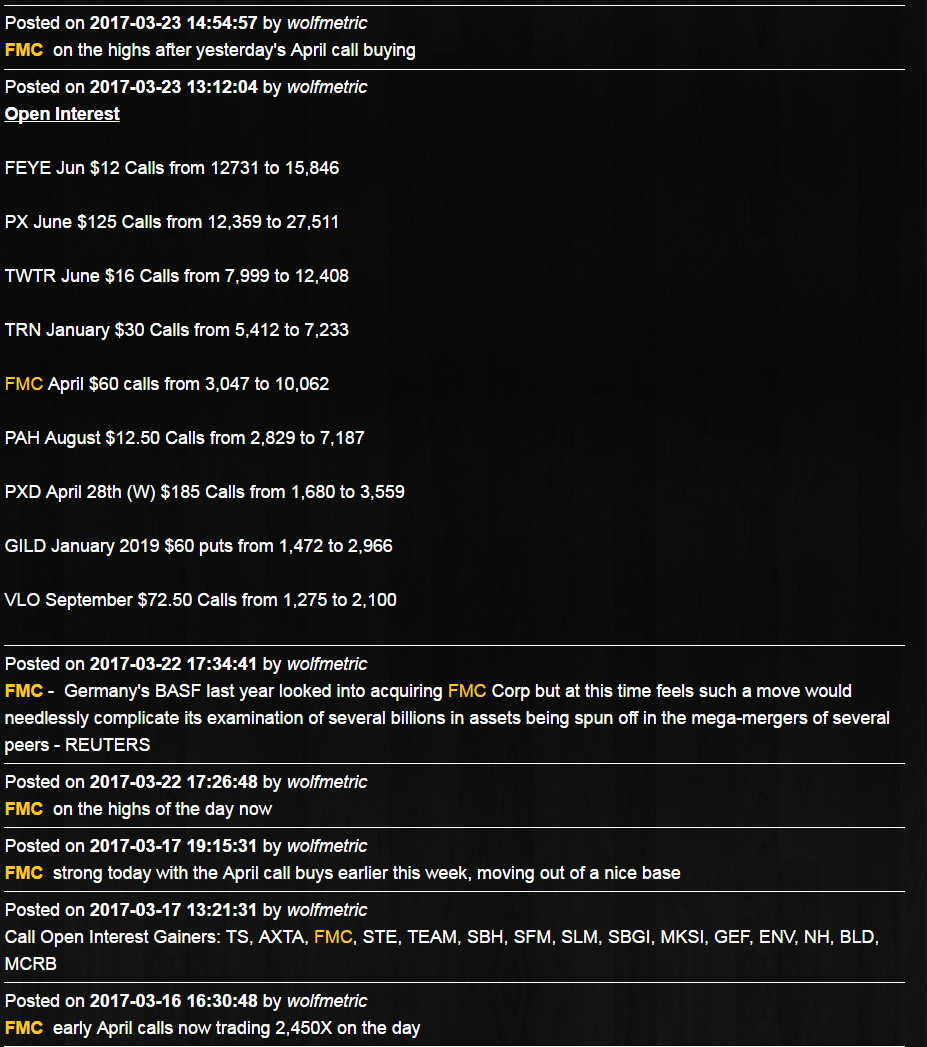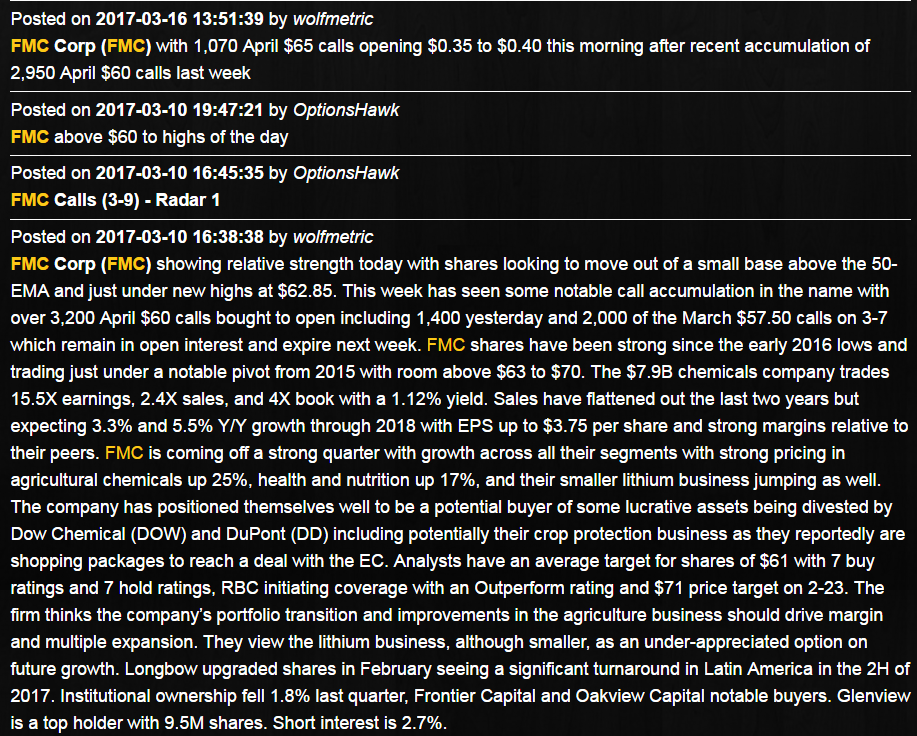 Sprouts Farmers Market (SFM) shares are up 28.5% over the past month fueled by a report that Albertsons is in talks to buy the company.  SFM is a name that saw Jan. 2018 $20 call accumulation in size trades and also April and June call activity.  Below is the options flow from the OptionsHawk Notable Database:

Also, this name was detailed on March 7th describing the accumulating call options: