Weekly Market View 1-9-23
The SPX finished the first week of the year on a strong note closing positive Friday in a large rally to 3900 and showing impressive internal breadth all week despite sluggish price action until Friday's jobs report sent prices higher and closing back above the 21 EMA for the first time since mid-December. The market likely now has potential to rally further to the 4000 large resistance level ahead of the CPI report Thursday and then a big January OPEX next week. With MACD seeing a bullish cross and NYSI breadth confirming it looks like the recent strong support at 3800 and 50% retracement was a solid zone that showed buyers defend. Staying above 3870 now will be a key spot to watch if the rally advances to the 200-day MA up near 4000. RSI is also crossing back over the 50 mid-point level with Fridays strong move.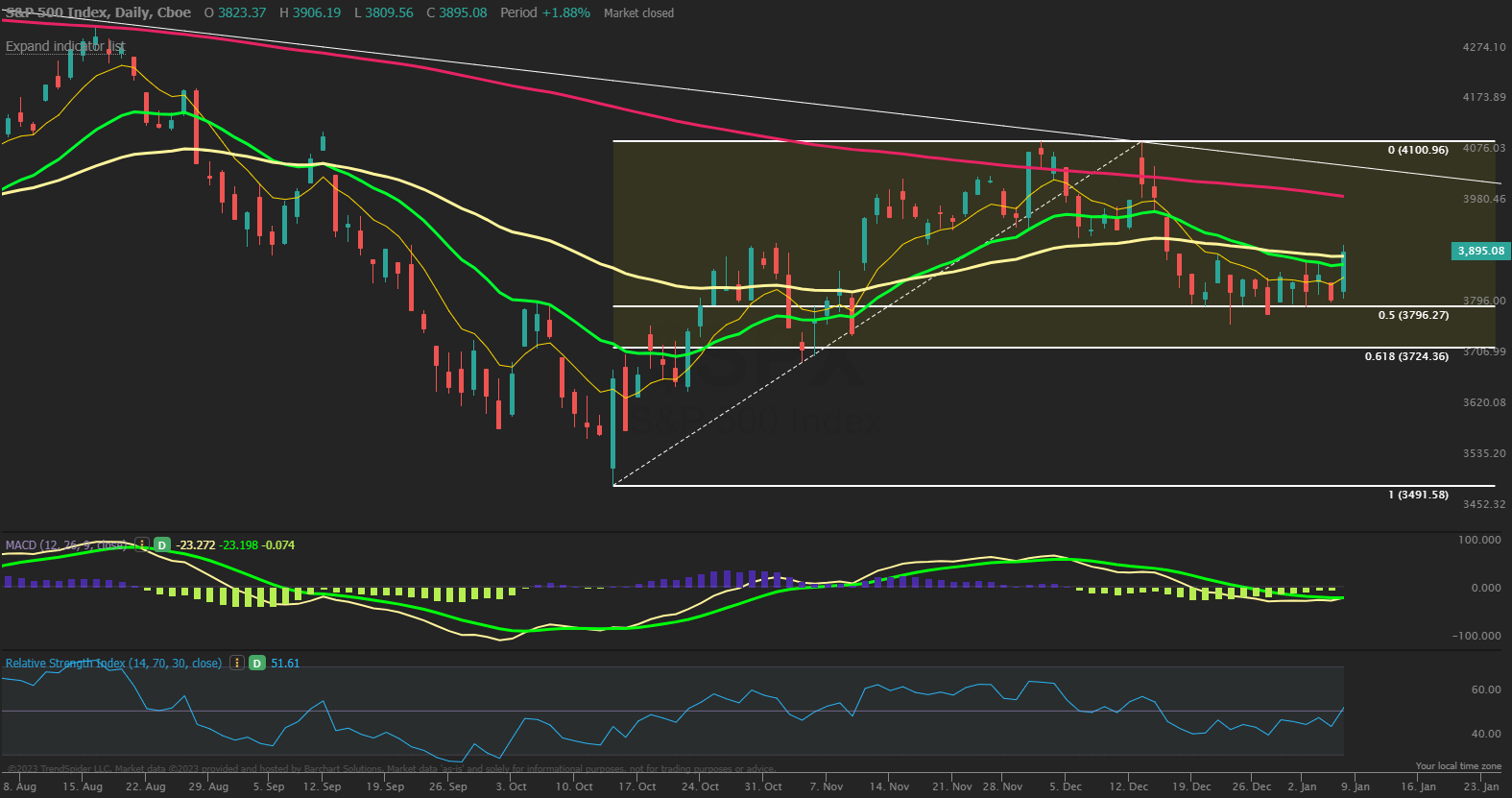 Market Sentiment/Breadth
AAII sentiment for the week ending 1/4 showed bullish responses fall to 20.5% from 26.5% prior while bearish responses fell to 42.0% from 47.6%. Neutral sentiment rose to 37.5% from 25.9%. This is the second time in three weeks with a bullish sentiment reading ranking among the 60 lowest ever recorded since the survey started in 1987. NAAIM Exposure index decreased to 38.79 from 43.48 and is below last quarters average of 51.03. Lipper fund flows for the week ending 1/4 had $16.2B of outflows in equities. Friday's close saw NYSE new highs at 79 while new lows of 25 and the 10-day MA of New High/Low Differential is at -26. The percentage of SPX stocks above their 50-MA is 67.8% while those above their 200-MA was 57.6%. NYSI and NASI Summation indexes have crossed above the 8-MA for a short-term bullish signal. NYMO McClellan Oscillator closed at +54 and is just above neutral. Cumulative AD line crossed above the 40 EMA and above the 89 EMA long term signal. CBOE Equity P/C 50-day MA at 0.90 and at new highs based primarily on put arb trades skewing the data. CNN Fear and Greed index is in Neutral zone at 46 from 37 last week.